New in Microsoft Teams: Spatial Audio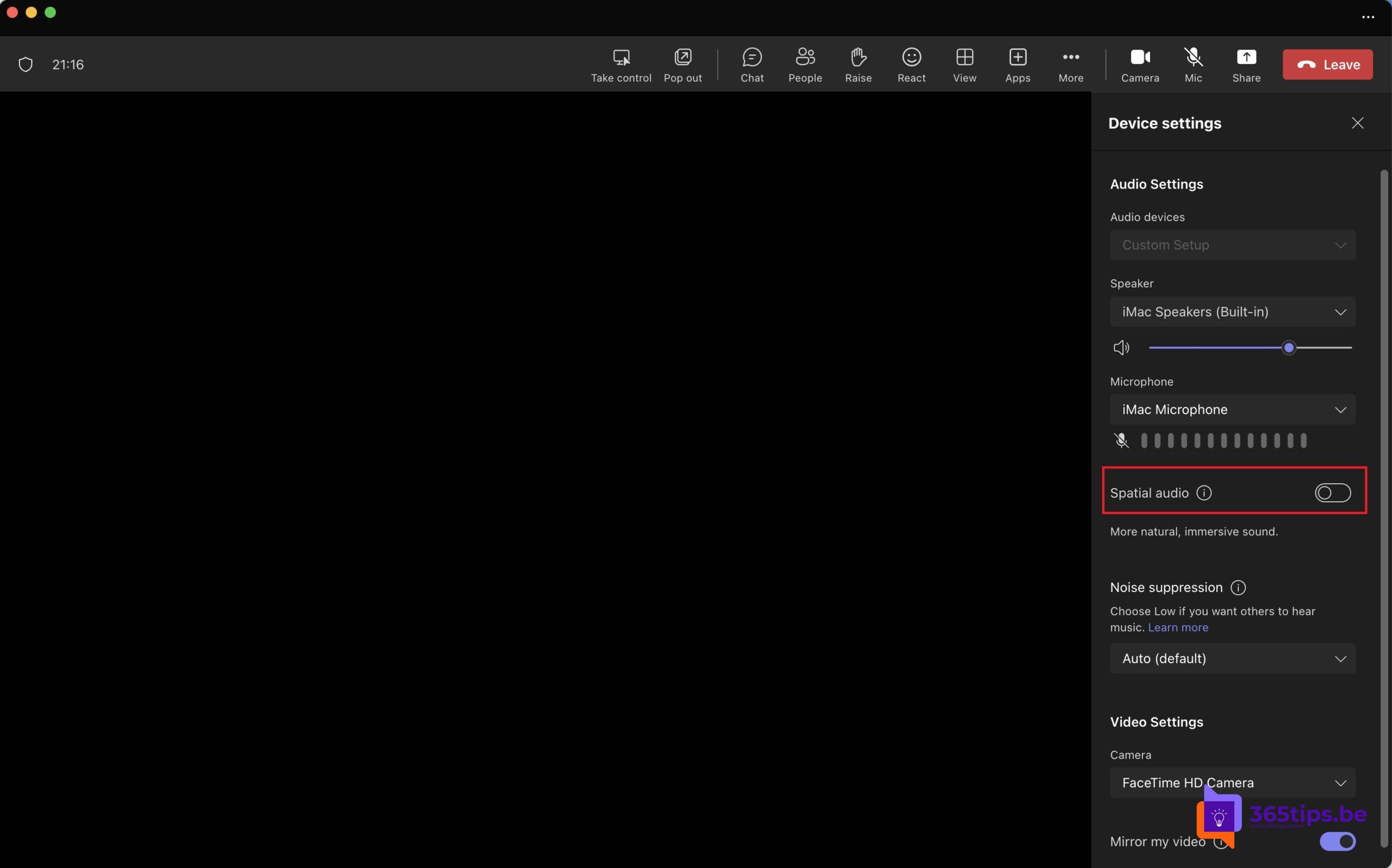 Spatial Audio brings the next generation of spatial audio to Teams
Microsoft Teams introduces a groundbreaking feature that will revolutionize the way we hold virtual meetings: Spatial Audio. Spatial Audio brings next-generation spatial audio to Teams, where you can congregate as if you were actually together. This intelligent audio technology makes the meeting experience more natural, inclusive and focused for everyone.
At a time when working from home and virtual meetings are becoming increasingly important, it is essential to make communication as seamless and effective as possible. Microsoft Teams has always been a leading platform for online collaboration, and the addition of Spatial Audio takes the user experience to a whole new level.
Spatial Audio mimics the natural sound experience by positioning sounds in the space around you. This means that during a meeting, you can hear exactly where each participant is located, as if they were physically present in the same room. The result is an immersive and realistic sound experience that enhances collaboration and communication.
Spatial Audio allows meeting participants to better focus on the conversations and discussions. It becomes easier to determine who is speaking, and it is less tiring to listen to conversations for extended periods of time. In addition, this technology makes everyone feel more engaged in the conversation, making meetings more inclusive.
Another benefit of Spatial Audio is that it reduces background noise and echoes. This creates a clearer and cleaner sound, improving the overall sound quality of the meeting. This is especially useful for people working in noisy environments or with less than optimal acoustics.
In summary, Spatial Audio in Microsoft Teams provides an immersive and realistic sound experience that significantly improves the quality of virtual meetings. By positioning sounds in the space around you, communication becomes more natural, inclusive and focused. This is a significant step forward in the pursuit of more effective and efficient online collaboration.
How can you activate spatial audio in Microsoft Teams ?
At the top, press More, Settings and under Microphone, select -> Spatial Audio.
Voices will sound as if they are coming from where each person is on your screen. Unfortunately, this new feature is not yet available for wireless headphones.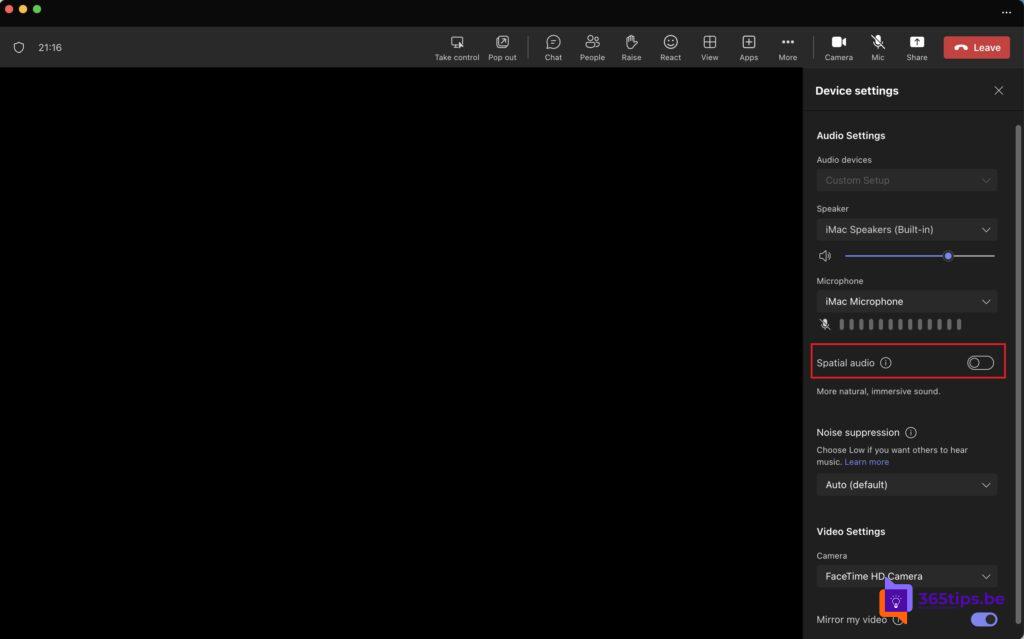 Spatial Audio Roadmap ID 107783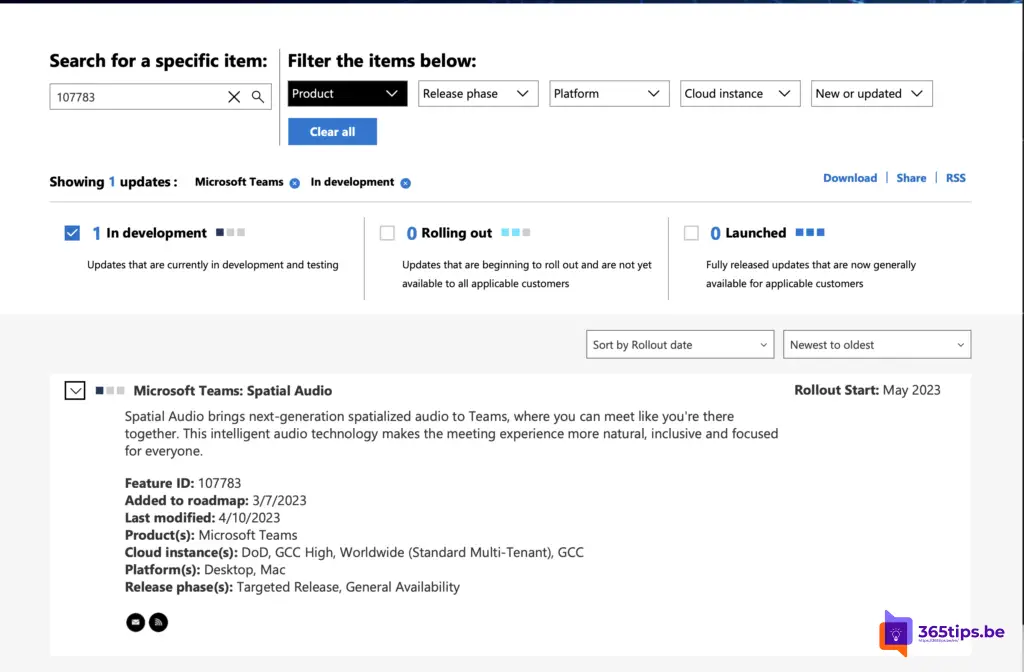 What's next on the roadmap?
New features arrive weekly via the new Feedback Portal (UserVoice) in the Microsoft 365 Roadmap. Evolutions and new announcements can always be accessed at: microsoft.com/en-us/microsoft-365.
In this Microsoft 365 roadmap you can access information about Microsoft Teams but also about: Excel, Microsoft Edge, Forms, OneDrive, Stream, Visio, Whiteboard, etc. Be sure to check out this page: Microsoft 365 Roadmap | Microsoft 365.