Microsoft Teams project plan to roll out teams
Microsoft has created a ready-made project plan to easily and properly roll out Teams . this plan is based on the 2 main scenarios.
Chat, teams, channels and applications
OR
meetings and conferencing! Read all the other 25 Microsoft Teams implementation blogs here!
General preparation
You can read the 5 preliminary steps before getting started with Teams here.
If you have not yet Office 365 tenant have one. Then create a tenant .
2 preselected scenario plans were developed being:
Chat, teams, channels and apps
Meetings and meetings
To get started, we are going to activate these 2 plans so that they become available in a Microsoft Teams site.
Browse to: https://admin.teams.microsoft.com/teams-deployment
You will enter the control panel to deploy workloads.
Follow the instructions below to activate these 2 workloads. This process creates 2 teams-sites with all the content you need to get started.
Select the top workload. click next.

You don't do a teams implementation alone. Add your embassador and click create.
Right now, 2 things are being prepared.
A planner task list of the rollout.
A forms for NPS scores for later.
Repeat these steps for Meetings and Conferencing
Once you have activated these 2 scenarios you are done with the preparation steps.
Go back to your Microsoft Teams Windows application.
Scenario 1: Microsoft Teams Chat, teams, channels and apps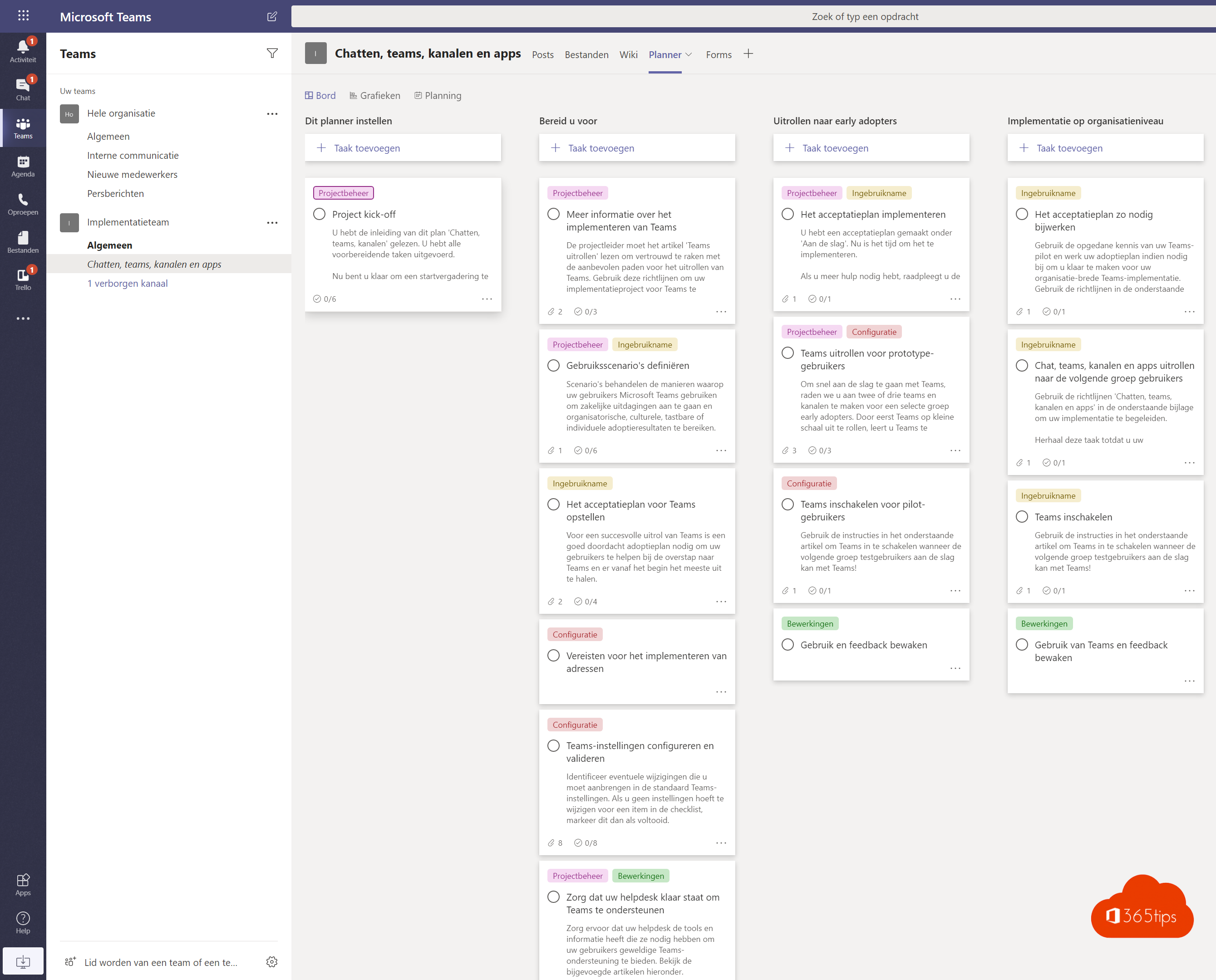 Navigate to your Microsoft Teams implementation team.
From this console you have a complete overview of the teams rollout. All actions are described here.
Also read other tips and tricks
In these blogs you can find articles around activating services within Microsoft teams.
Tagged: Activate, Adoption, Application, Guest Access, Free, Manual, iOS, macOS, Microsoft, Microsoft Forms, Microsoft Teams Admin Center, Microsoft Teams manual, Microsoft Windows, Planner and ToDo, Project Plan, Collaborate with Microsoft Teams,Tenant, Access, Meeting, Video