Microsoft Teams project plan to roll out teams
Microsoft has created a ready-made project plan to roll out Teams easily and properly. this plan is based on the 2 most important scenarios.
Chat, teams, channels and applications
OR
meetings and conferences! Read all other 25 Microsoft Teams implementation blogs here!
General preparation
You can readthe 5 preparatory steps before getting started with Teams here.
If you have not yet Office 365 tenant have one. Please create an tenant .
Two pre-selected scenario plans have been worked out:
Chat, teams, channels and apps
Meetings and conferences
To get started, we are going to activate these 2 plans so that they become available in a Microsoft Teams site.
Browseto: https://admin.teams.microsoft.com/teams-deployment
You will enter the control panel to implement workloads.
Follow the instructions below to activate these 2 workloads. This process creates 2 teams sites with all the content you need to get started.
Select the top workload. click on next.

A teams implementation is not something you do alone. Add your embassador and click on create.
At the moment, two things are being prepared.
A planner's task list from the roll-out.
A form for the NPS scores for later.
Repeat these steps for Meetings and Conferences
If you have activated these 2 scenarios, you have completed the preparatory steps.
Go back to your Microsoft Teams Windows application.
Scenario 1: Microsoft Teams Chat, teams, channels and apps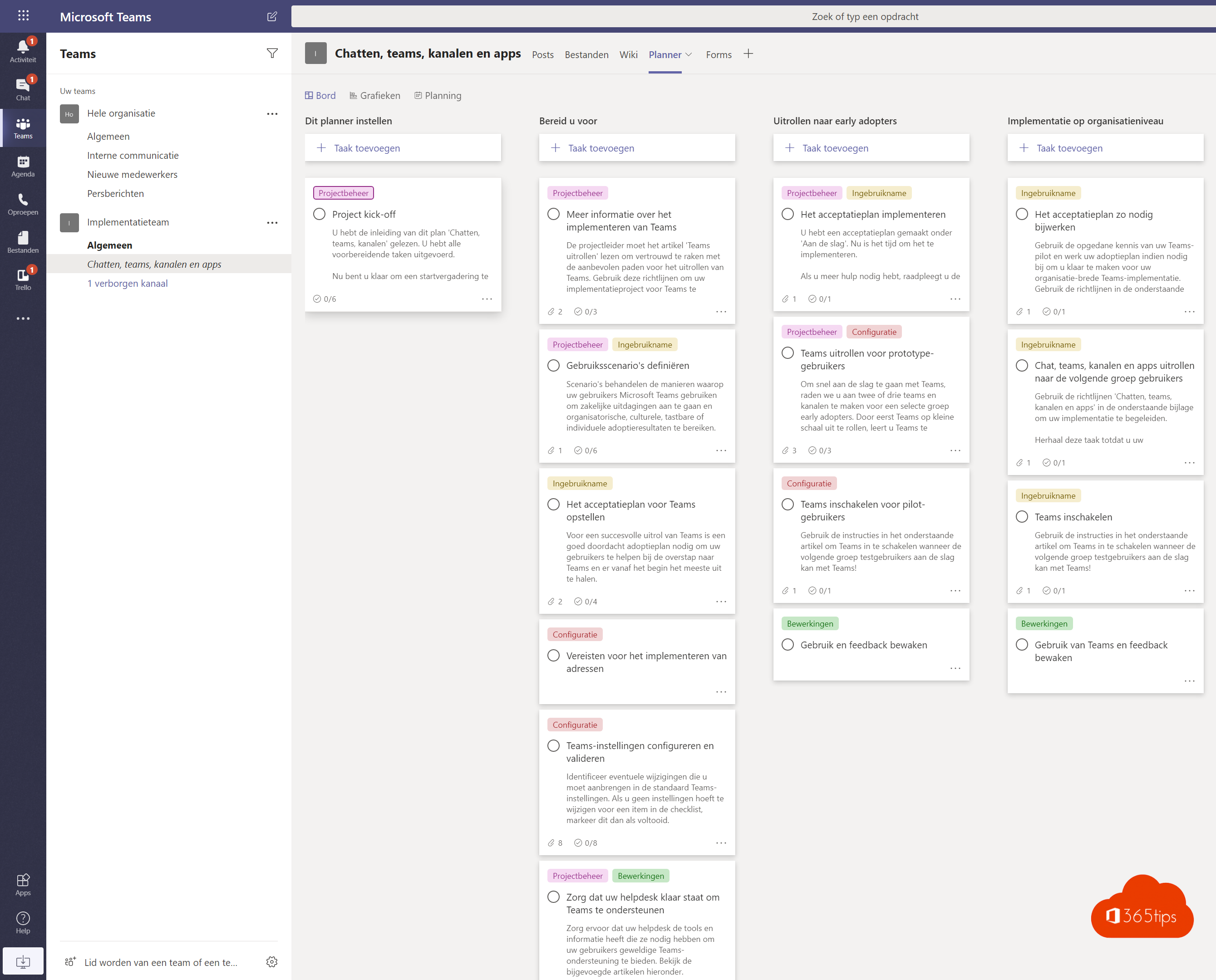 Navigate to your Microsoft Teams implementation team.
From this console you have a complete overview of the teams roll-out. All actions are described here.
Also readother tips and tricks
In these blogs you can find articles about activating services within Microsoft teams.