How is Microsoft Teams technically structured?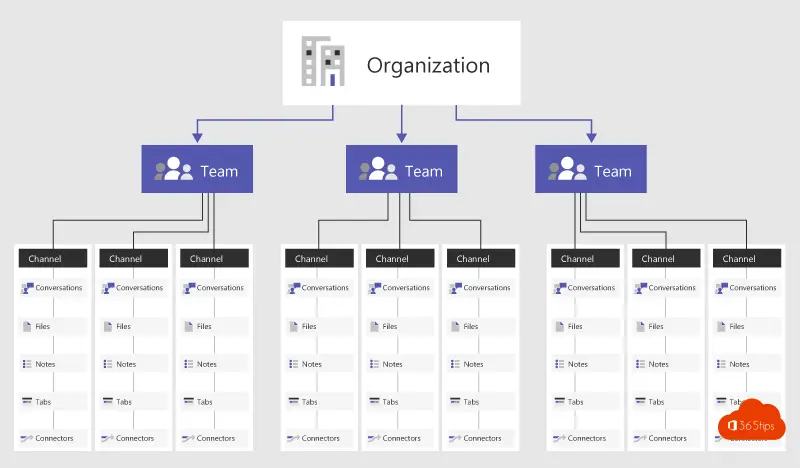 Microsoft Teams is an amalgamation of powerful software within Office 365. That's the huge value of Teams versus the competition. Teams is ingrained in known technology that we trust. We've been using exchange. 15 years SharePoint etc..
Below is a brief technology pitch of the sub-technology used under the hood of Microsoft Teams.
Was this blog helpful to you? Then hit share at the top and share this blog or comment below! Read all Microsoft Teams blogs!
What are Microsoft-Teams, teams?
A team is a collection of people, content and tools around different projects within an organization.
Teams can be created for entire services, as well as isolated or closed to other users within the organization. a team can contain up to 5,000 members. You can appoint members as team owners or give administrator privileges to manage.
Teams can be dynamic for project-based tasks (for example, launching a product), as well as departments on the internal structure of your organization.
Conversations, files and notes via team channels are visible only to members of the team.
For example:
Permanent divisions/departments - TEAM 1
temporary projects - TEAM 2
What are Microsoft Teams channels?
Channels are special sections within a team where conversations are organized by specific topics, projects or disciplines. Files you share in a channel (on the Files tab) become saved in SharePoint.
Team channels are places where everyone on the team and/or channel can have open conversations. Channels are most valuable when enhanced with apps that include tabs, connectors and bots that increase value for team members.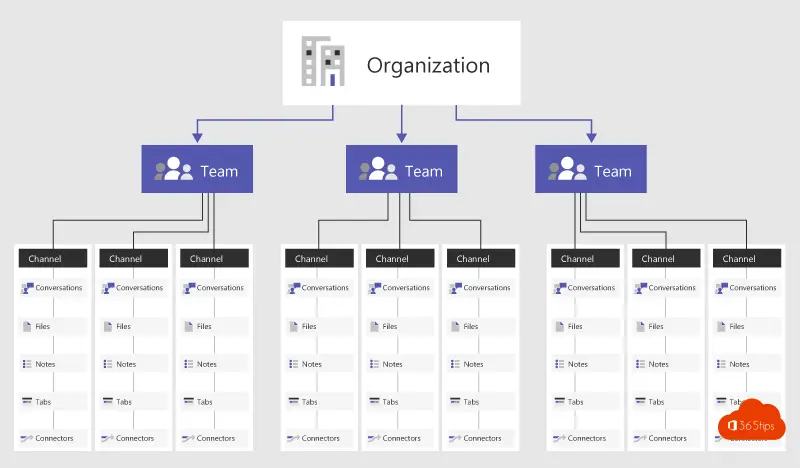 Example of a teams organization with 3 teams. With always their underlying needs such as conversations, files, ...
Underlying technologies used in Microsoft Teams
In short, you need this technology set to get started with a new Team within Office 365. As you can see, that brings up the complexity behind the hood.
A new Office 365 group
A SharePoint Online site and document library to store team files
A Exchange Online shared mailbox and calendar
What services does Microsoft Teams fall back on
Chat at Exchange (not quite true, because without Exchange mailboxes you can work in the cloud with Teams )
Teams at Office 365 groups
Meetings at Exchange, Skype/Teams,...
Calls/telephony on Skype (in the cloud)
Files on OneDrive & SharePoint. (or third-party)
User logins on Azure AD.
Connecting everything to Microsoft Graph
Microsoft Graph is the gateway to data and intelligence in Microsoft 365. Graph provides a unified programming model that you can use to access the vast amount of data in Office 365, Windows 10 and Enterprise Mobility + . Security. Graph is built on a REST-based API.
Governance in Microsoft Teams
Microsoft Teams Lifecycle
In Teams , each individual has its own "life cycle" with the following sequence:
Initiate / intiate
Active
Sunset / sunset
Facilitating this properly is possible some with the Graph API. Hence, many governance tools for technical setup are paying because they are built on these APIs. And must continue to be maintained.
Tagged: rules, Azure, Policy, E-Mail, Exchange Online, Manual, Microsoft, Microsoft SharePoint, Microsoft Teams manual, Microsoft Windows, Office 365 Login, OneNote, Policy, Skype for Business Online, Access