High-level activatie van Azure Information Protection voor Office 365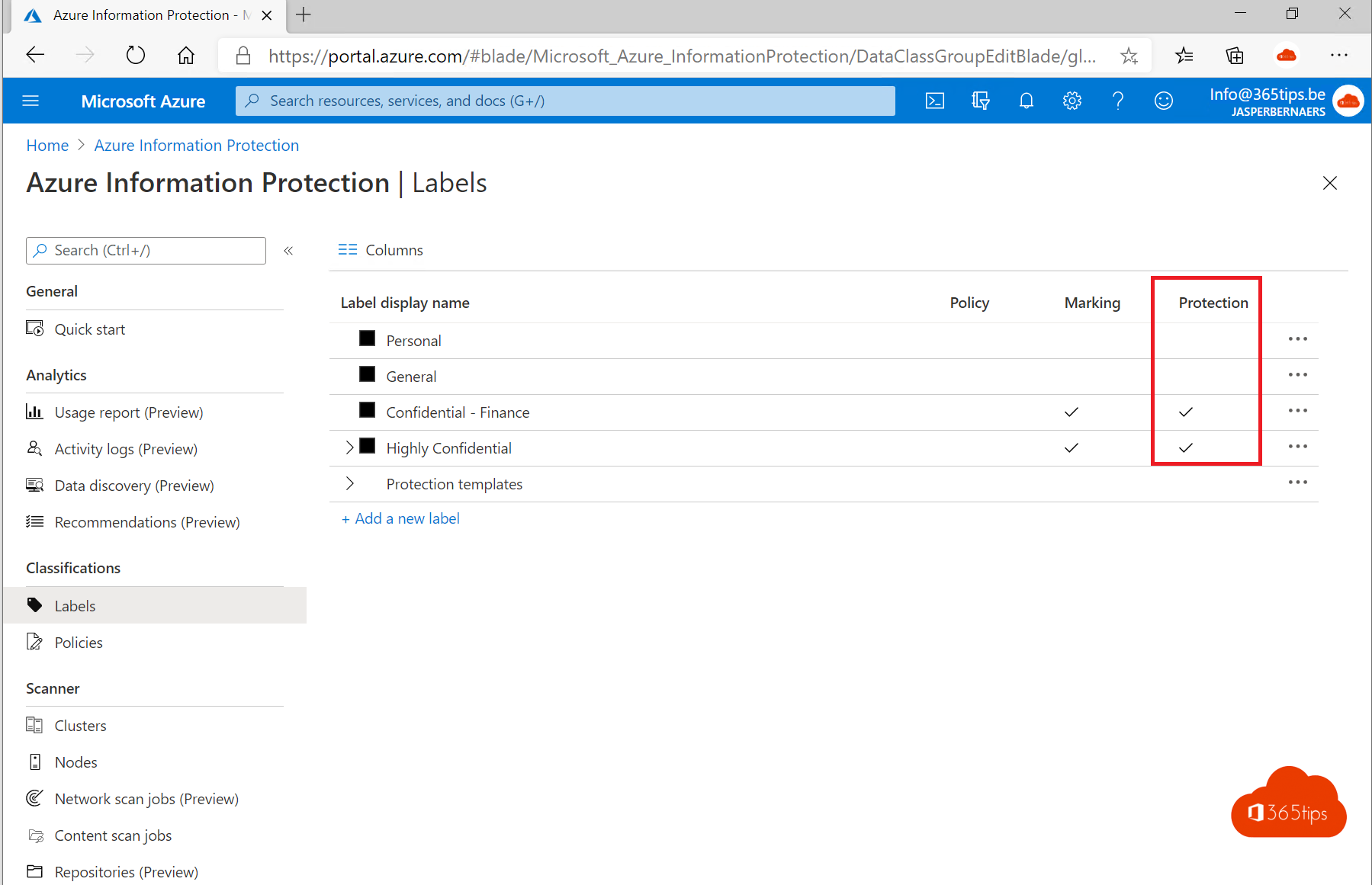 Azure Information Protection (AIP) is een cloudgebaseerde oplossing waarmee organisaties documenten en e-mails kunnen classificeren en beschermen door labels toe te passen. Labels kunnen worden aangebracht op de volgende manieren:
Automatisch door beheerders met behulp van regels en voorwaarden
Handmatig door gebruikers manueel.
Door een combinatie waarbij beheerders de aanbevelingen definiëren die aan gebruikers worden getoond. Tooltips.
De beheerder kan bijvoorbeeld een label configureren met regels die gevoelige gegevens detecteren, zoals creditcardgegevens. In dit geval kan elke gebruiker die creditcardgegevens opslaat in een Word-bestand een tooltip boven aan het document zien met een aanbeveling om het relevante label voor dit scenario toe te passen.
Een praktische tip: Start met testen op een test-omgeving of test-tenant. Information protection kan je best eerst in een pre-productie omgeving uitwerken en dan naar je productie omgeving brengen. een test tenant maak je via deze blog.
Start vanuit het Azure Admincenter
Surf naar: https://portal.azure.com/ of gebruik de directe link naar de activatiepagina: https://portal.azure.com/#blade/Microsoft_Azure_InformationProtection/DataClassGroupEditBlade/rmsSettingsBlade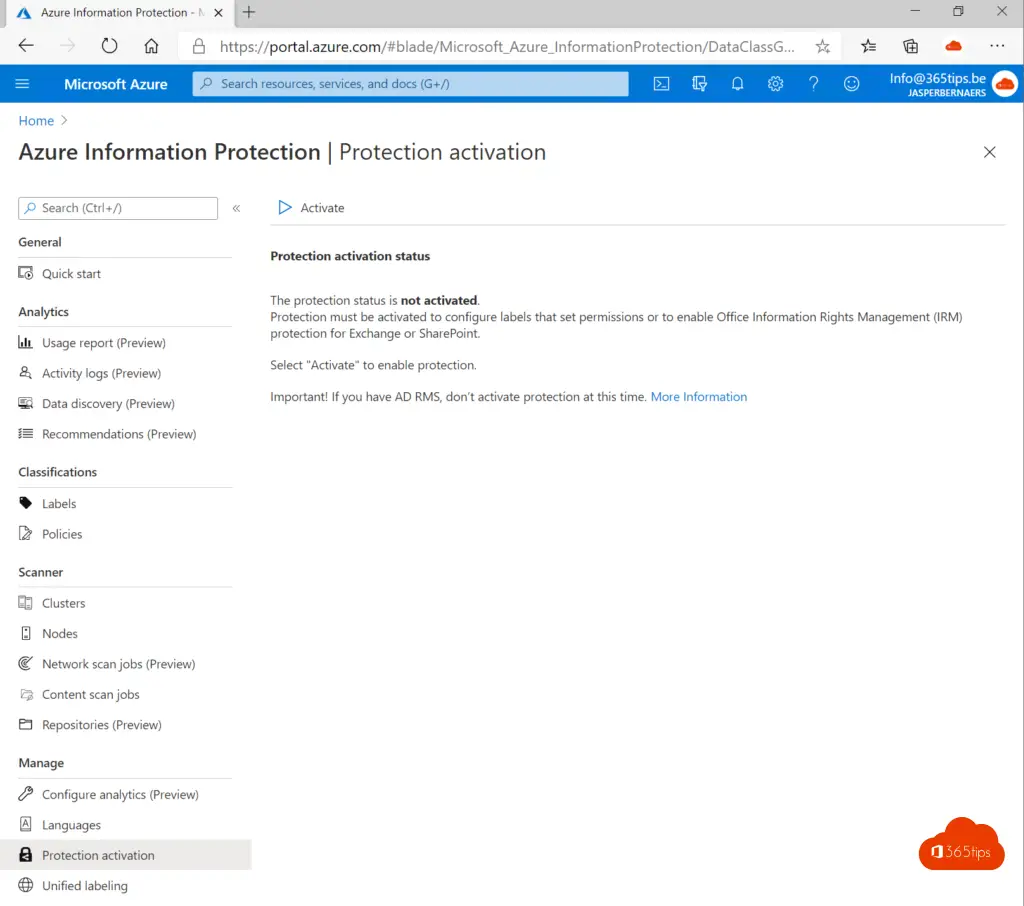 Druk op activeer bovenaan links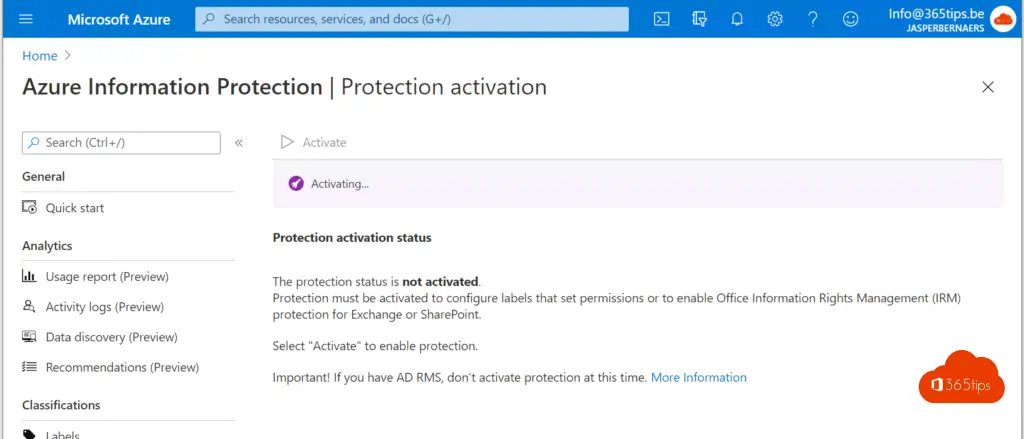 Installatie voltooien
Wacht af tot de activatie voltooid is.

Standaard labels
De standaard labels kan je hier terugvinden. Praktisch gezien hebben labels die een protection 'activatie' ✓ hebben staan enkel de juiste invloed. Deze zijn echt beschermd.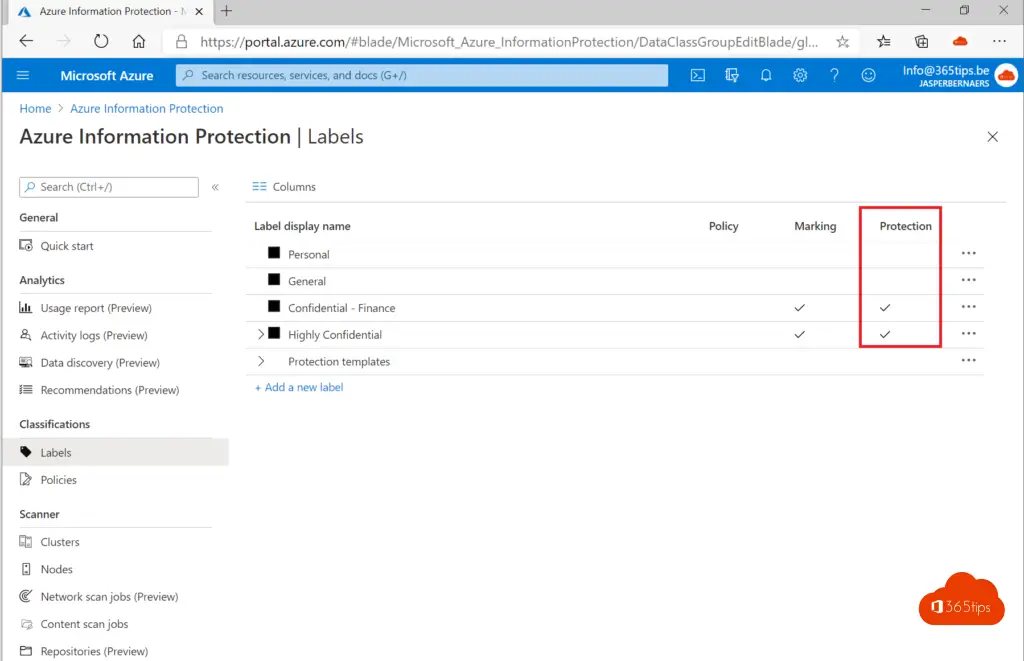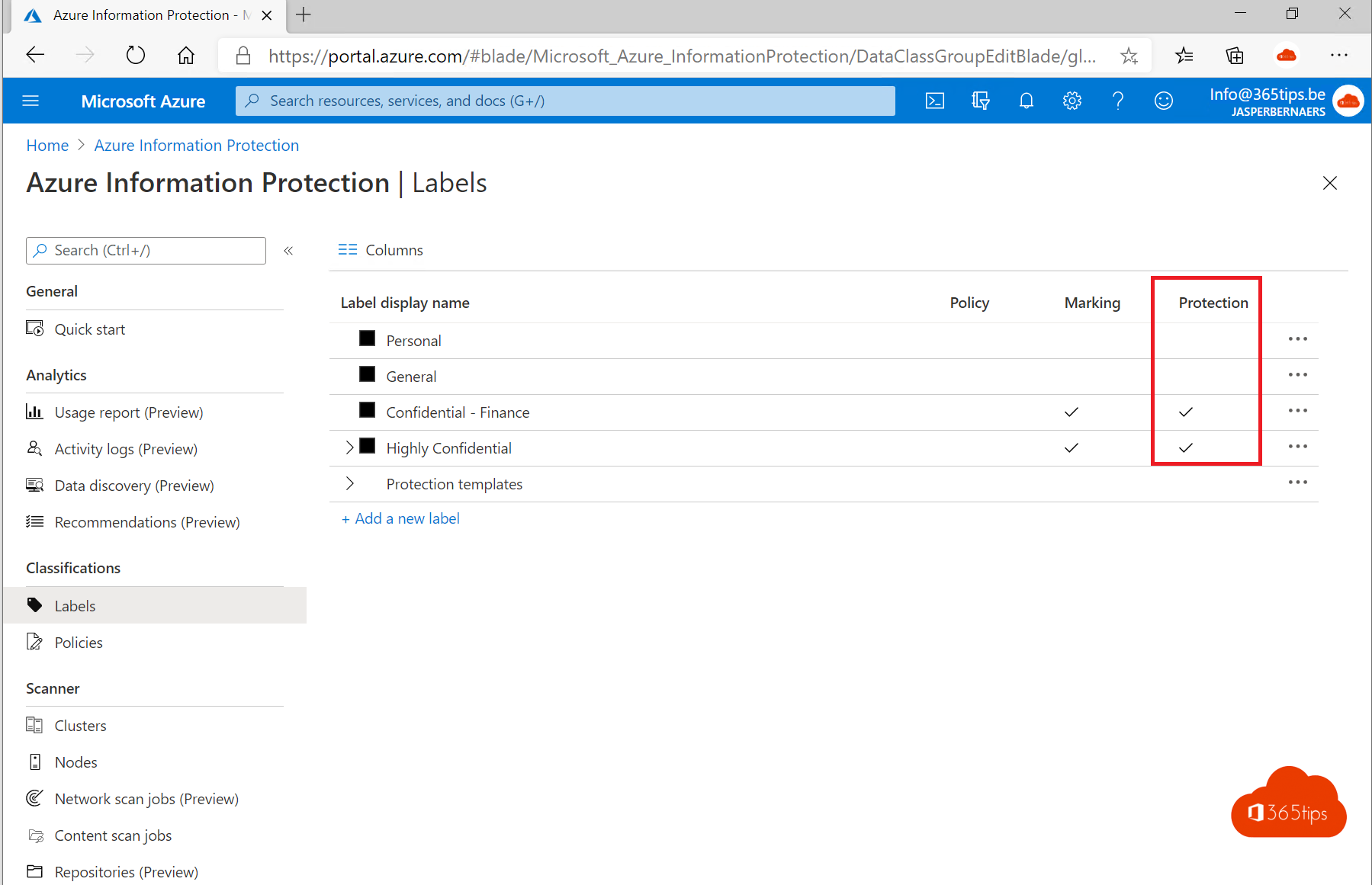 Voorbeeld policy – Finance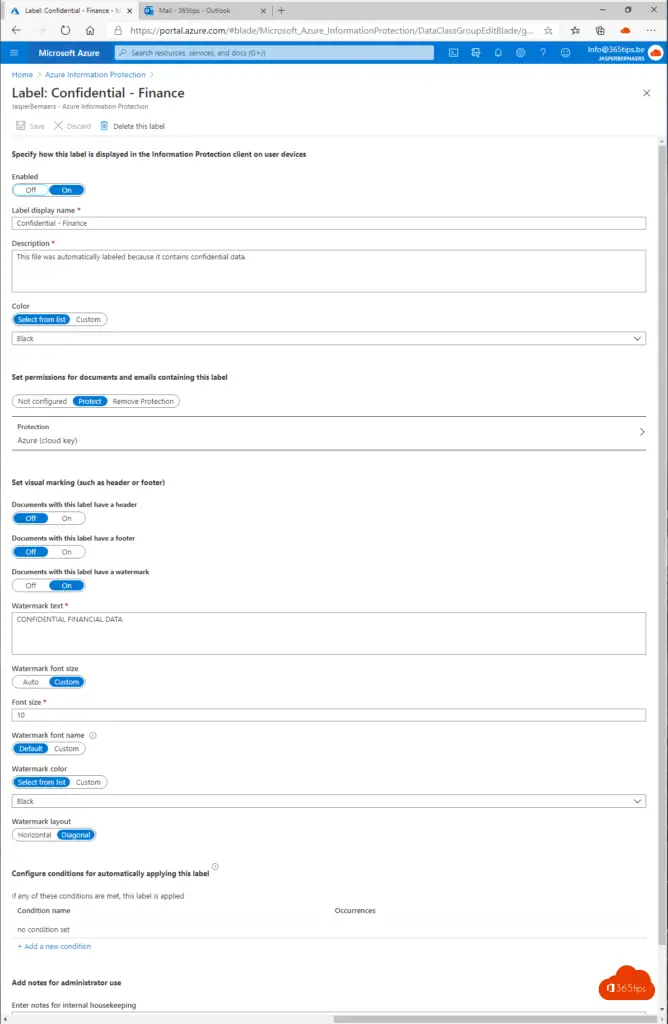 Praktische test in Outlook Online
Open je Outlook online via: https://outlook.office.com/mail/inbox
Maak een test e-mail, en gebruik een label dat protection heeft aangevinkt staan ✓.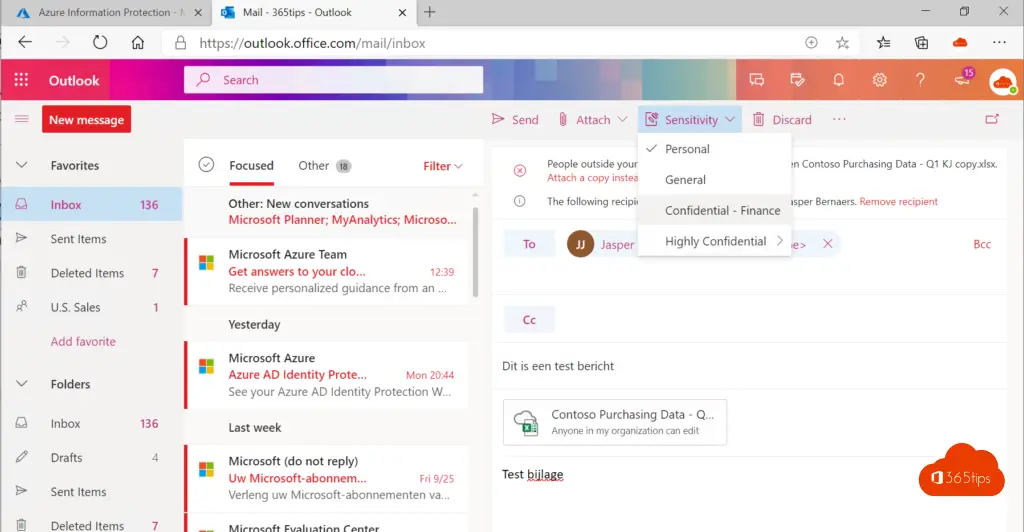 Belangrijk hier zijn 2 dingen.
In deze mail krijg je sowieso de boodschap dat je naar buiten zult mailen. Niet intern. Goed om weten.
Je ziet bij sensitivity: Confidential – Finance staan. Dit label had een protectionlabel aan staan.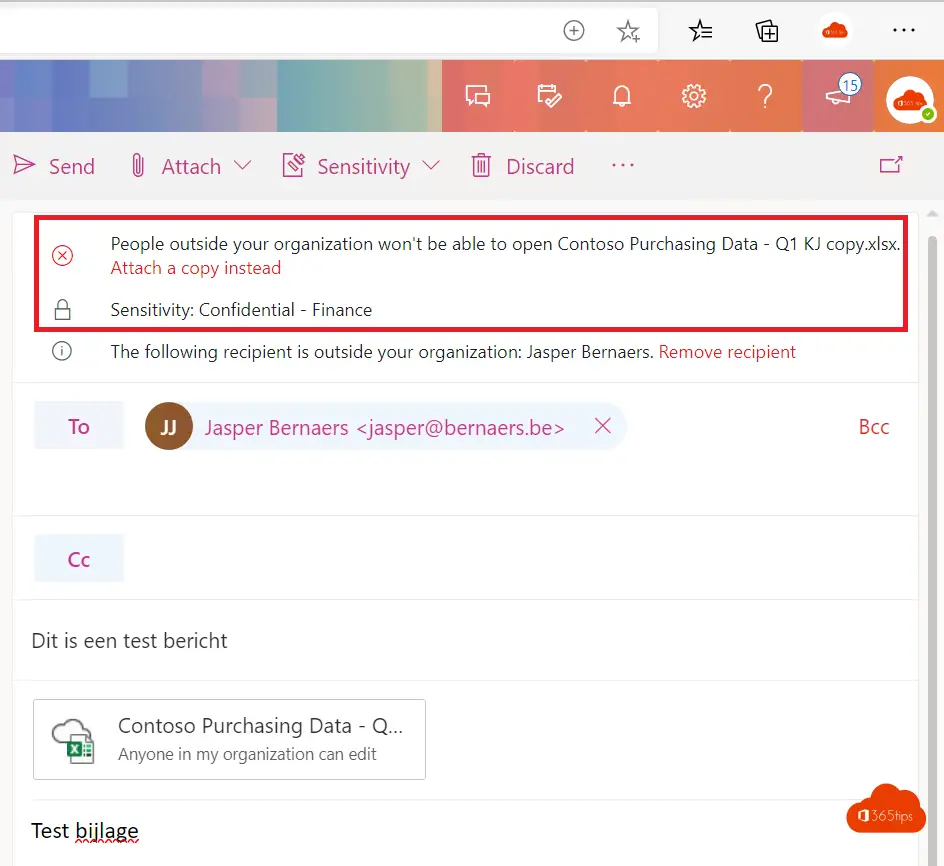 Test via de ontvanger
In Outlook of Online Online kan je het best testen. Beide scenario's zijn relevant om te testen. Information protection is iets wat echt diep moet getest worden voor uit te rollen naar de volledige organisatie.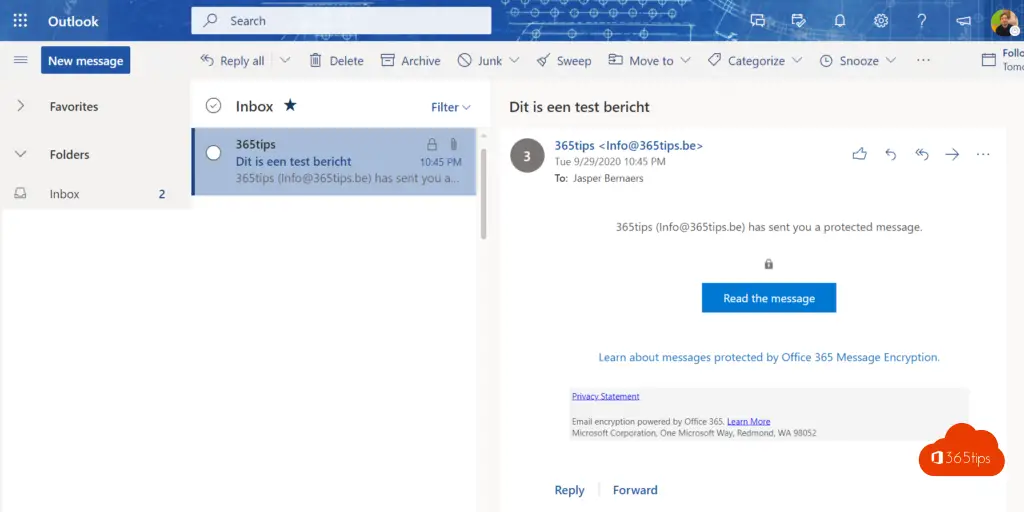 Druk op lees dit bericht aan de kant van de ontvanger.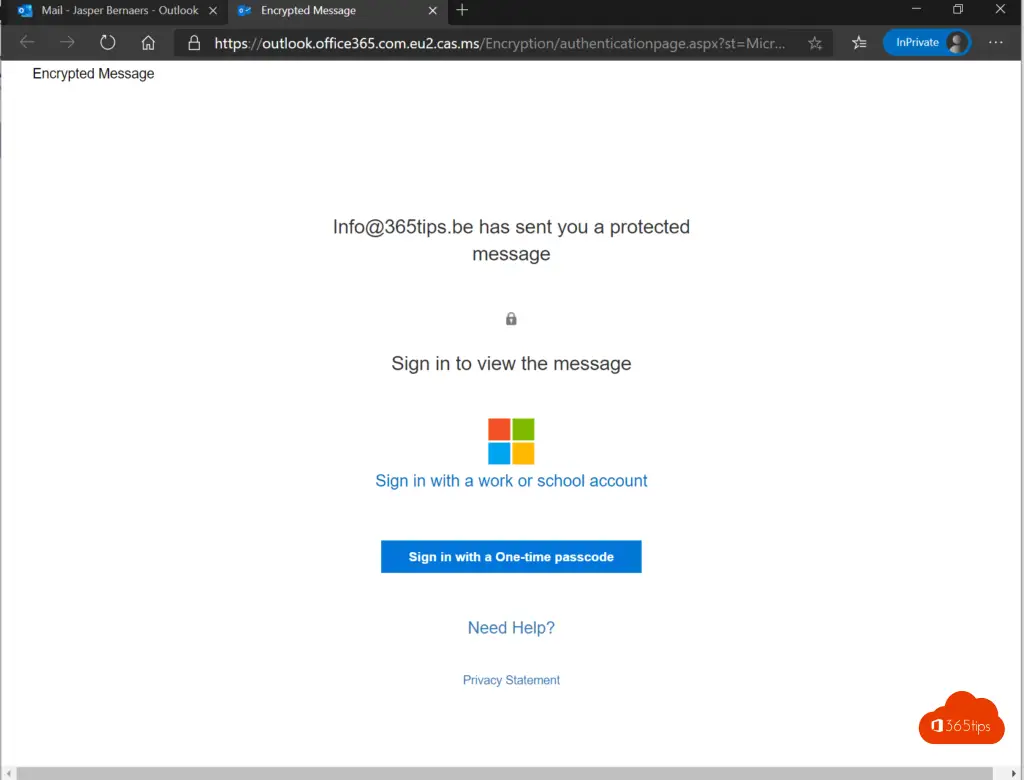 Geef toegang indien nodig.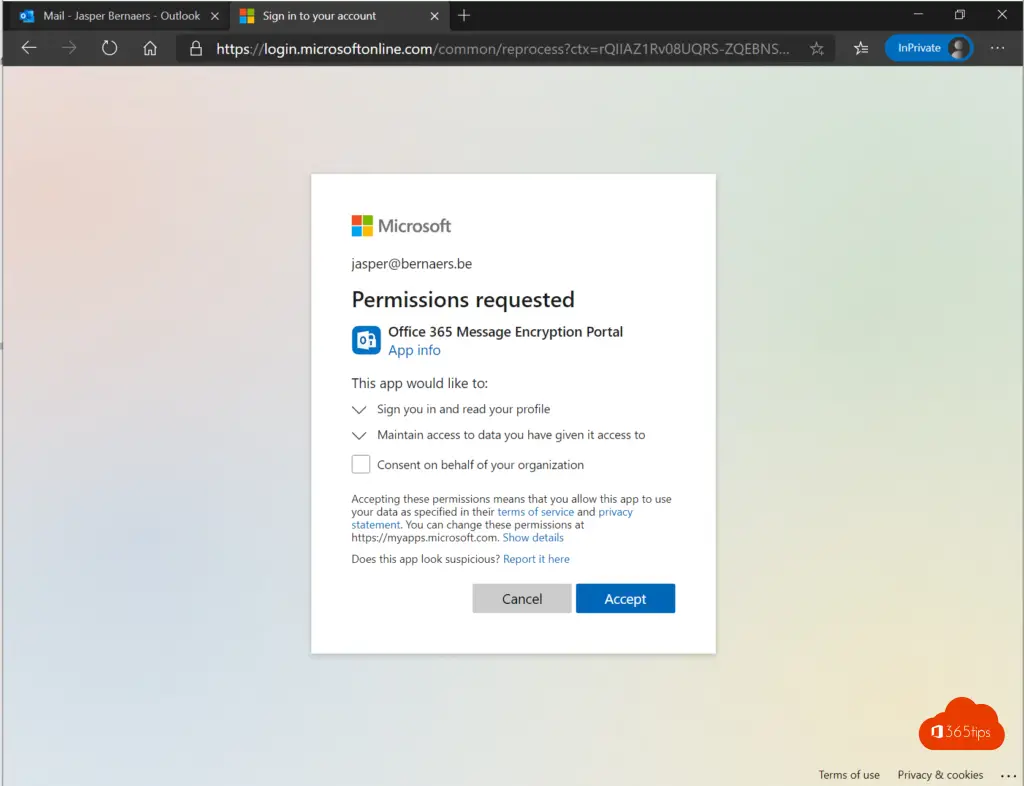 Of gebruik Microsoft Outlook
Log een extra keer in om zeker te zijn dat jij het bent.