Basic Authentication voor Microsoft Exchange stopt vanaf 13 oktober 2020
Basic Authentication voor Microsoft Exchange is helaas niet meer mogelijk vanaf 13 oktober 2020. Waarom gaan ze dit nu afschaffen? Basic authentication is niet 'meer' veilig. Als je dit nog gebruikt vandaag de dag. Dan ben je zeer waarschijnlijk reeds gehackt. Omdat basis-authentication niet omkan met rijke methodes als oAuth. Dit is een manier om in te loggen waarmee je Multi-Factor kan gebruiken. Zonder MFA is er geen beginnen aan. Wachtwoorden zijn niet meer van deze tijd.
Microsoft is een voorloper als het aankomt op security. Organisaties hebben ruim de tijd genomen om MFA uit te rollen en nu gaat de oude legacy authenticatie er ook uit.
Microsoft heeft door COVID-19 beslist om 13 oktober 2020 te verschuiven naar midden 2021, helaas is er nog geen exacte datum gegeven.
Wat is basic authentication?
Basis authenticatie is inloggen op een dienst/service met een gebruikersnaam en een wachtwoord.
Bijvoorbeeld inloggen in je Microsoft Outlook zoals in deze afbeelding.
Wat is moderne authenticatie?
Moderne Authenticatie of Modern Authentication is een slimmere manier om aan te melden. Omdat dit een betere pop-up geeft waarin je je gebruikersnaam en wachtwoord kan invullen. Belangrijker nog is dat er extra factoren kunnen gebruikt worden en dit nog steeds gebruikersvriendelijk is.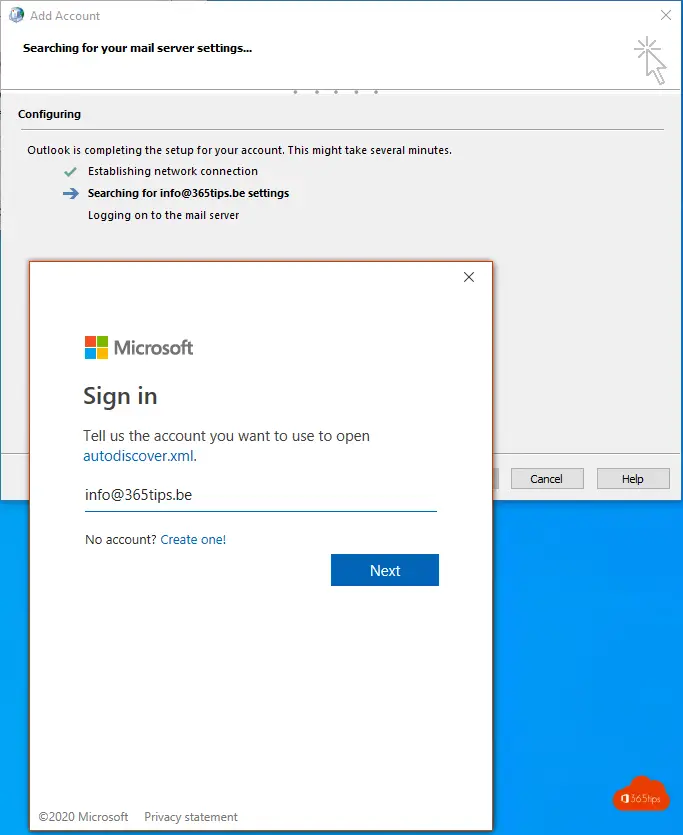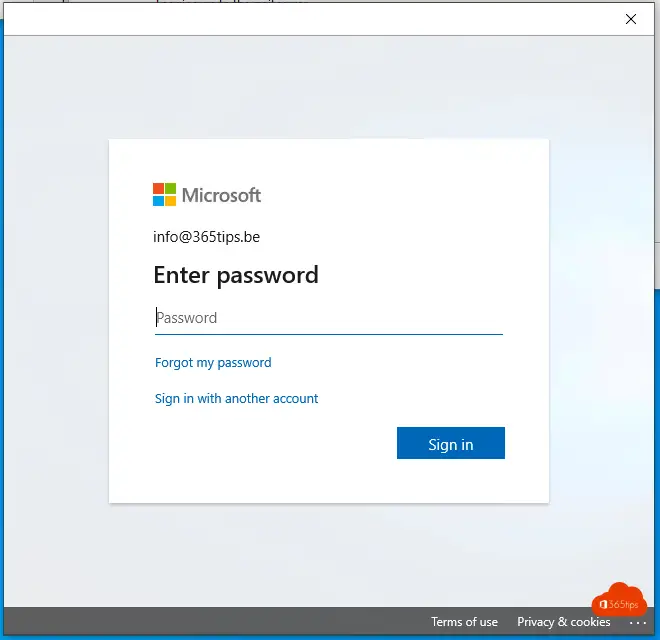 Wat is de impact van het uitschakelen van basic-authentication?
Deze 'protocollen' zullen niet meer aanspreekbaar zijn via basic-authentication EWS, EAS, IMAP, POP en RPS
Je oude Android telefoon zal niet meer werken met de built-in applicatie.
Oude mail clients, Outlook 2007, 2010 (eerste versies) kunnen niet meer connecteren naar Exchange Online.
Printers, Kopiers, multi-functionals, applicaties die via basic authentication nog relayen zullen stoppen met werken tenzij ze overweg kunnen met OAuth 2.0. (vaak niet)
Hoe kan je meten of je nog basic Authentication gebruikt?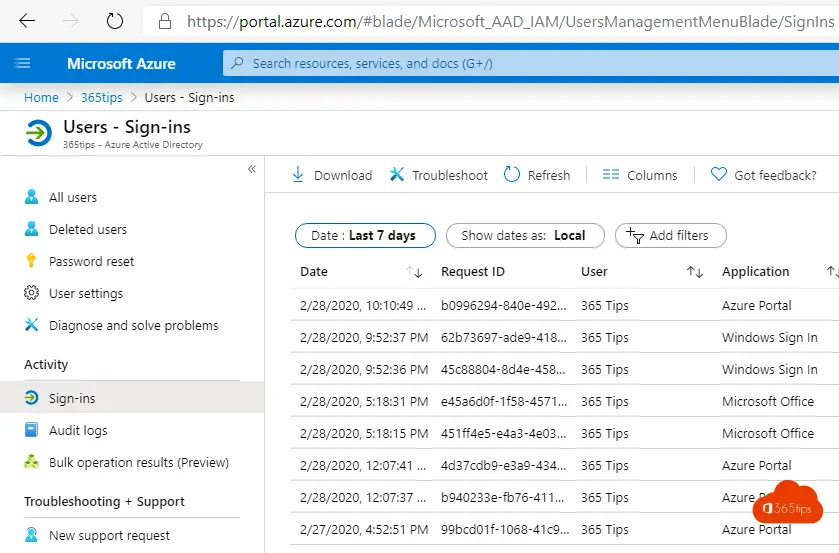 Klik op Add Filters
Selecteer Client App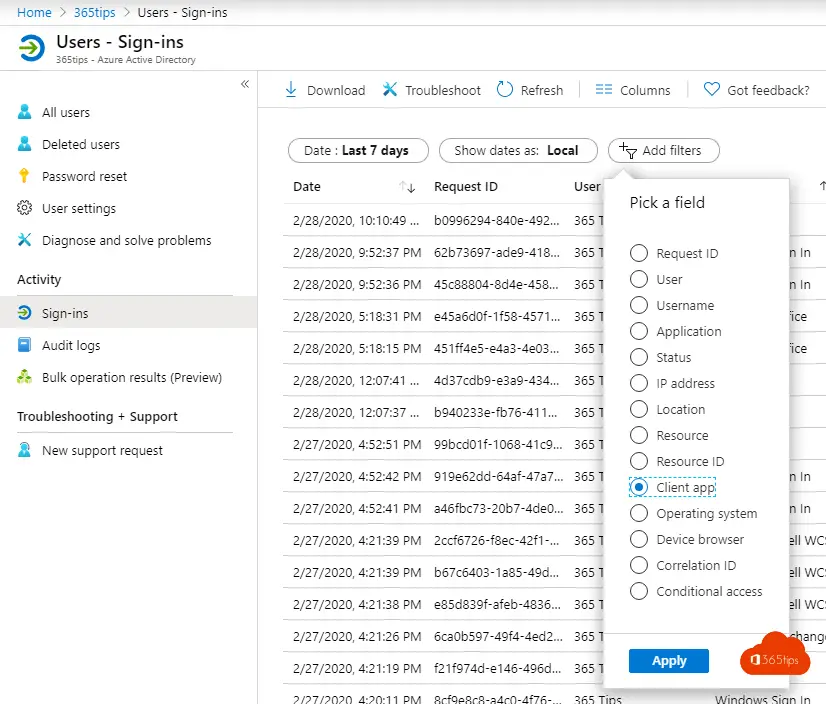 Selecteer alles behalve 'Mobile Apps and Desktop Clients'
Of filter er minder uit als je weet dat deze niet meer nodig zijn.
Browser mag je er ook uitlaten.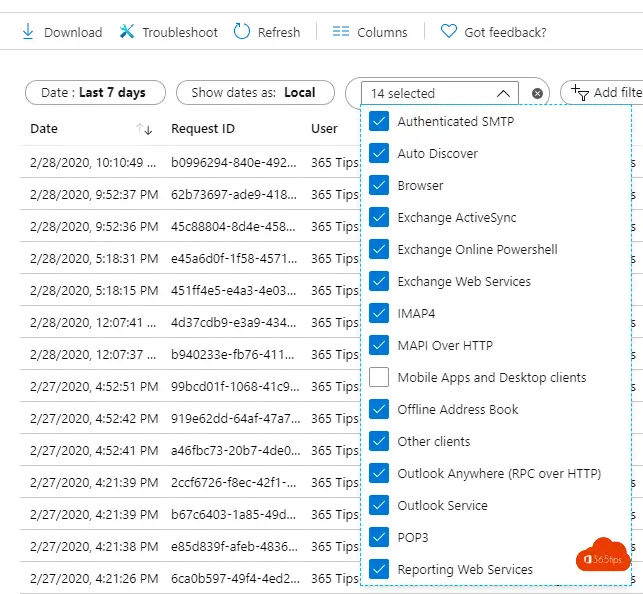 Nu zie je een lijst van applicaties die inloggen via Basic-Authentication
Waarom je dit moet blokkeren?
Zo ziet elke omgeving er uit.. (zie datum, en de minuten…)
Om de minuut zijn er pogingen over héél de wereld op je Office 365 omgeving. Maar uiteraard ook op je on-premises omgeving, of andere toepassing. Office 365 en Exchange Online zijn de meest gebruikte platformen in de wereld.
Doe zeker een risico-detectie via deze blog
Hoe kan je het best reageren?
Microsoft moet organisaties veilig houden. Met basic-authentication is dit niet mogelijk. Exchange Online is het meest gebruikte platform en heeft de slechtste veiligheidsnormen qua authenticatie.
Je kan deze verandering zeker afschrijven en denken: "Laten we onze Exchange on-premise houden". Maar stel jezelf zeker de vraag: "Kan je intelligente logging inkijken zoals hierboven?" Wil je daarom vasthouden aan je eigen infrastructuur?
Heb je deze patch (CVE-2020-0688) gedaan op je Exchange? Hiermee kan een gebruiker volledige controle nemen op je mailomgeving, zeer waarschijnlijk je volledige omgeving. Er is werk aan de winkel!
Cloud is nu eenmaal de toekomst en we moeten blij zijn dat Microsoft deze security verbeteringen activeert. En niet jij als security-administrator. zoals in het voorbeeld hierboven.
Phishing is de meest voorkomende aanvalsmethode van hackers… mail security moet hoger!
Neem contact met vendors en vraag hun tegen oktober hun applicatie bij te werken zodat deze kan authenticeren met OAuth 2.0
Bronnen
As previously communicated in MC191153, beginning October 13, 2020, we will retire Basic Authentication for EWS, EAS, IMAP, POP and RPS to access Exchange Online. Note: this change does not impact SMTP AUTH.

We have published an updated blog with more information about this change – Basic Auth and Exchange Online – February 2020 Update

There are several actions that you and/or your users can take to avoid service disruptions on client applications, and we describe them below and in the blog. If no action is taken, client applications using Basic Authentication for EWS may be unable to connect after October 13, 2020.

Any application using OAuth 2.0 and connecting using any of these protocols, will continue to work without change or interruption.
[What do I need to do to prepare for this change?]

You have several options on how to prepare for the retirement of Basic Authentication.

You can start updating the client applications your users are using to versions that support OAuth 2.0 today. For mobile device access, there are several email apps available that support Modern Authentication, but we recommend switching to the Outlook app for iOS and Android as we believe it provides the best overall experience for your M365 connected users. For desktop/laptop access, we encourage the use of the latest versions of Outlook for Windows and Outlook for Mac. All Outlook versions including, or newer than, Outlook 2013 fully support OAuth 2.0.
If you have written your own code using these protocols, you will need to update your code to use OAuth 2.0 instead of Basic Authentication, you can reach out to us on stack overflow with the tag exchange-basicauth if you need some help.

If you or your users are using a 3rd party application, which uses these protocols, you will either need to:
reach out to the 3rd party app developer who supplied this application to update it to support OAuth 2.0 authentication

-or-

assist your users to switch to an application that's built using OAuth 2.0

We have made a report that will help you identify any impacted users and client applications in your organization available to all tenants. The blog has details about using the report.

Please review the Blog to learn more about this retirement.
Gerelateerde blogs
Blokkeer downloaden van O365 bestanden wanneer je toestel onbekend is
Maak legacy authentication inzichtelijk met Azure Log Analytics
Secure Score voor Microsoft Azure | Office 365 Secure Score verbeteren
Lekken van gevoelige gegevens voorkomen in Office 365
Verwijderde Exchange e-mails terughalen