Een privé kanaal maken in Microsoft Teams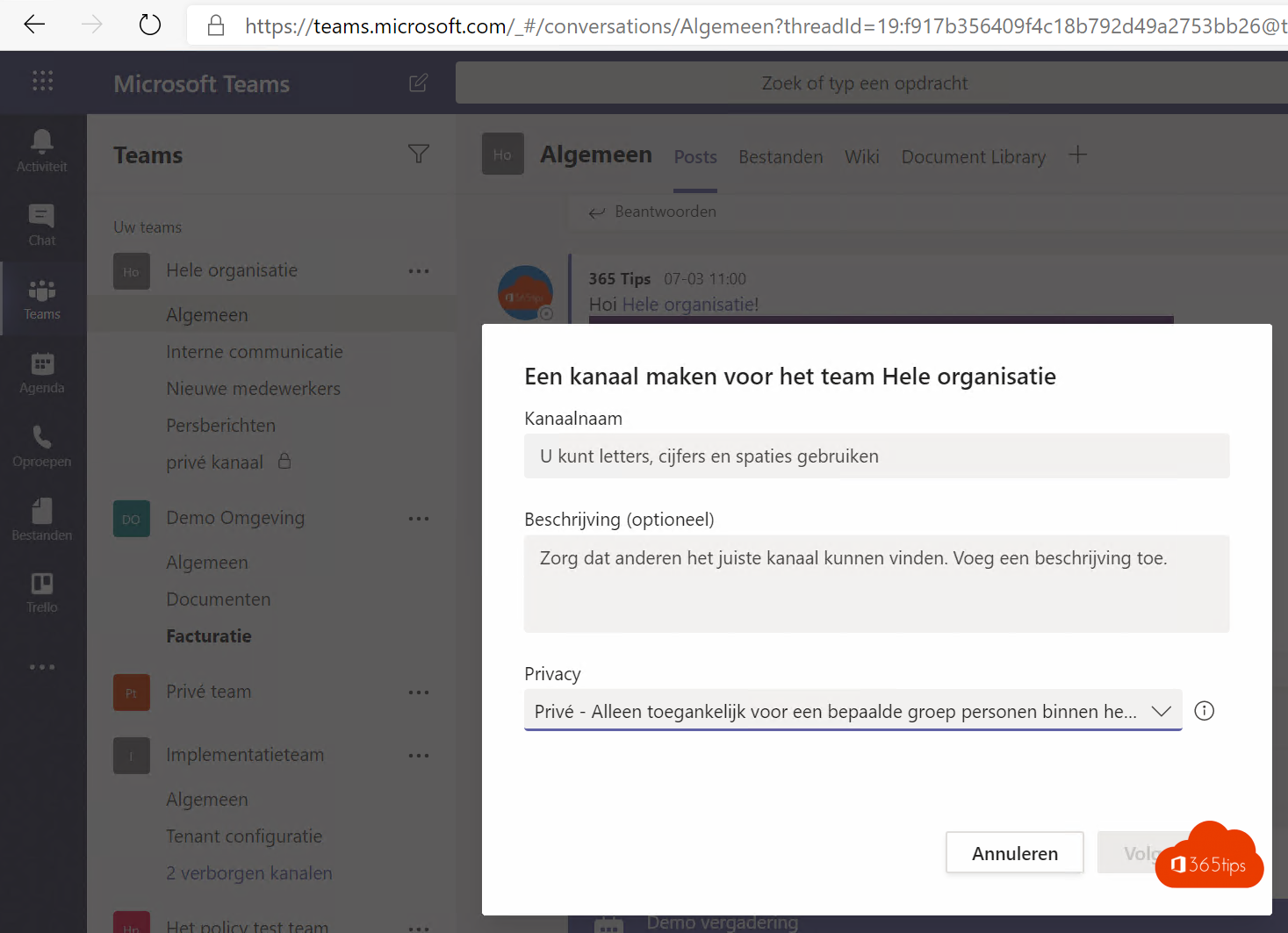 In deze blogpost leg ik uit hoe je een privé kanaal kan maken in Microsoft Teams. (Private Channel) Dit kan op 2 manieren gebeuren. Ofwel via de GUI, In de gebruikersinterface. Ook kan dit kan via PowerShell.
Wanneer je best een private team aanmaakt? Dat lees je in deze blog.
1. Via de Teams webversie of Teams Applicatie
Het speelt geen rol of je dit doet via de website via https://teams.microsoft.com/ of via de Teams Applicatie.
Druk rechts op je Team en druk op Kanaal toevoegen.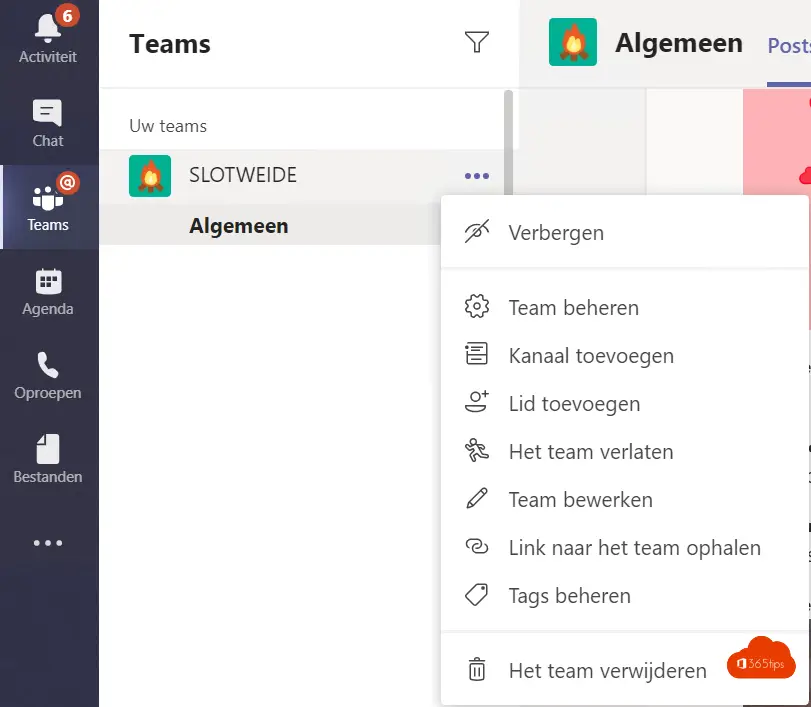 Selecteer privacy
Kies Privé – alleen toegankelijk voor een bepaalde groep mensen binnen Microsoft Teams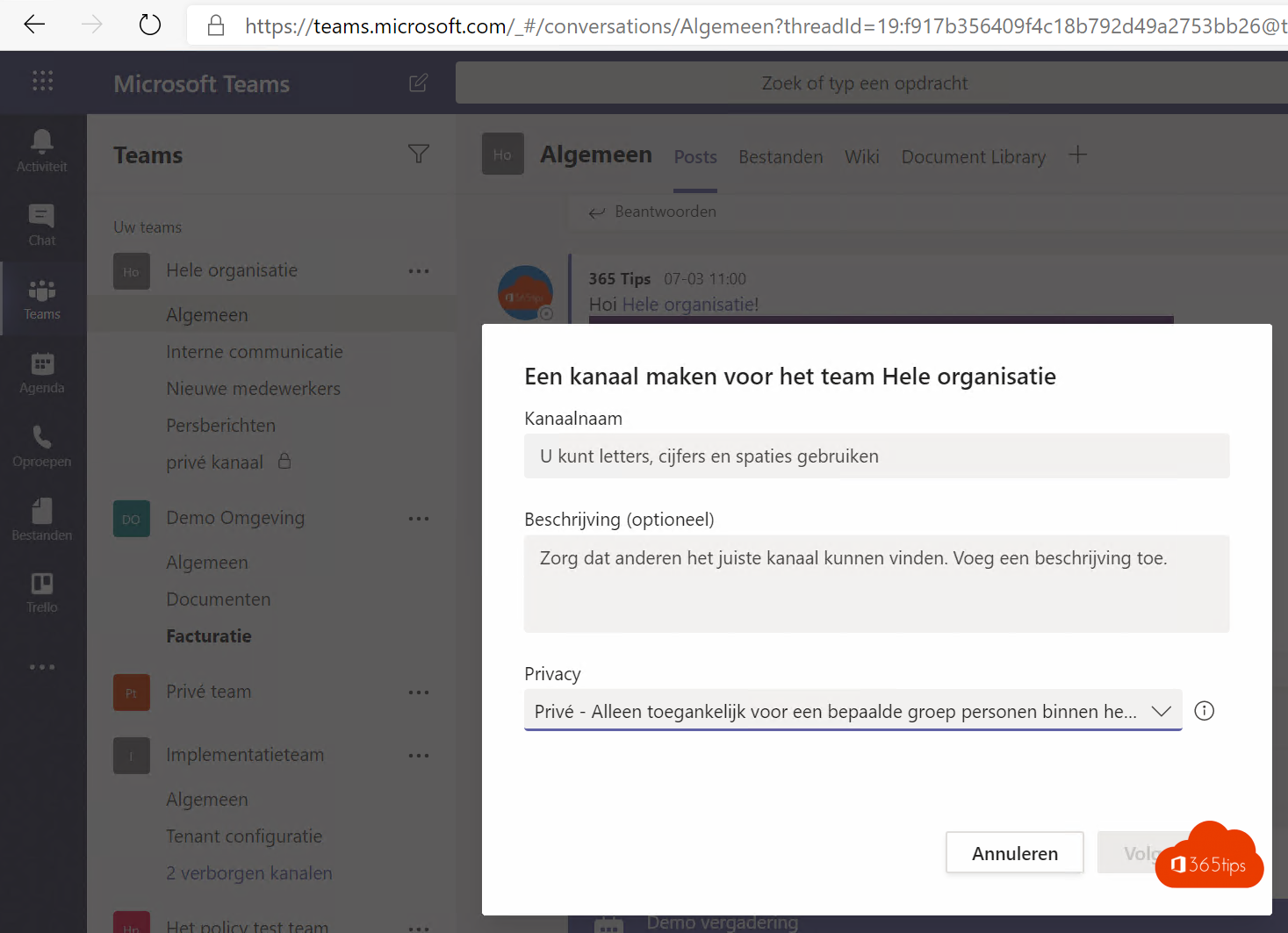 Voeg na de creatie de gebruikers eerst toe aan het Team waarvan het channel uitmaakt.
Voeg daarna de gebruikers toe aan het teams kanaal dat je hebt aangemaakt.
2. Via PowerShell
Installeer de nieuwe versie van de Mirosoft Teams PowerShell Module die private-channels bevat via docs.microsoft.com
Register-PSRepository -Name PSGalleryInt -SourceLocation https://www.poshtestgallery.com/ -InstallationPolicy Trusted
Install-Module -Name MicrosoftTeams -Repository PSGalleryInt -Force
Get-Module -Name MicrosoftTeams
Login op Microsoft Teams via PowerShell
Connect-MicrosoftTeams om verbinding te maken via PowerShell met de admin controls.
Haal je eerder gemaakte teams op via: get-team (of maak een nieuw team)
Kopier je group ID's naar een aparte plaats.
Kopier het groupID naar de onderstaande regel. Kies een displayname en druk op Enter.
New-TeamChannel -GroupId f98369f6-24d6-4b8d-aa1c-ca5a3e0a94f7 -DisplayName "Office 365 Tips" -MembershipType Private
Je channel is aangemaakt via PowerShell.
Je kan via CSV Import of variabele werken om meerdere private teams aan te maken.
Een stap daarna is automatiseren van dit proces. Of integreren in een workflow zodat de creatie gebeurd op basis van een trigger of noodzaak binnen de organisatie.