🔒 Have i been pwned? Have I been hacked? Here's how to secure all your online accounts!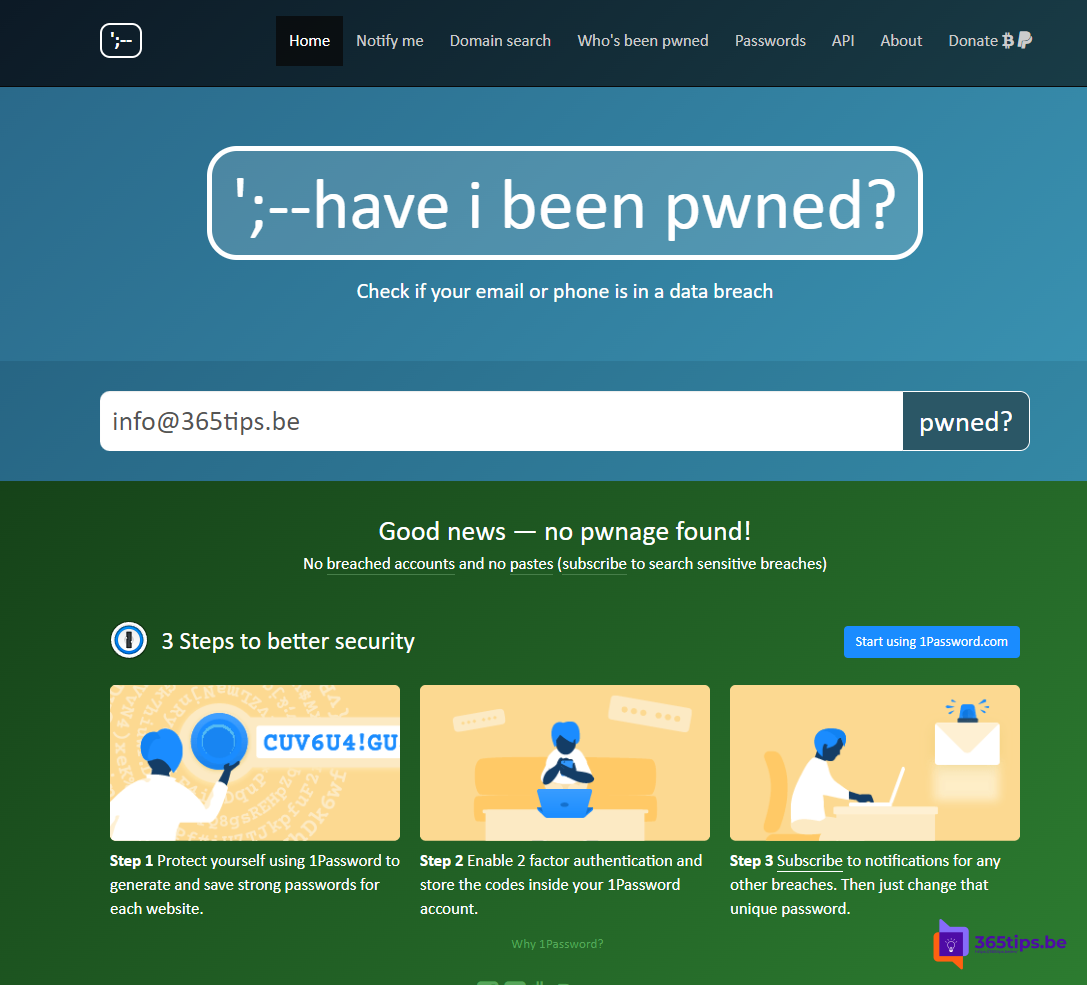 Troy Hunt, an Australian web security expert, founded the website http://www.haveibeenpwned.com in 2013. Known for his public education on security topics, Hunt created Have I Been Pwned? as a data breach search website. It allows users to check if their personal information has been hacked. The goal of this Web site is to increase users' awareness of the risk of identity theft after a data breach.
How do you get started with Have i been pwned?
Browse to http://www.haveibeenpwned.co m and enter your most-used e-mail address.
Green: You have never been exposed to a hack.
Red: You have ever been exposed to a hack.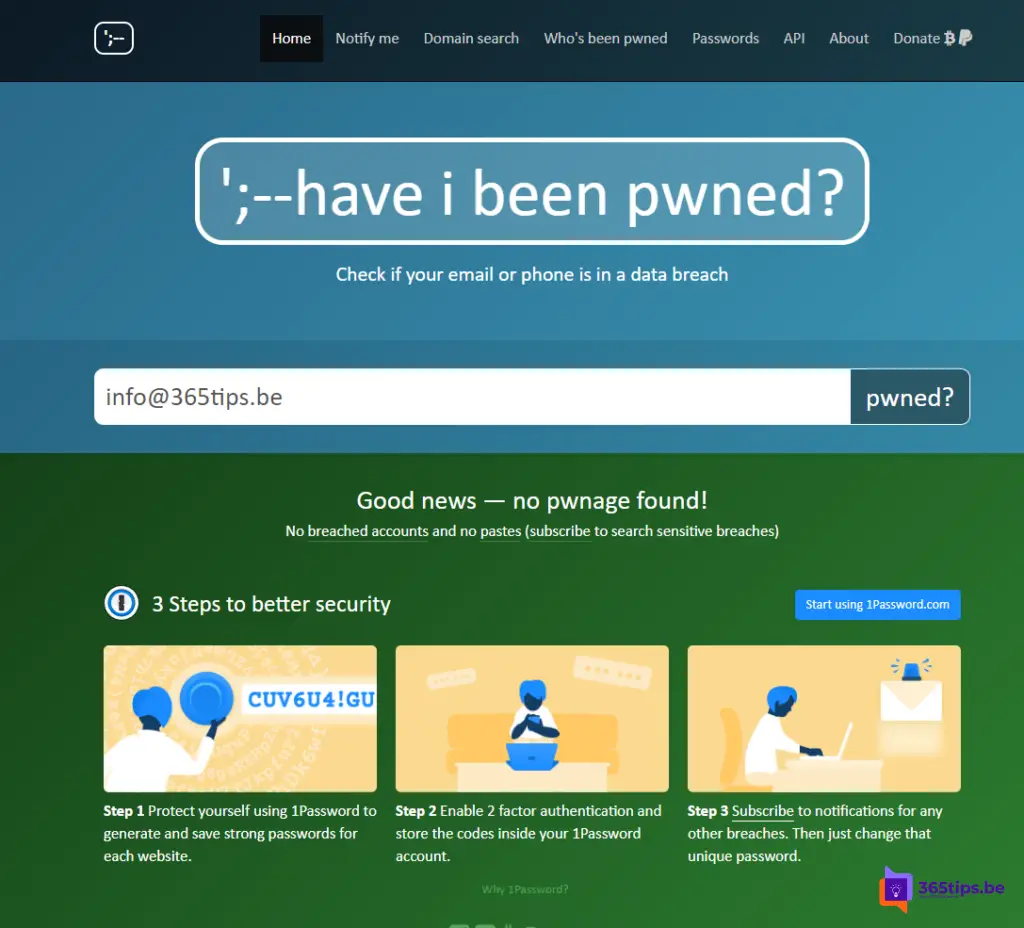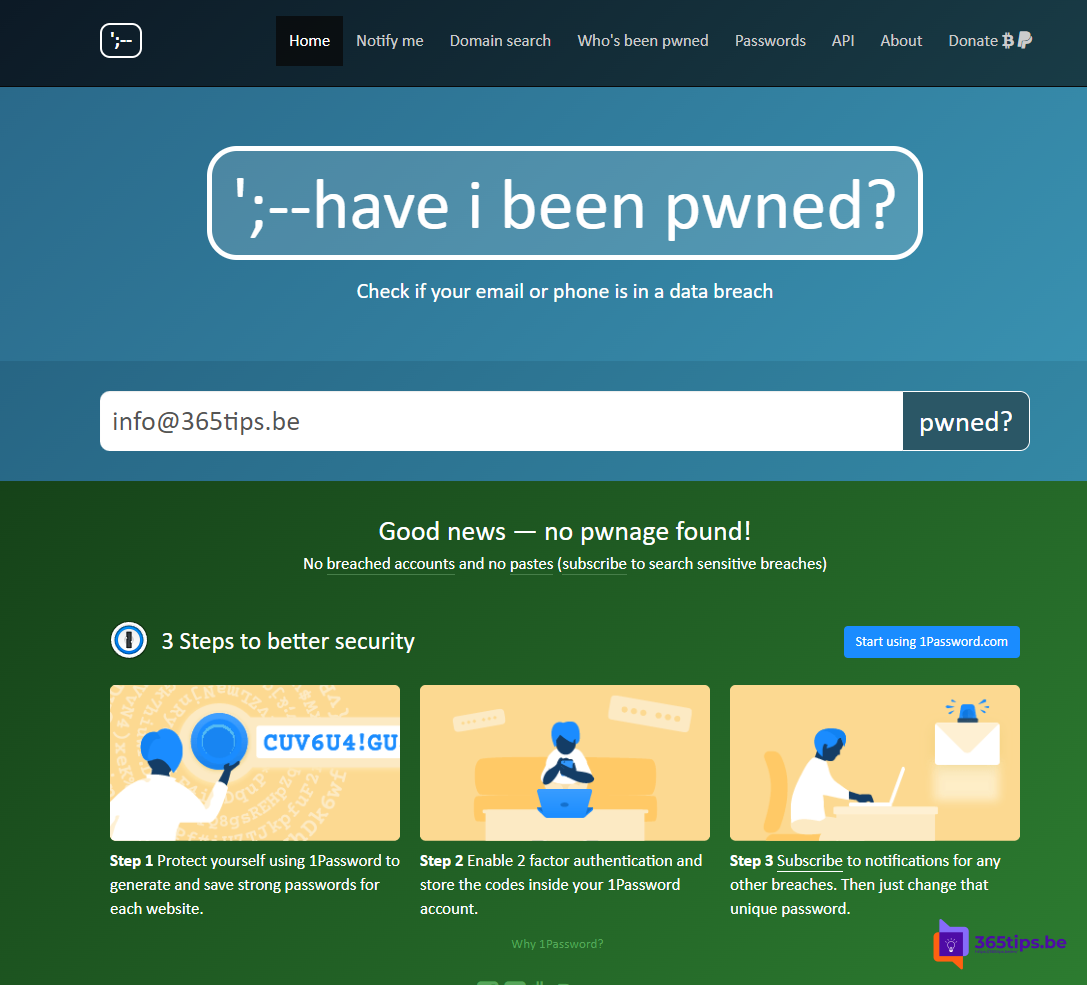 If you are involved in a breach where an attack captures your username, e-mail address and password, it is highly recommended that you change your password.
In addition, it is always wise to:
A password tool to be used with MFA.
Never use the same password on multiple sites.
Never pass on your password, even to your partner or family members.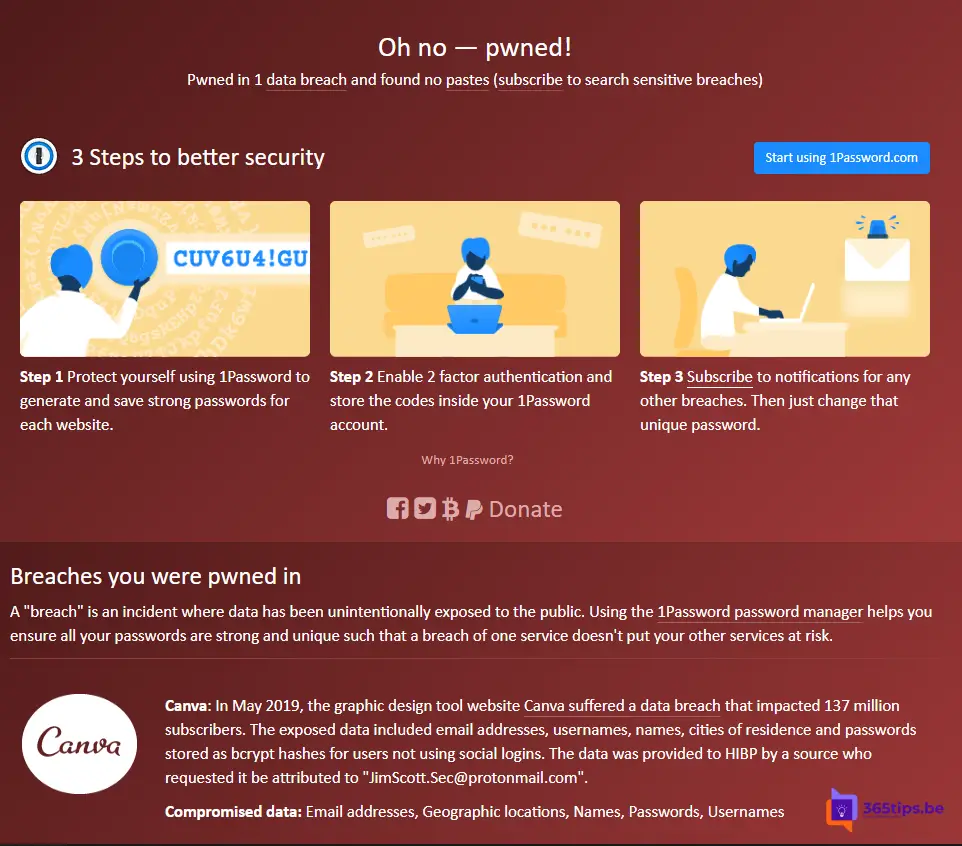 Use a password manager for unique and difficult password generation and memorization
First, it is important that you enable multi-factor authentication for your chosen password manager and then use unique password.
In addition, it is highly recommended to always set a unique password per application or service to prevent a hacker from using your password to access all your online applications.
The most commonly used password managers are: Keeper, Apple Icloud Passwords, Zoho Vault, Bitwarden, LAstPass, 1Password, LogmeOnce Password, Roboform Everywhere, Password Boss, Dashlane, NordPass.
How to enable MFA in Office 365 to have a more secure account?
You can unfortunately assume that your password is already in the possession of a bad actor. Someone who has bad intentions with your identity. Activating MFA makes it a lot harder for hackers to effectively gain access to your accounts.
Tutorial: How to Activate Multi-Factor Authentication (MFA) in Microsoft Office 365?
How can you enable Multi-factor authentication to make your Google Account extra secure?
Open your Google account.
In the navigation window, click Security.
Under Login to Google, select the option Verification in 2 steps  Getting Started.
Follow the steps on the screen.
Learn more: Turn on 2-step verification - Android - Google Account Help
Enable multi-factor authentication for your Facebook account?
Two-step verification is a security feature that, in addition to your password, helps protect your Facebook account. If you set up two-step verification, you will be asked to enter a special login code or confirm your login attempt when someone tries to access Facebook from an unknown browser or mobile device. You can also receive alerts when someone tries to log in from an unknown browser or mobile device.
Enable or manage two-step verification:
Go to your security and login settings.
Scroll down to Use two-step verification and click Edit.
Choose the security method you want to add and follow the on-screen prompts.
Learn more: How two-step verification works on Facebook. | Facebook Help Center
Enabling multi-factor authentication (MFA) for TikTok
TikTok does not offer an MFA formula but does give you the option of working with trusted devices. This often gives greater security because you often only have one device.
Learn more: Safety Circle | Youth Portal | TikTok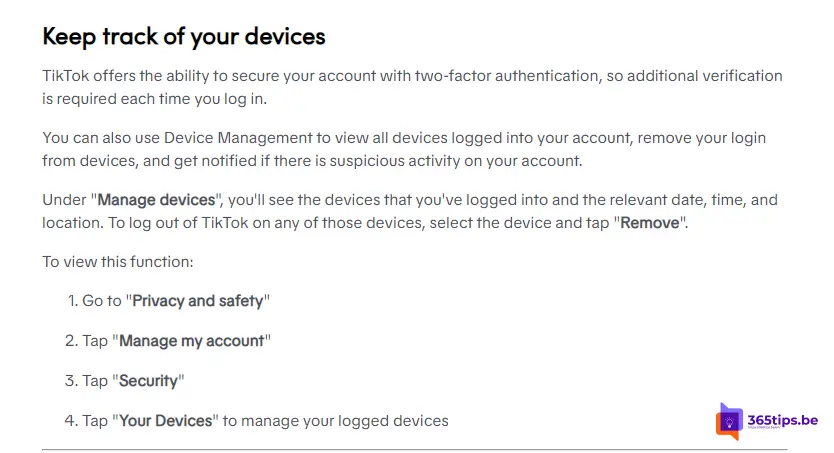 Enable multi-factor authentication (MFA) for Snapchat?
Two-factor authentication adds a second login step in addition to your Snapchat username and password.
When two-factor authentication is enabled and you log on to a new device, you will be prompted to enter a login code.
You will lose access to your account if you have two-factor authentication enabled and the following happens:
Lost your phone
Change your phone number
Restore your phone to its original factory settings 🔄
Authenticator app only: lose or delete the original authenticator app you used to set up two-factor authentication
Learn more: How to Set Up Two-Factor Authentication with SMS on Snapchat
Enable multi-factor authentication (MFA) for Instagram?
Learn more: What's two-factor authentication and how does it work on Instagram | Instagram Help Center.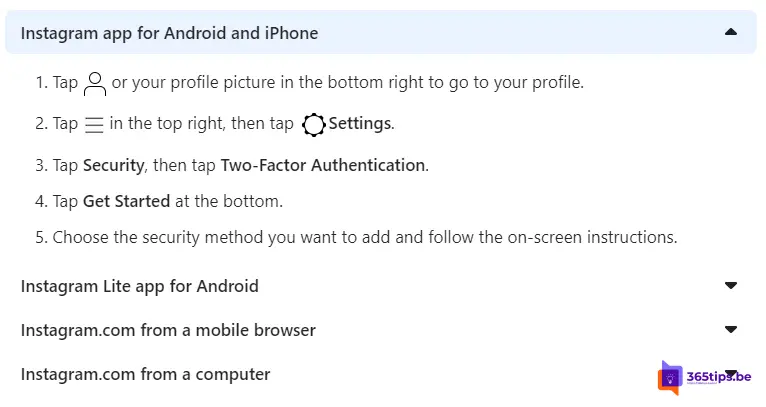 Is there a tip missing? Send a comment at the bottom of this article and help others use the Internet safely as well
About the author
Tagged: Security