👪 Office 365 in education - Setting up a classroom - Starter Guide
In this blog post you can find a quick start for Microsoft Teams for education. In this article you can read how to get started creating your own environment via the Microsoft website.
Then you will learn how to add your own e-mail domain, set up your class with students, start tasks in Microsoft Teams, follow up tasks and grade points.
Can't find something? Please react in the comments section below this article and help others to set up their classrooms as well.
Also readother tips
Modern Education on YouTube - Teaching via Microsoft Teams
Staff Notebook in Microsoft Teams for Education
Creating and submitting assignments in Teams - Education
Microsoft 365 Tutorials | Teams, O365, Email, SharePoint...
Tutorial: Microsoft Teams breakout rooms ! - Tutorial
Maintain attendance in Microsoft Teams
Create a Office 365 environment
To create a office 365 Create an environment by creating a new tenant environment. In this blog you can read the detailed explanation. Surfing directly to the tenant creation URL is also an option.
Logging in as administrator - the first time
When you log in for the first time to https://portal.office.com you need to do 2 things. Add your domain so you can send emails with your domain and complete the configuration of Office 365 .
Tip: several administrators for Office 365 have been appointed.
Complete the settings:

Add your domain, choose TXT record.

Add the TXT record on your domain hosting and do the domain refinement.
Add your first colleagues in this wizard. It is better and safer that you will not be the sole owner of a tenant. 2 tenant administrators are recommended.
Set all domain records correctly. MX for Exchange (e-mails), Cname for easy Outlook configuration.
Set an MX record - usually created with domain-be.mail.protection.outlook.com
Set a CName for Autodiscover from Outlook to outlook.office.com
adding a TXT Record for validating and claiming the Office 365 domain is also necessary.

If you have done everything, you can go through the wizard and you will come out here.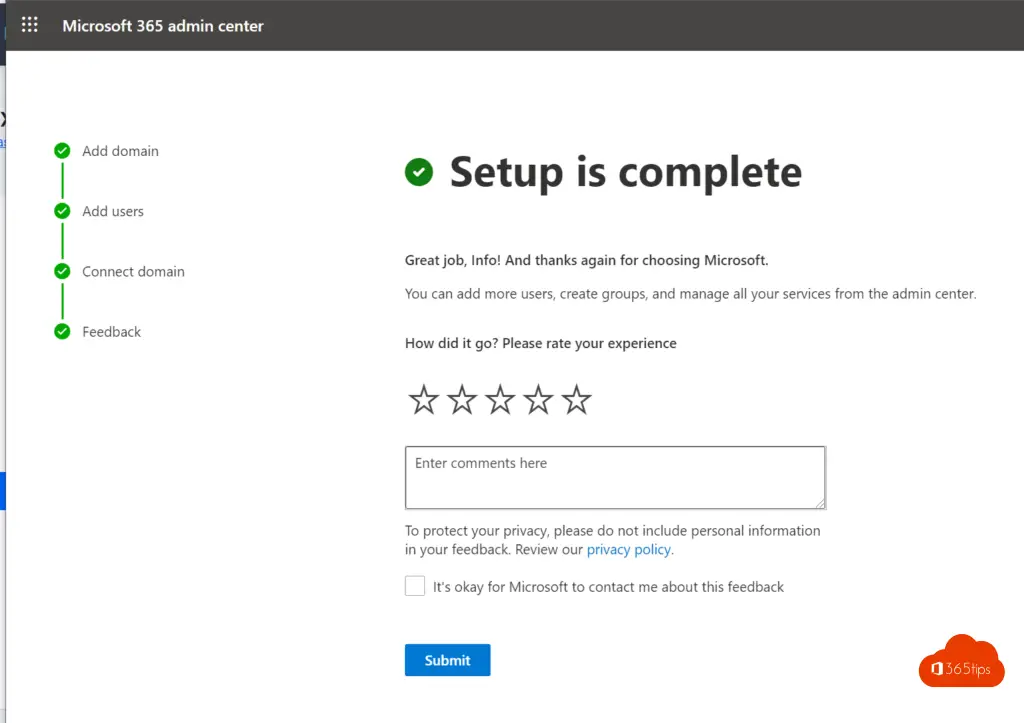 Starting Microsoft Teams for the first time
Browseto: https://teams.microsoft.com - or in the navigation of Office 365 press Microsoft Teams.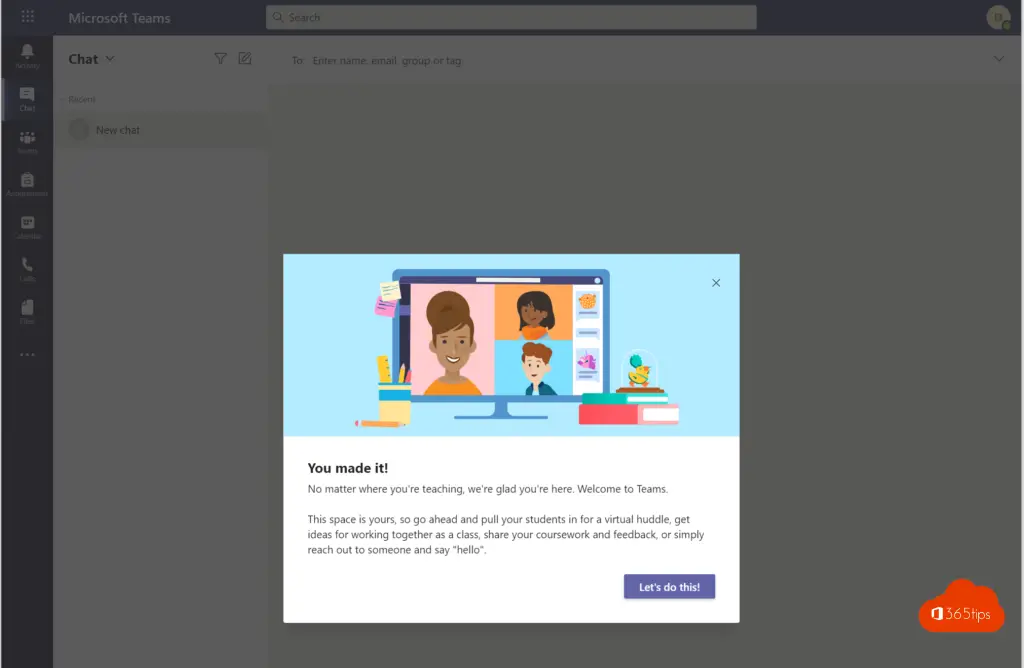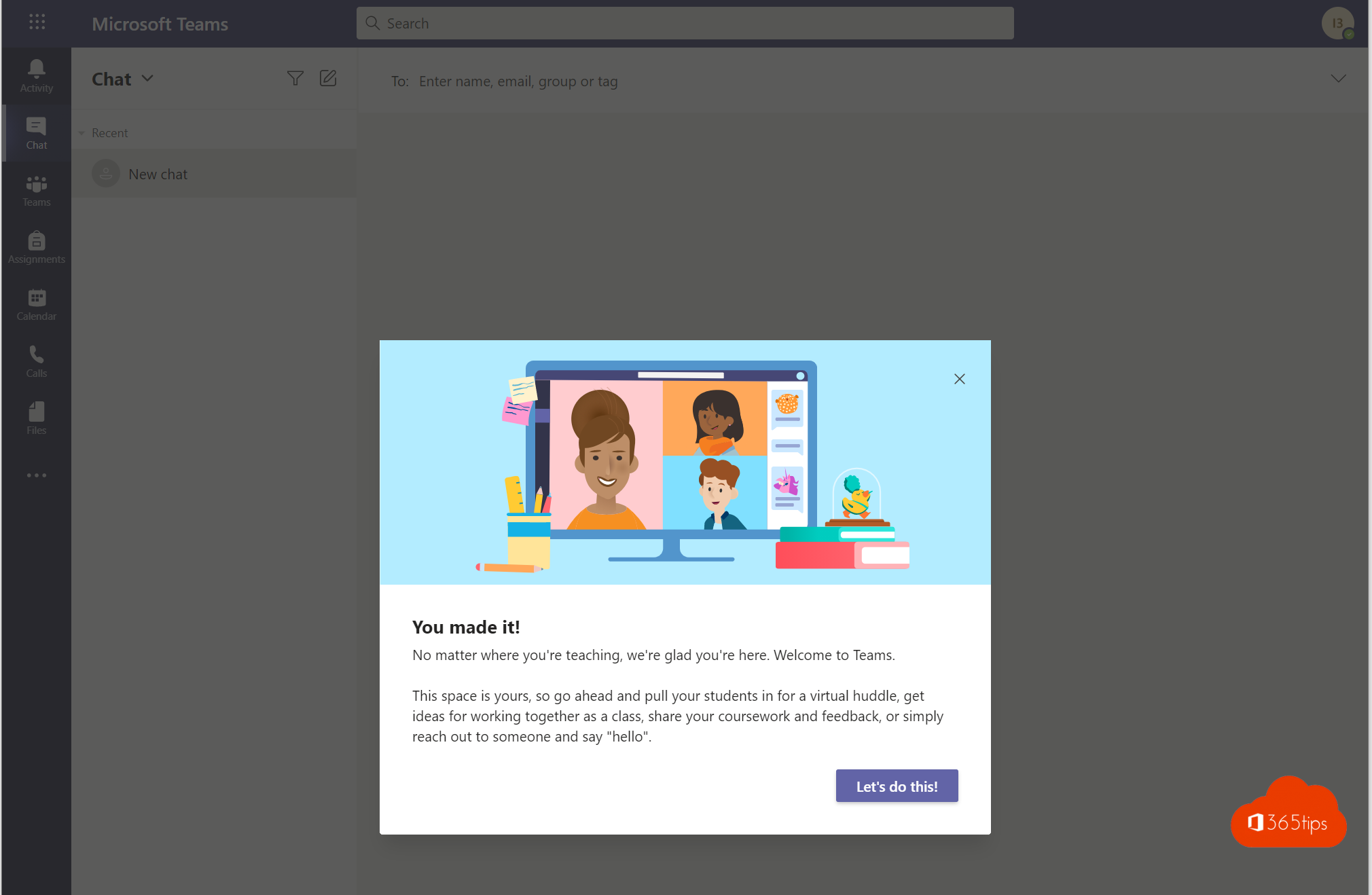 Teachers, start here!
The first time you start Microsoft Teams you get the opportunity to create a class. This can also be done later via the admin panel.
Press: Teachers: start here - in this article you can find information to set up Microsoft Teams for a class.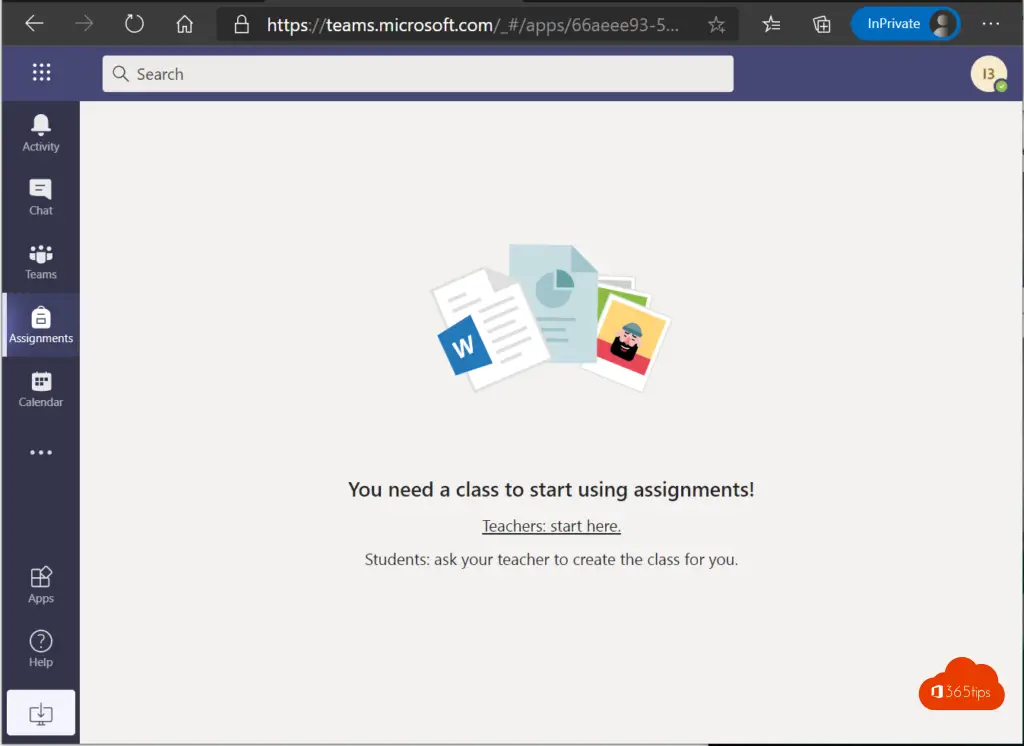 Create your first Team
Browsego to: https://teams.microsoft.com/_#/discover - and press at the bottom: Create a team
Create a class using the first option of this drop-down menu.
Name your class
Adding students can be done at this stage. It is best to set up everything properly before adding students.
Class material can be uploaded via files. Setting up a class notebook can be done using this wizard or this earlier blog.
Uploading documents or folders that nobody is allowed to edit is possible via this blog and recently one folder has been placed in read-only mode for teachers. So this folder cannot be edited by students or participants. Marien Zonnenberg explains this nicely in this video.
Upload class material
Uploading documents to prepare the lessons can be done in the special folder "Class Materials". This is a folder that teachers cannot edit.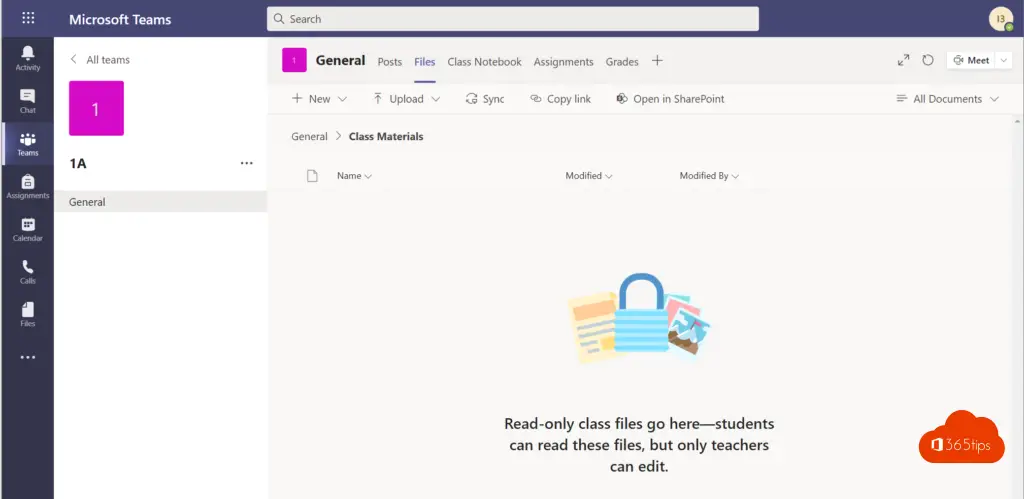 Starting a notebook
2 options. Either you already have a good template, and you can continue with that. Or you start from an empty sheet via: Blank Notebook.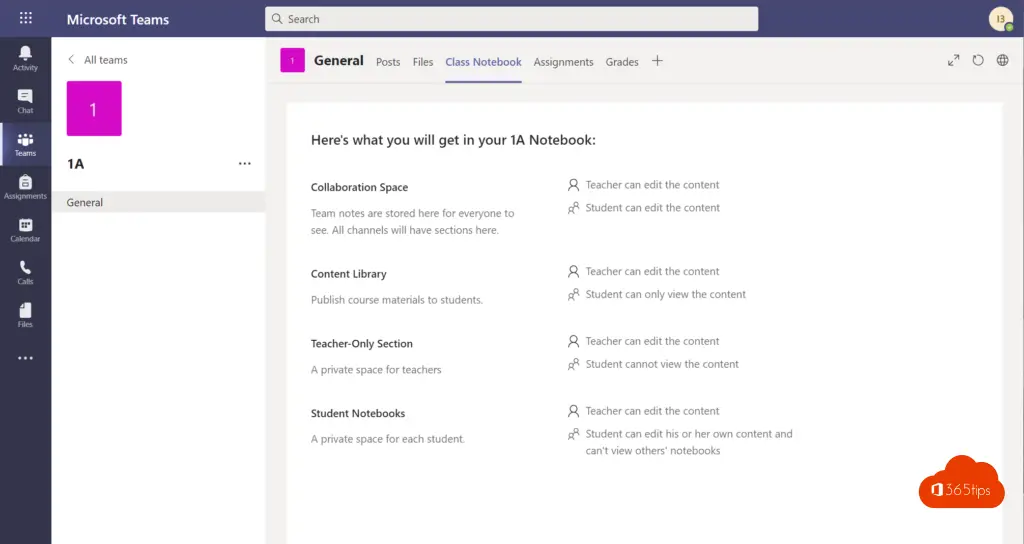 Make the standard layout the first time!
Get started with the new OneNote!
Set up an assignment for students
Press Assignment at the top.
Create an order without a template
Create a first assignment.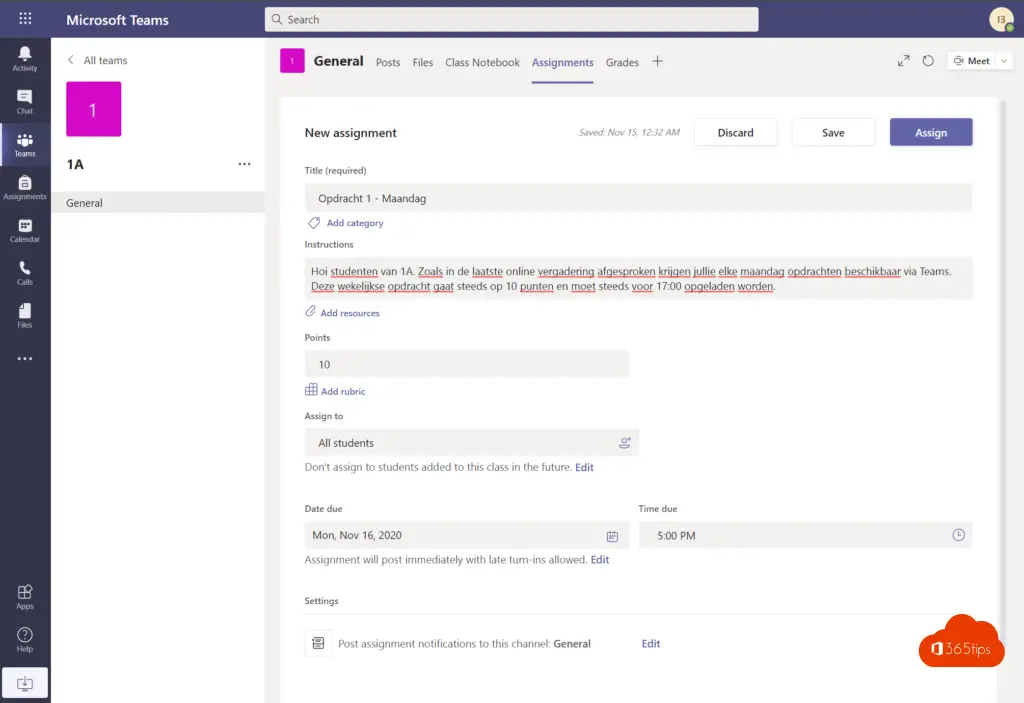 Add files for the students by clicking on resources.
Put a Rubic assessment on the task
You can work with categories as shown here.
All pupils receive their assignment in the same way!
The teacher sees all tasks that have been submitted
Delegating tasks or setting the daily schedule for the students can be done from this menu.
Add a student to Microsoft Teams
There are two ways to work with students. Either they have an account from the educational institution, or you work with guests.
If you are working with guests -> first make sure that guest access is enabled in the tenant via this blog. This step may take several hours before it is possible to add guests.
If you work with students who have their own office 365 account. Add all students via a CSV file in one go or manually via these steps.
Open the Admin portal at: https://admin.microsoft.com/AdminPortal/Home#/users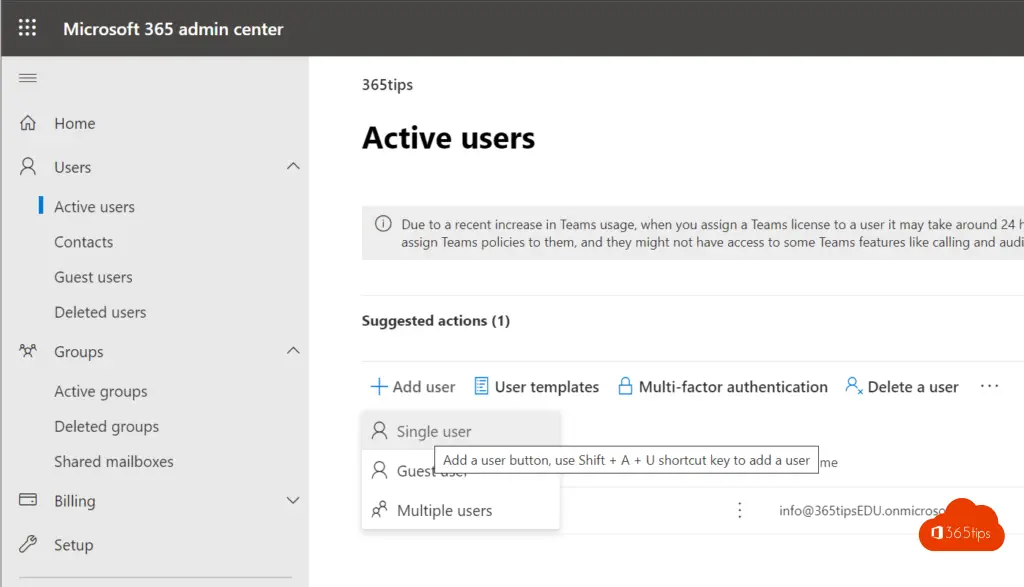 Create the first student, fill in all fields. If necessary, send the password to the pupil or parent's e-mail address.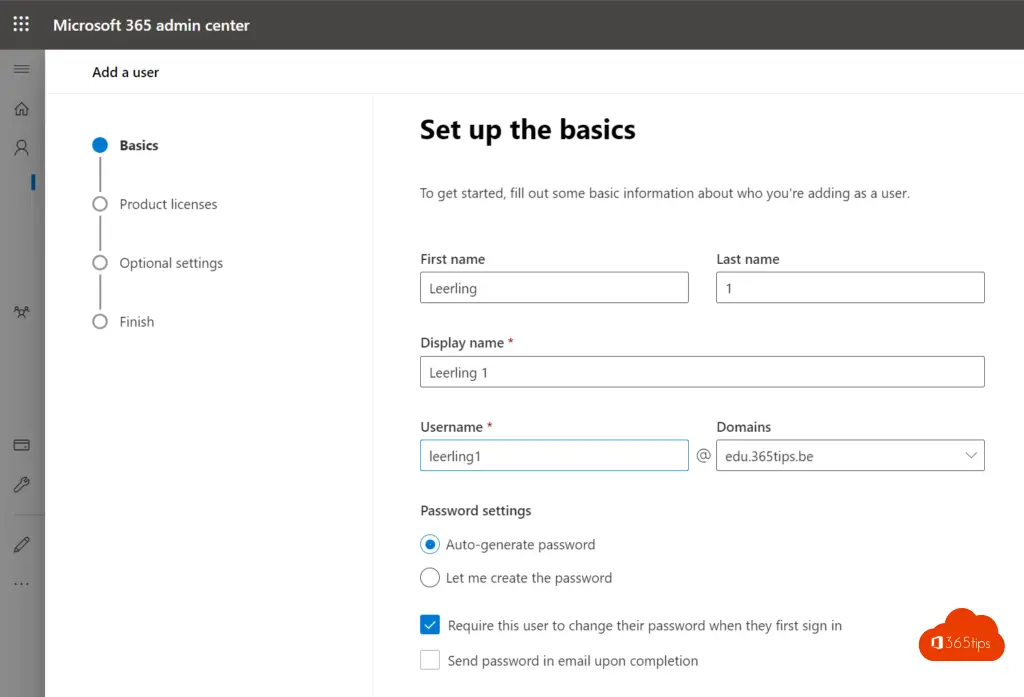 Assign a student licence and press finish.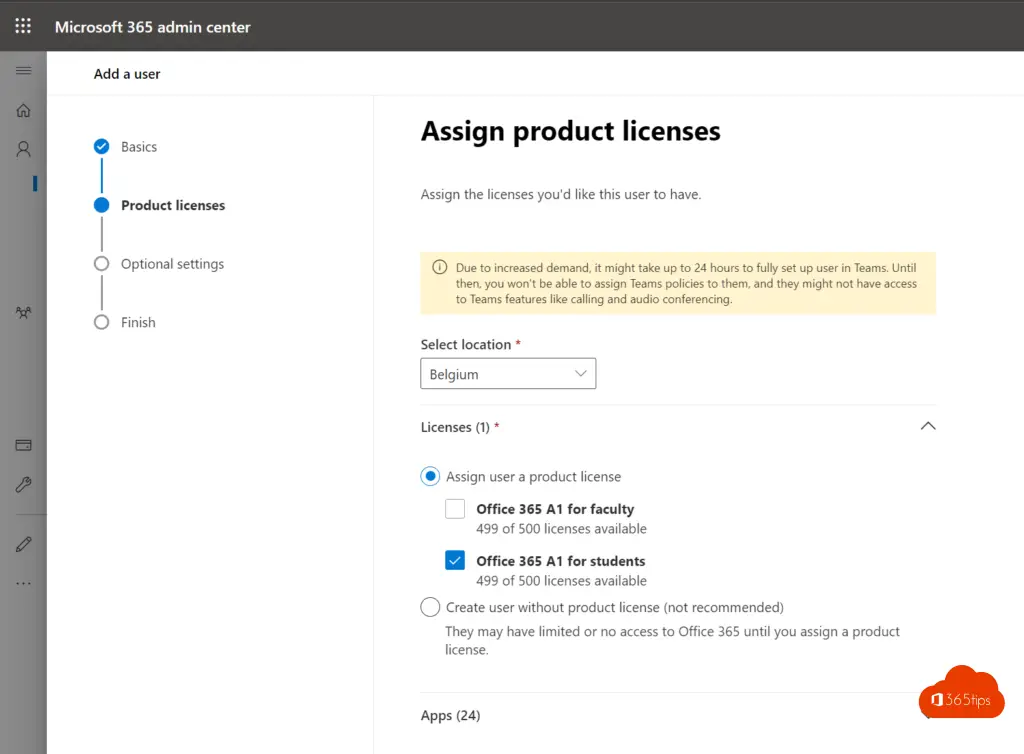 In Microsoft Teams click on add members, add the student.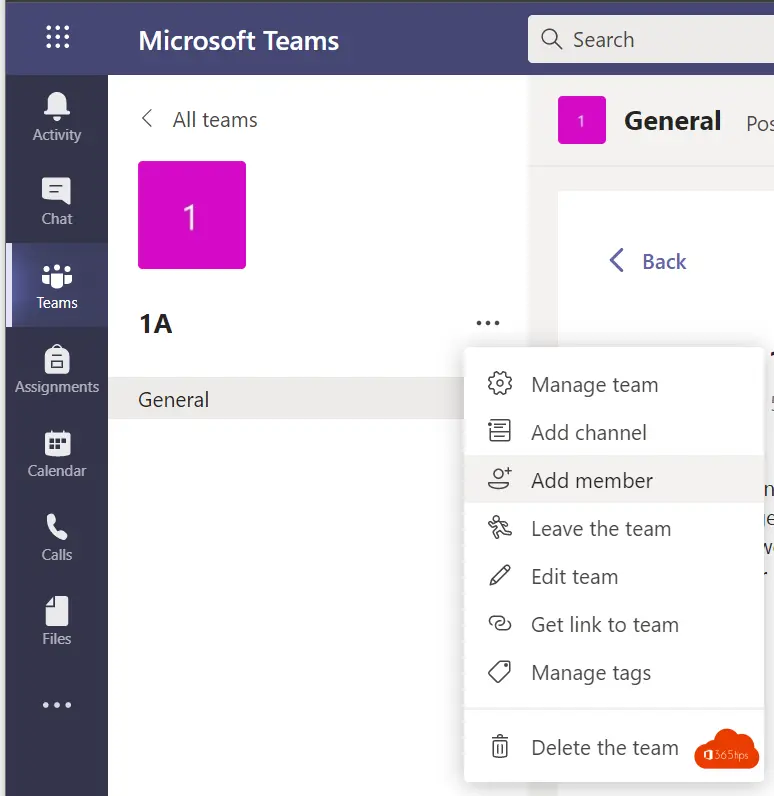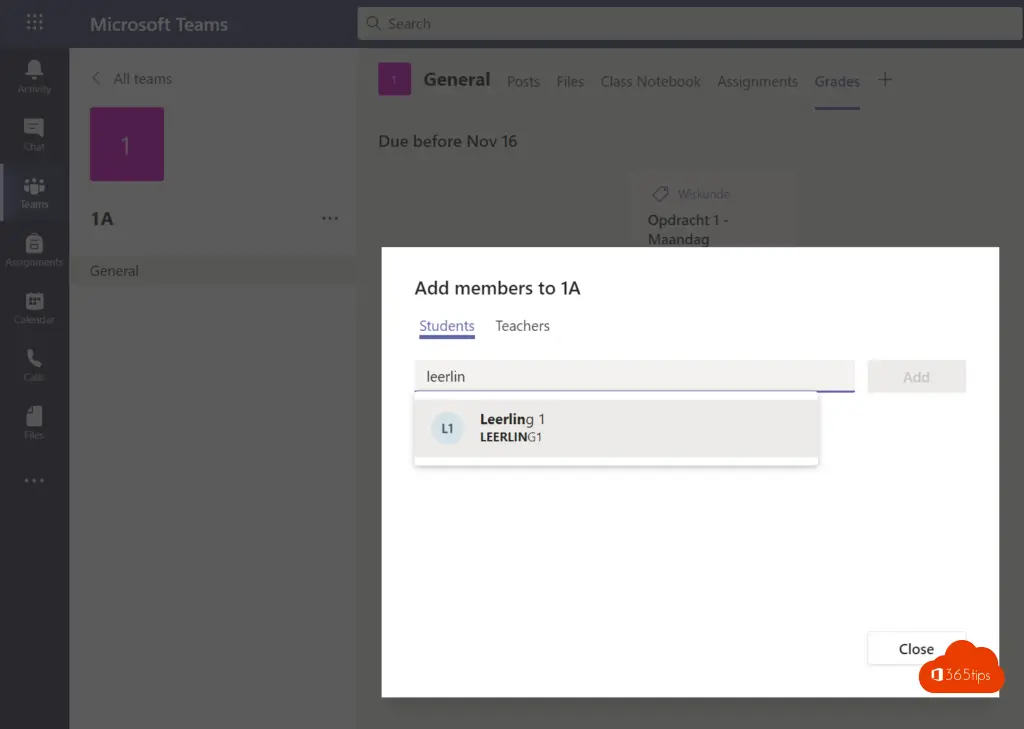 Teachings do not have to be deleted when the school year is finished. However, it is useful to create teams again because you want to start clean and not take all the data from the past with you.
There are also strange problems when pupils who have been removed from the team are still given assignments.
Teams templates solves rapid creation. More on this in this blog.
Open Microsoft Teams as a student or pupil
Through the above steps, we made a task for all students of 1A. Pupil 1 is the first student added to this Team.
On logging on to https://teams.microsoft.com for the first time, Student 1 is notified that he has been added to the class and can view his tasks.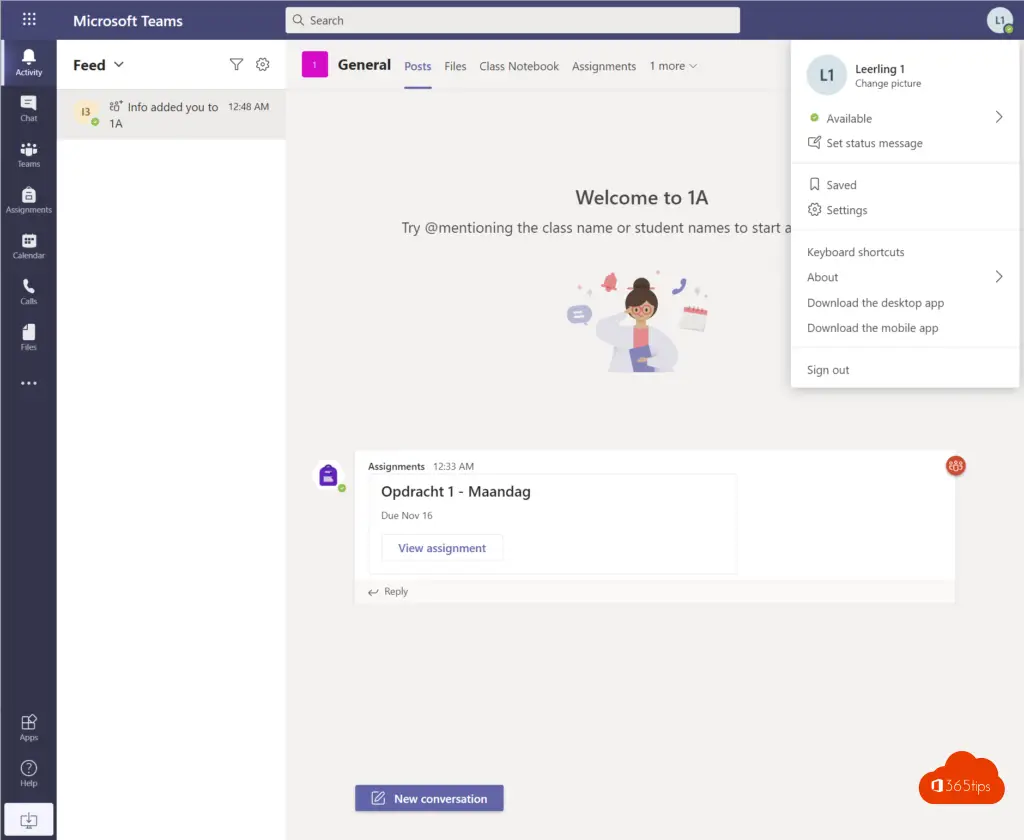 Describe the task encore to the students. So they know where and how to upload their task. You have control as a teacher to see all the statuses of the submitted tasks.

Assess a task
Tasks can be uploaded by students via OneDrive, Word, Excel, PowerPoint or a file on their own computer.
Assessments as a teacher can be made on the right-hand side.
Task accomplished! Save it!
This is what the student sees.
Points overview for teachers
it is possible for teachers to see at a glance the grades of all the tasks that have been assessed.
These figures can only be consulted by teachers and can be converted to Excel.

Helping students get started with Microsoft Teams for education?
Oh yes, if your pupils have never heard of Teams you could easily provide them with this quick start guide.
Video content
50 videos -> Modern Education on YouTube - Teaching via Microsoft Teams
General Instructional Videos: The Best Microsoft Teams Instructional Videos on the Internet
Englishcontent from Microsoft
Teams for Education Quick Start Guide (PDF) overview that includes meetings and calls
Teams for Education Quick Start Guide for Students (PDF)
Teams for Education Quick Start Guide for Educators (PDF)
Microsoft Teams quick tips videos
This was a crash course of Microsoft Teams for education!
Assigning tasks, creating a class, organising administration and adding students.
Are you looking for information that you could not find? Please comment below and I will be happy to answer with an article.
Do you have unique content for educational institutions that can also help others? -> Send a message via the contact form.
About the author
Tagged: Tutorial, Microsoft 365, Microsoft Office 365, Microsoft SharePoint, Microsoft Teams Admin Center, Education, Collaborating with Microsoft Teams