Tutorial: How to create a communication site in SharePoint Online & Microsoft Teams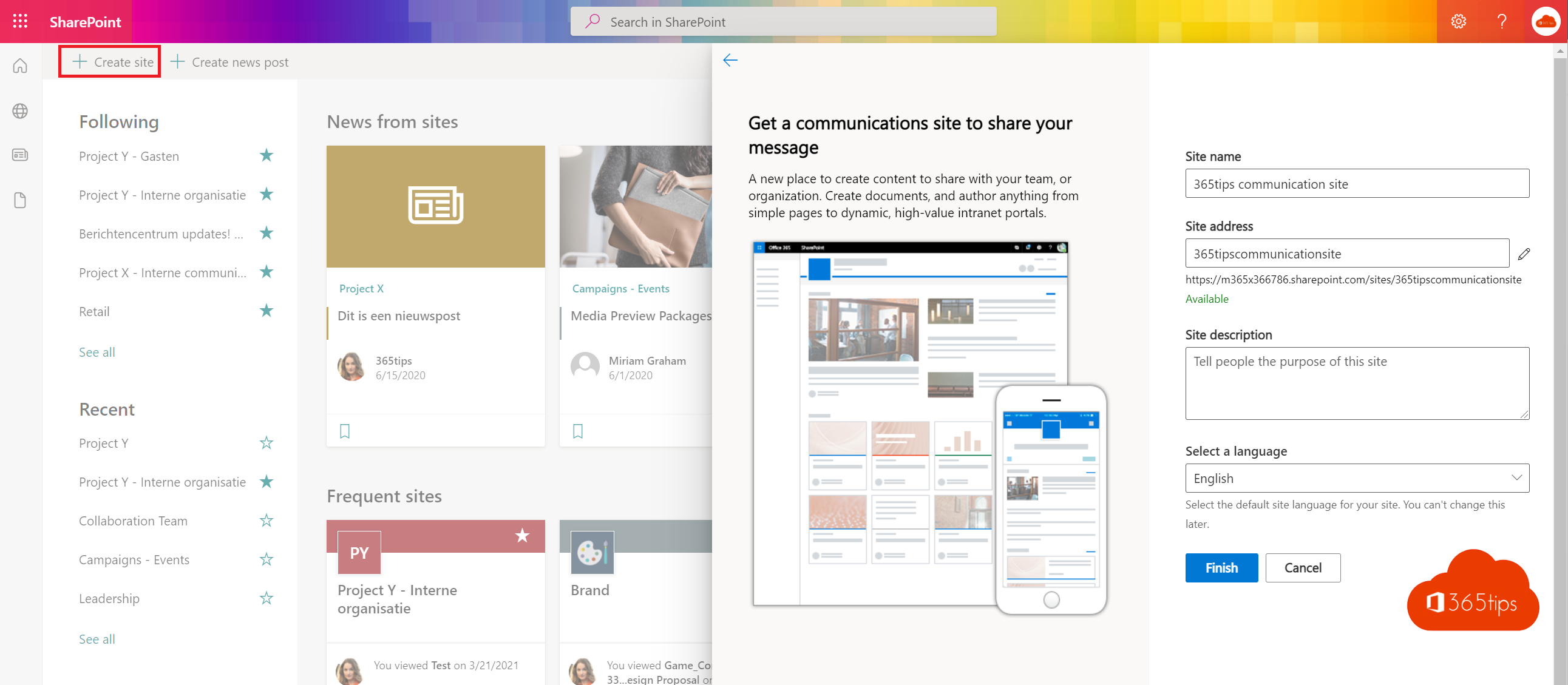 In SharePoint Online you can create two types of sites: team sites and communication sites. In this blog post, we focus on creating a communication site.
With SharePoint communication sites can speed up internal communication by sharing information within your organisation in a standard site.
This blog post is part of the Microsoft SharePoint training series.
#1: For #1: Preparation for a SharePoint test environment, how to create a Office 365 tenant ?
#2 Tutorial: How to create a communication site in sharepoint online ?
#3 Integrating a SharePoint site in Microsoft Teams tab as start page
#4 Apply default templates on SharePoint Online - Template chooser
How do I log on to SharePoint?
You can log on to SharePoint with your Microsoft Office 365 account, via the web application or you can install the mobile app on your iPhone (iOS) and Android.
Go to http://sharepoint.microsoft.com to log in to SharePoint via the web browser.
How do I install the SharePoint iOS or Android Application?
Browseto this URL via the smartphone and install the SharePoint application.
iPhone (iOS): https://apps.apple.com/nl/app/microsoft-sharepoint/id1091505266
Android: https://play.google.com/store/apps/details?id=com.microsoft.sharepoint
1. How to create a communication site in SharePoint?
Browseto your default sharepoint environment. Usually you can access it at this URL: https://tenantname.sharepoint.com/
Or start via https://portal.office.com, click on SharePoint in the navigation bar.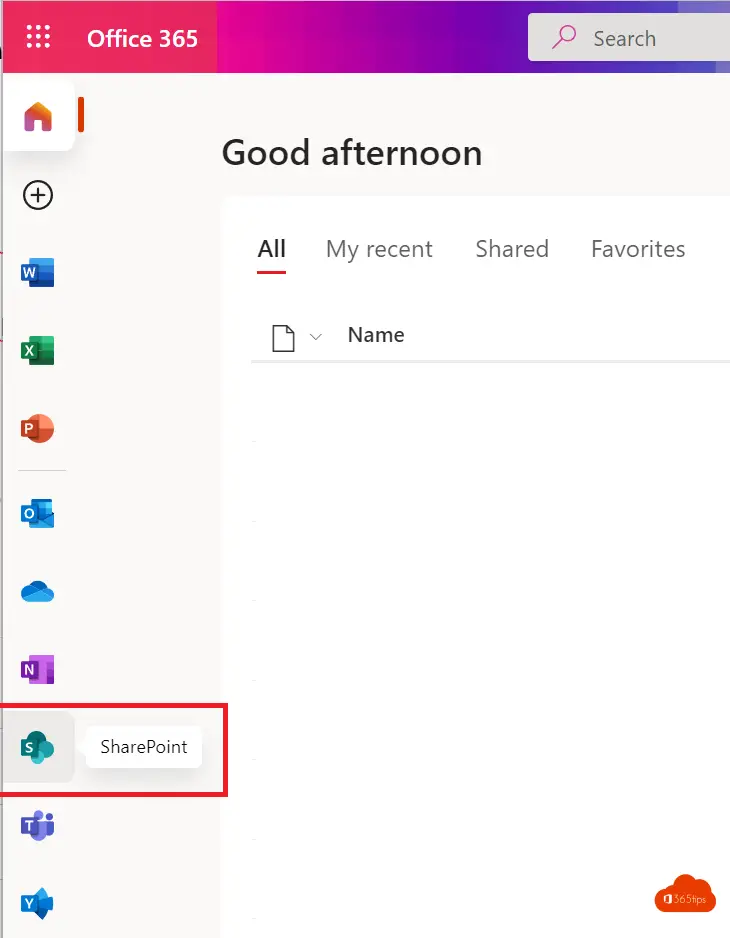 2. Then press "Create site" to create a communication site
Click on the top left on: create site.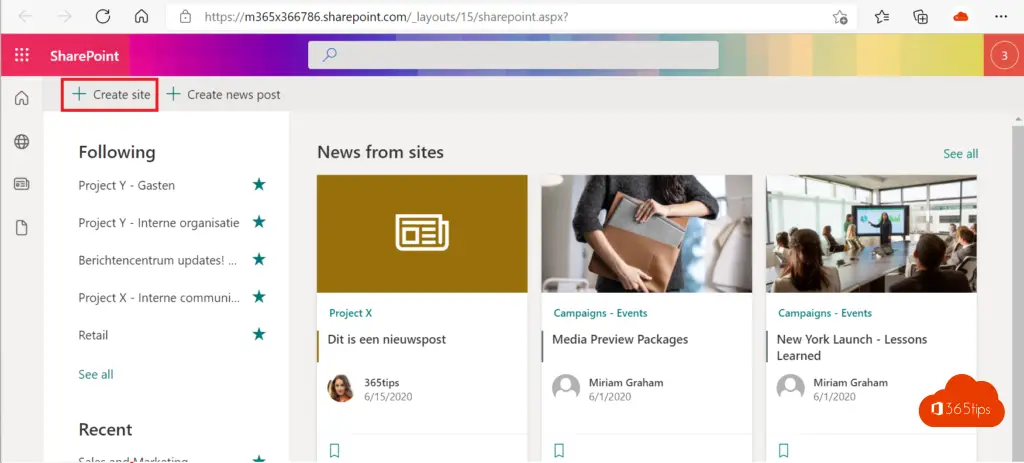 3. Select communication site or Team site
Do not select team site but communication site.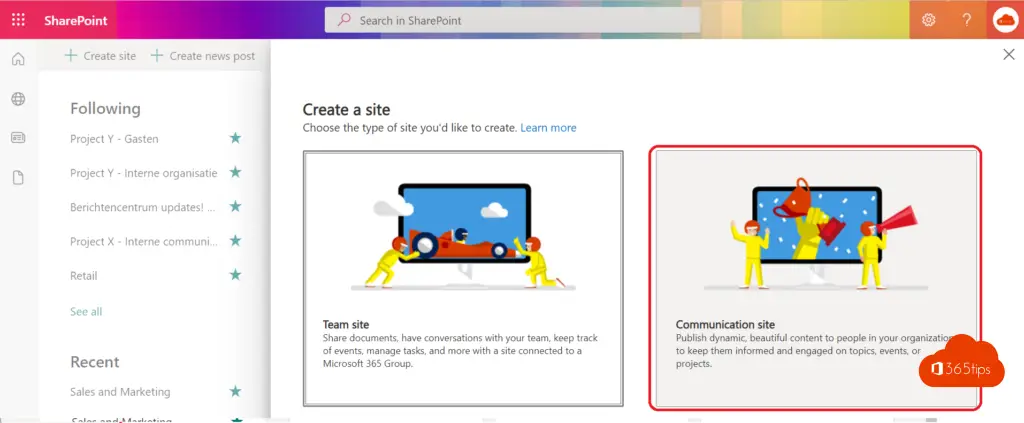 4. Name your communication site
This name is visible to other users. Choose a clear name that everyone understands.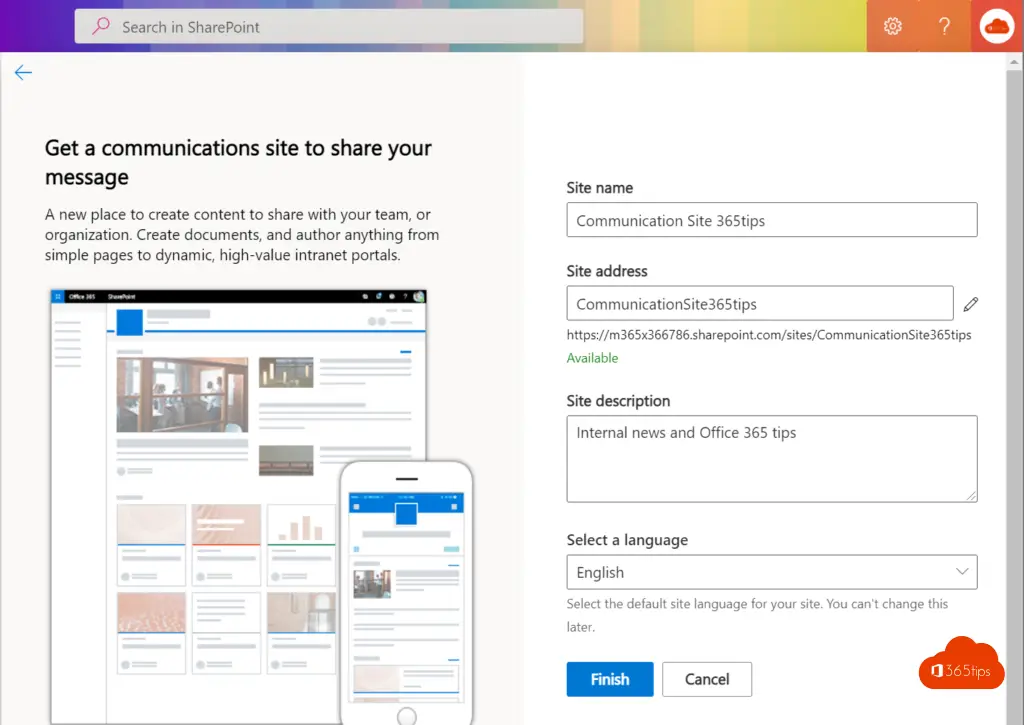 5. Your communication site is now ready to be adapted.
Your communications site is ready. From now on you can start making changes to this site.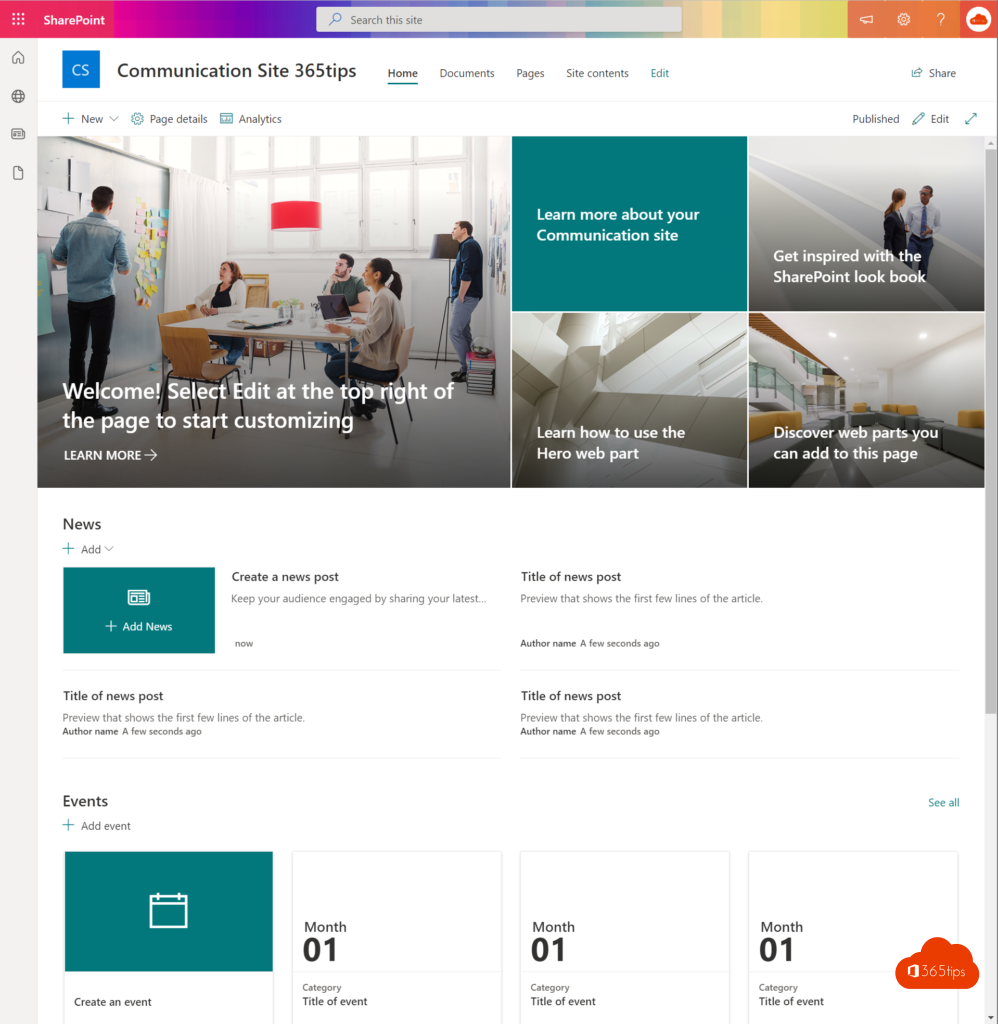 Create a SharePoint site as a Team owner
Christie is the owner of the team and has no other administrative rights in Microsoft 365.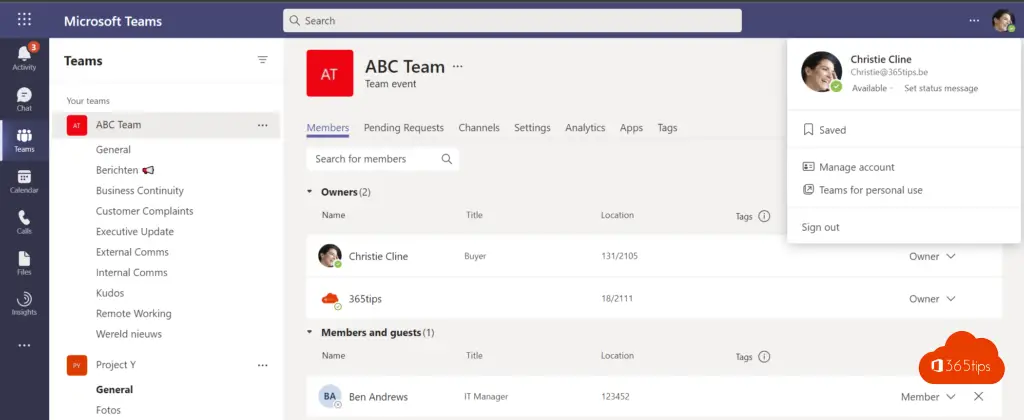 In the team, press files -> Open in SharePoint.

In this SharePoint site you have the possibilities to create a list, libraries, pages, spaces, news links, plans and applications.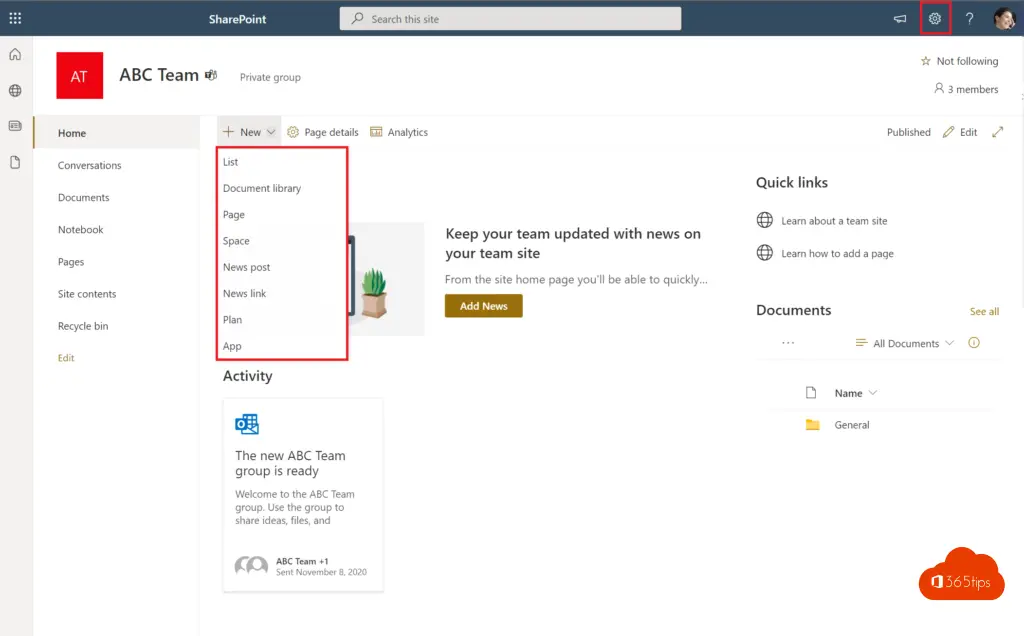 Customise layout on one specific Teams/SharePoint site
Within SharePoint it is possible to use a site template determined by the organisation.
Colours and other views can be changed via: Change the look.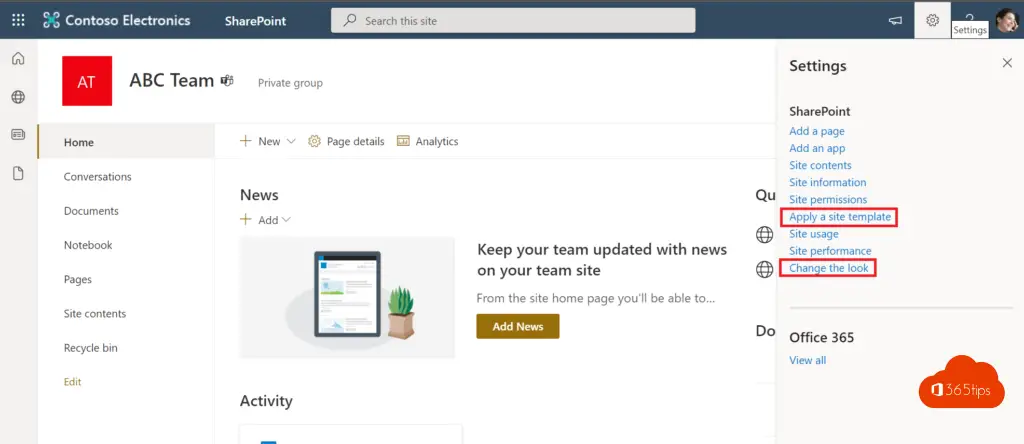 When your site is ready you can also add the unique SharePoint link as a TAB for the whole team as in this blog. This way your team has a full overview of all messages and documents.
Adding your Microsoft SharePoint site in Microsoft Teams
Tip: Integrating a SharePoint site into Microsoft Teams tab as a home page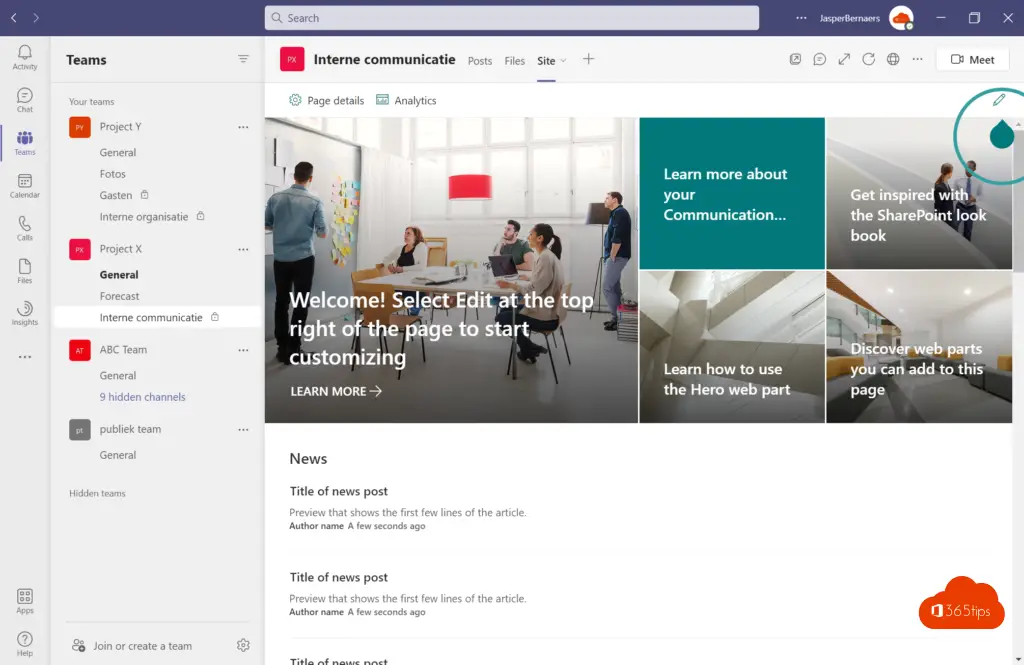 Also readother SharePoint tips
Version history in Microsoft OneDrive, SharePoint or Teams
Sharing a OneDrive document in revision mode
Create a SharePoint list from Excel in Microsoft Teams
Governance for SharePoint Online
OneDrive file(s) deleted and restored - up to 90 days - Recycle Bin
About the author
Tagged: Manual, Microsoft SharePoint