✂️ How to add a new email domain via Admincenter to Microsoft Office 365 📋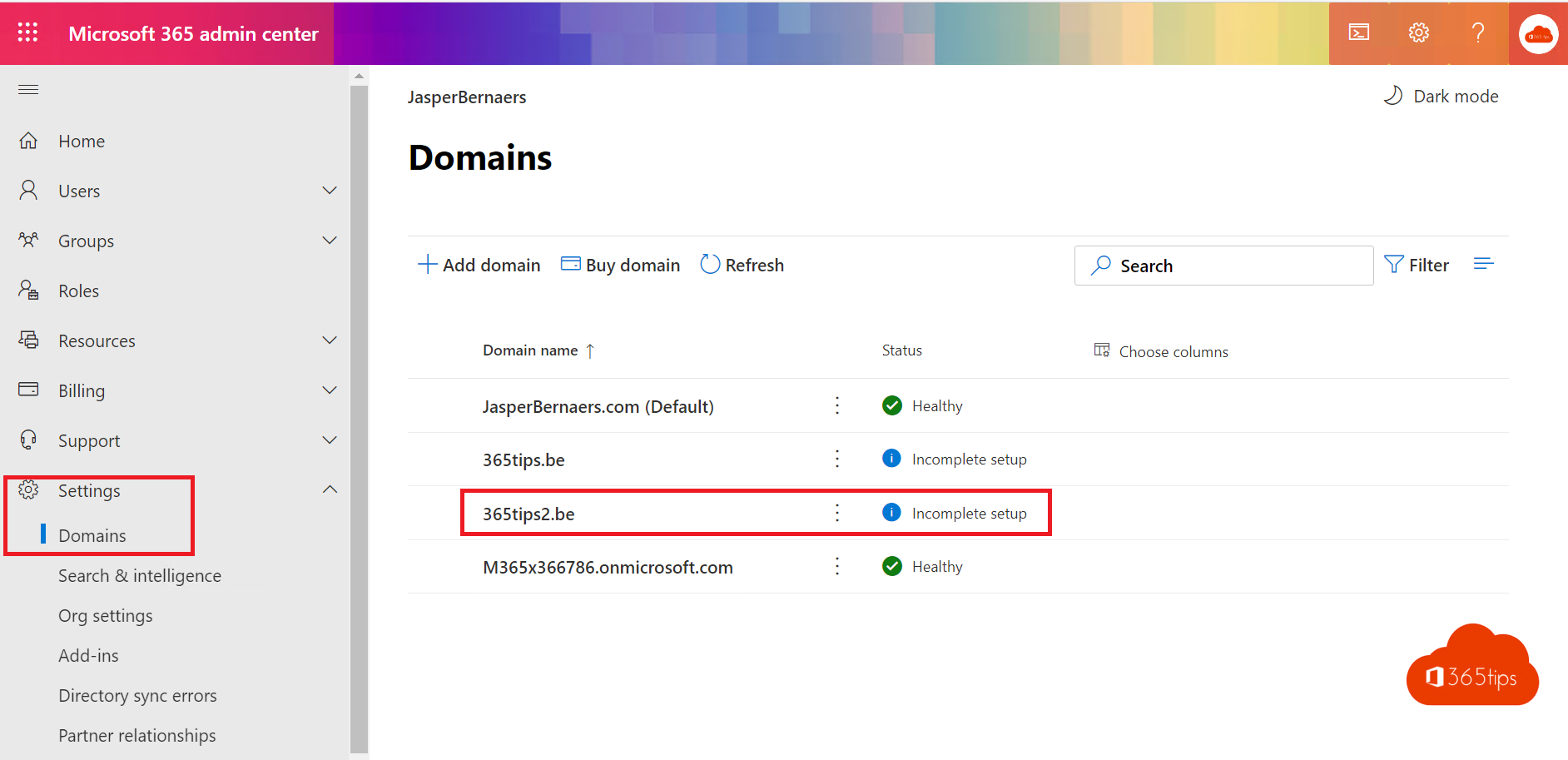 How to add a new email domain through the Admincenter in Microsoft 365?
When you log in for the first time in https://portal.office.com you have 2 practical tasks to perform. These tasks are:
Add your email domain so that you can send emails with your domain and configuration of Office 365 complete.
Add and assign licenses to users so they can use the features of Microsoft 365.
Browse go to: https: //admin.microsoft.com - press settings on the left and choose: add domain.
Enter the domain you own.
Add your domain, choose TXT record.

Add the TXT record on your domain hosting and do the domain sophistication.
Add your first colleagues in this wizard. Always safer that you will not only own a tenant.
Set all domain records correctly. MX for Exchange, Cname for outlook through this wizard.
Add DNS records and MX Records in Office 365
MX records and Cname records are a requirement if you want to easily configure Outlook and activate your mail flow.
Set an MX record - usually built with domain-be.mail.protection.outlook.com
Set a CName for Autodiscover from Outlook to outlook.office.com
adding a TXT Record for validation and claiming the Office 365 domain is also necessary.

Once you have done everything you can go through the wizard and come out here!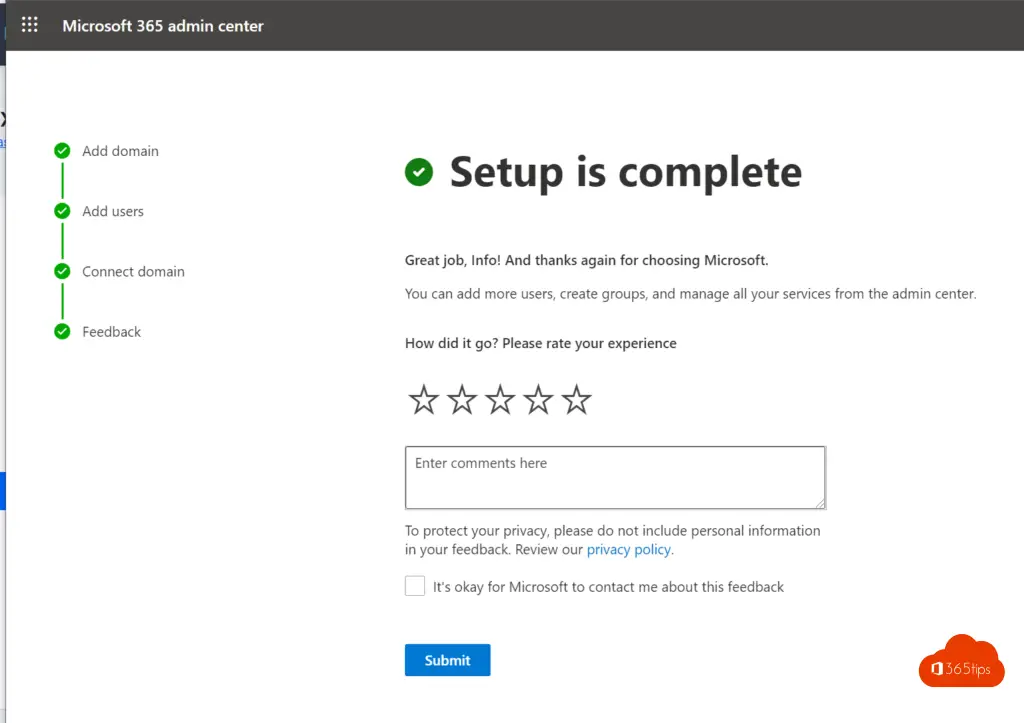 Add devices management records for management in Microsoft Intune
Through the Microosft 365 admin center at domains, it is necessary to enable Intune and mobile device management.
Browse to: https://admin.microsoft.com -> press left at domains. Then choose the primary domain and activate the DNS settings.
enterpriseregistration -> enterpriseregistration.windows.net
enterpriseenrollment -> enterpriseenrollment.manage.microsoft.com
These settings are then out like this. They can be checked via MXToolbox.
Also read: Office 365 basic setup DNS settings + Tenant.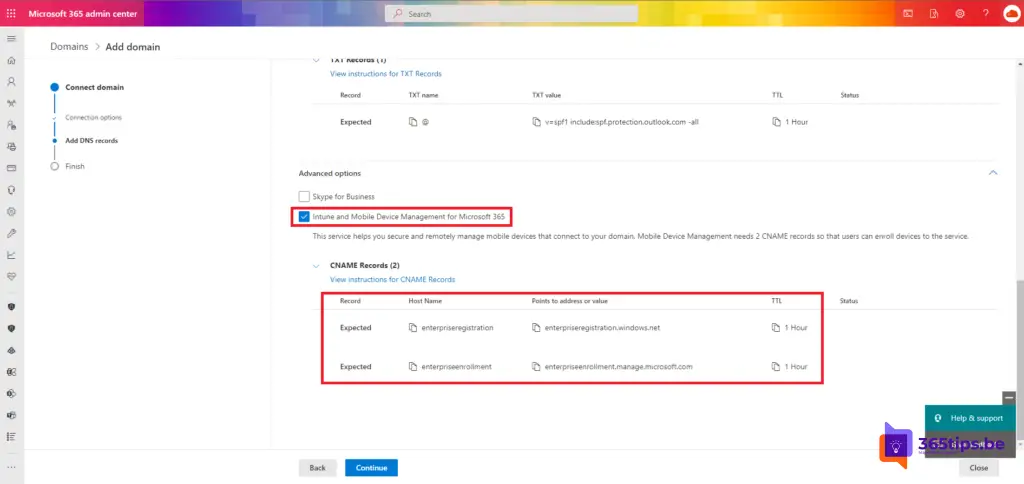 How to use PowerShell to add an email domain in Office 365?
Use this blog to install the MSOL module. Log in with PowerShell.
Connect-msolservice 
Add a new domain via:
New-MsolDomain -Name 365tips2.be

In the tenant you will see the new domain. You can retrieve the TXT record here. OR you can set the MX record to do the validation immediately.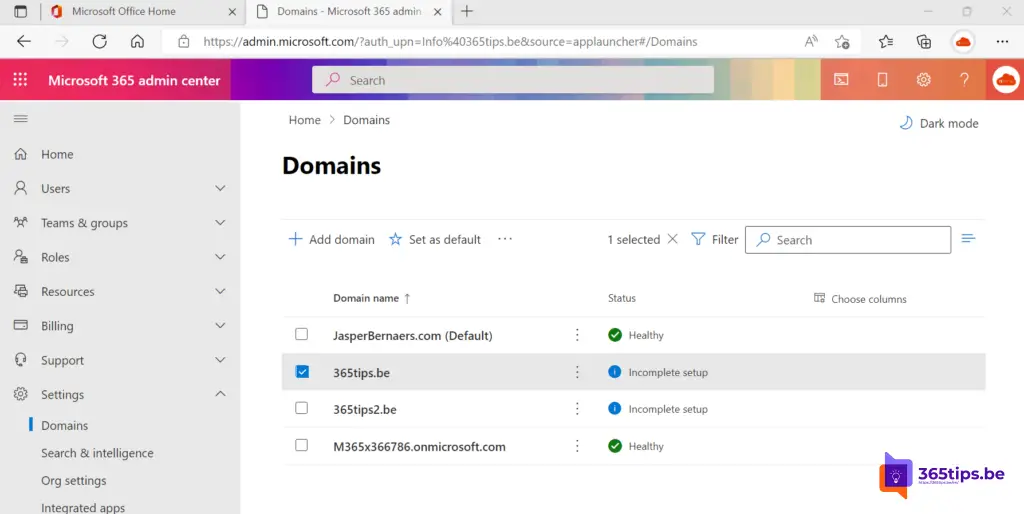 After adding a domain with Microsoft 365, what can you do?
Use your email domain to create your new mailboxes.
Log in with your voornaam.achternaam@domeinnnaam.be
Manage devices because you have enabled device management.
Collaborate with external and familiarize yourself with your organization domain.
Also read these Exchange tips and tricks
Out of office set up on a Office 365 Shared Mailbox
Recover deleted Exchange emails - New Exchange Portal
Set up forwarding in Office 365 | Email forwarding
Remove Azure AD Connect and make all objects cloud managed
Automatically save sent items to your shared mailbox
Add an email alias in Office 365, Exchange or Active-Directory
Tagged: Domain, E-Mail, Exchange Online, Manual, Microsoft, Microsoft 365, Microsoft Office 365, Tenant