How to recover files with version history SharePoint & Onedrive?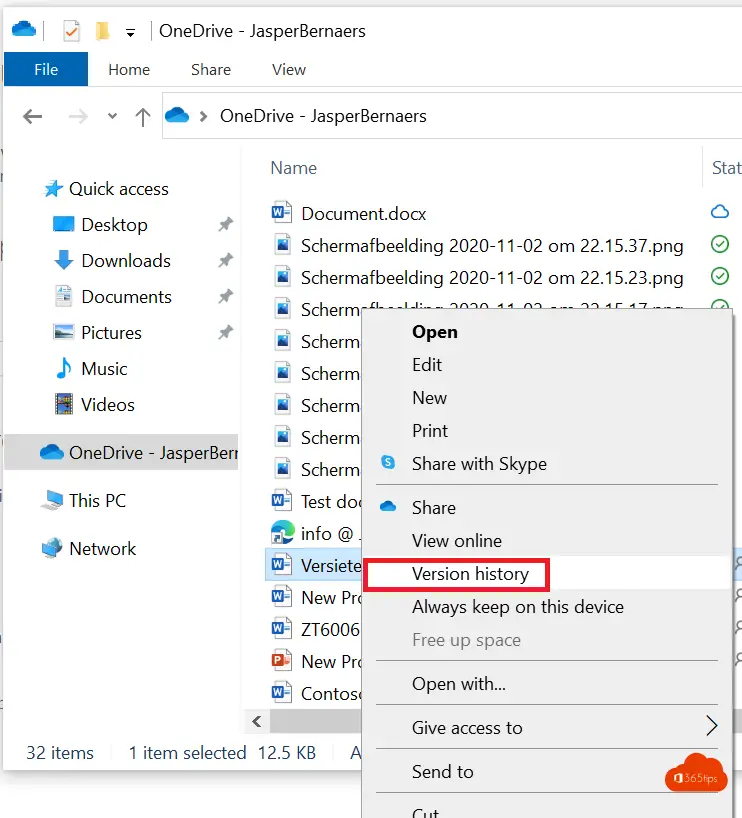 Version history allows you to restore a previous version of a document.
Versioning is the same for Microsoft Teams, OneDrive and SharePoint and can be enabled or disabled by the administrator.
Before June 2020, it was not possible to restore versions via your explorer. Only through your web browser in OneDrive Online, or SharePoint or Teams. In these 3 steps you can read how you can do this in Explorer. Because Windows Explorer is and remains a place where we often navigate to office 365 files.
In Office 365 Online it is always possible to restore a version. You can read about it at the bottom of this blog post.
Here is a demo of restoring a file with versioning
Press restore after selecting versioning.
Open your OneDrive, or synced Microsoft Teams site in your explorer
Haven't got OneDrive or Microsoft Teams synchronised yet? You can do so via this blog: Microsoft teams Sync with windows explorer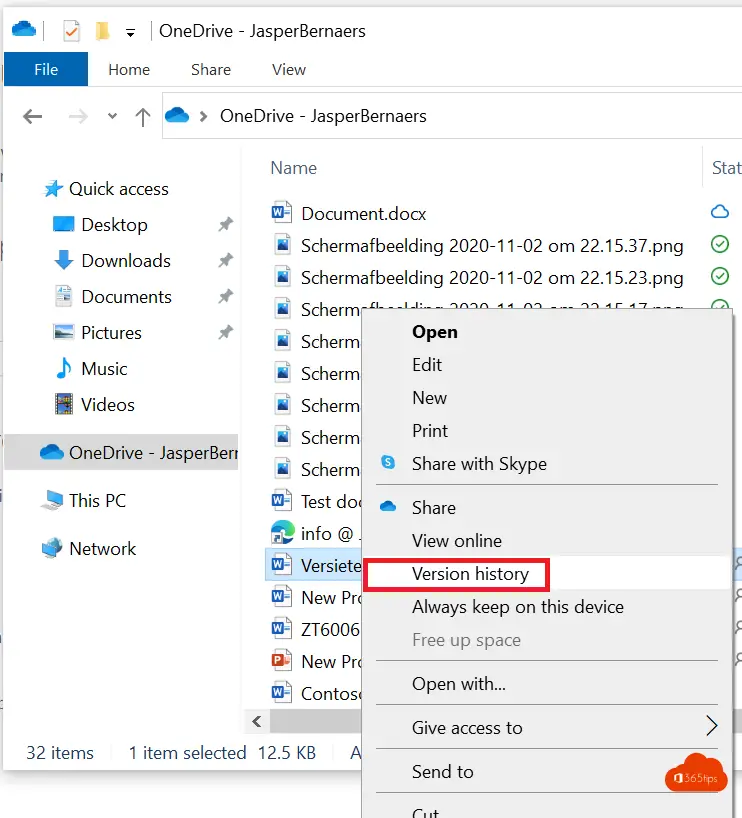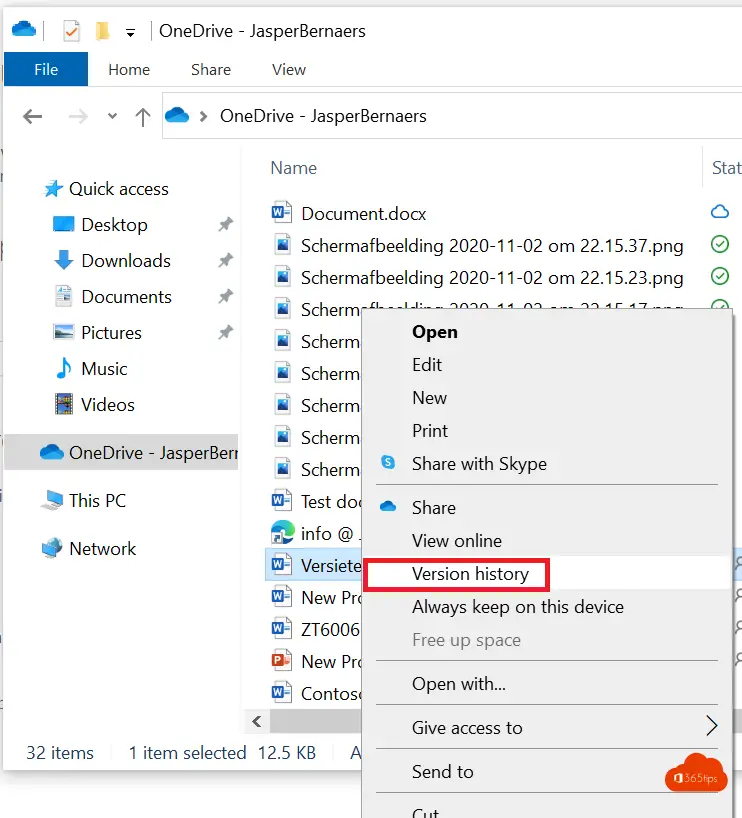 Right-click on the document
Then press Version History -> select the correct version to which you wish to restore.
Or you can download the document first to avoid mistakes during this process.
Tip: Other files can also be restored, they do not always have to be Word, Excel or PowerPoint files.
Version history from Office 365 OneDrive or SharePoint Online ?
From OneDrive, navigate to your OneDrive file, select options and select -> version history.
Then choose the version you want to restore by clicking on restore.
Restore a version in Microsoft Teams?
Find the file you wish to recover. Navigate to the desired Teams, then select files and choose Open in SharePoint.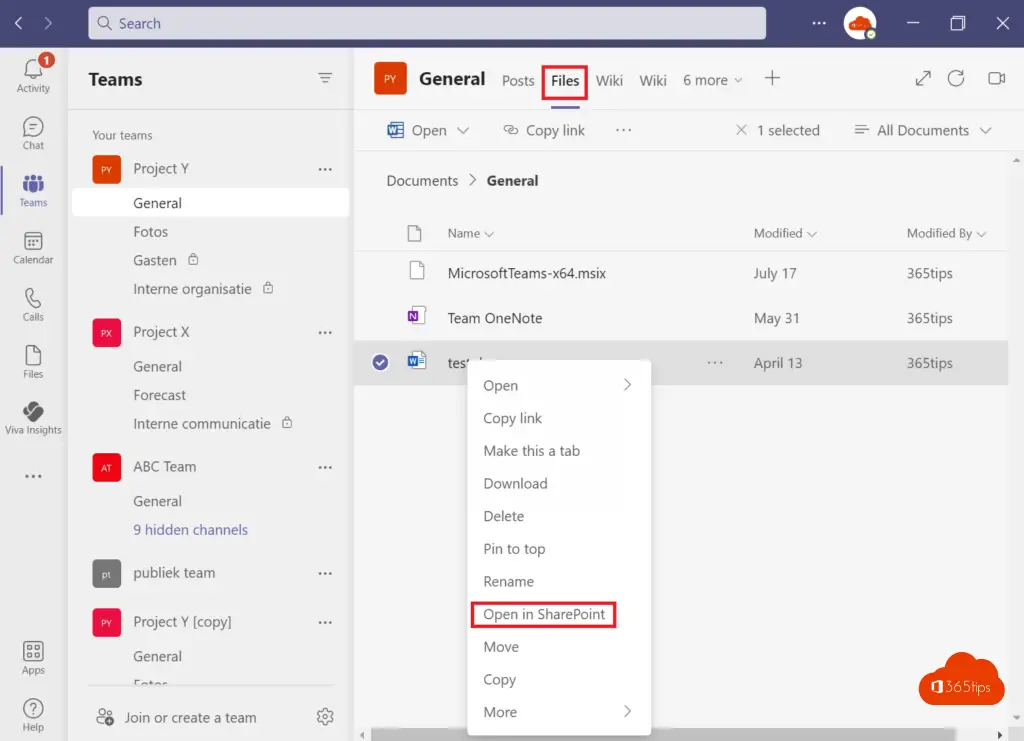 When the file structure is visible, in SharePoint Online you can be sure that you have the right SharePoint site.
Under version history, select the desired version to restore.

If the previous version of the file is available, you can be sure that the process went well.
Other OneDrive & Teams tips?
How to share files in Office 365 best-practice | Practical tips on OneDrive here | Or 20 blogs.
About the author
Tagged: Adoption, Manual, Microsoft 365, Microsoft Excel, Microsoft Office 365, Microsoft SharePoint, Microsoft Teams manual, Microsoft Windows, PowerPoint