🖥️ All about Microsoft Office 365 backup, file restore and third-party solutions
In this article, we answer any questions you may have about backing up your Office 365 environment. We will answer whether it is necessary to back up Office 365 and where best to host these backups. If you're looking for information about backing up your Office 365 environment, you've come to the right place.
What is backup?
A backup is a copy of data made to protect it from loss. Backups can be made of computer files, databases, websites or other digital data. The purpose of a backup is to have a secure copy of your data so you can restore it if it is lost for any reason.
There are different ways to make backups, depending on the specific needs of your organization. Some people make manual backups by copying data to another location, such as an external hard drive or cloud storage service. Others use external backup software or services to automatically back up their data.
It is important to back up your data regularly to ensure that you always have a recent copy that you can restore if something goes wrong. By making backups, you can prevent data loss and ensure that you always have access to your important data.
Does Office 365 have a backup mechanism?
Office 365 does not offer a backup mechanism specifically for backing up your data. Microsoft does offer some limited options for restoring certain data, such as restoring deleted e-mails or restoring a SharePoint-site to a previous version. However, these are not complete backups of your data and do not protect against data loss due to ransomware attacks or hardware failures, for example.
To fully protect your data from data loss, it is recommended that you make backups of your Office 365 data. To do this, you can use an external backup solution or manually backup the data to another location, such as a local hard drive or a cloud storage service. This way, you will always have a complete backup of your data and can restore it in case of data loss.
Why get off to backup everything in Office 365
There are several reasons why you might choose not to backup everything in your Office 365 environment. One of the main reasons is that creating full backups of all data in Office 365 can often be time-consuming and complex. In addition, backing up all your data in Office 365 can also require a lot of storage space, depending on the size of your organization and the amount of data you want to back up.
Also, you may not want to back up all the data in your Office 365 environment because some data may not be that important or because you have already taken other measures to protect this data. In this case, making full backups of all your data in Office 365 may be unnecessary.
Instead, you can choose to backup only the most important data in your Office 365 environment, such as important documents, financial data and customer data. This can help reduce the time and effort you have to put into backing up all your data, while still protecting your organization's most important data from data loss. It is important to consider what data you want to back up and what measures you want to take to protect it, depending on your organization's specific needs.
What services can you back up within Microsoft 365?
Backup for email with Exchange
There are several ways you can ensure that certain documents cannot be deleted so that you can protect them from being lost. For example, putting your mailboxes in legal hold. This will block or prevent emails from being deleted by users.
Another way to protect relevant content is to use Exchange eDiscovery. If your organization adheres to legal requirements for discovery, such as organizational policies, compliance or litigation, In-Place eDiscovery in Exchange Server can help you search for relevant content within mailboxes. You can also use In-Place eDiscovery in a hybrid environment of Exchange to search on-premises and in the Cloud for specific data in the same search.
Backup for OneDrive for business
Within OneDrive for Business or OneDrive for Business, there are two ways to recover files. First, you have the ability to restore files after a ransomware hack via a specific procedure. In addition, you can also restore files from the Recycle Bin or 2nd Recycle Bin up to 93 days after deletion. Thus, you can easily access files that were accidentally deleted or affected by a ransomware attack.
Backup for SharePoint
SharePoint offers the same file backup capabilities as OneDrive for Business. In addition, IT administrators also have the ability to perform a site restore. This involves not only restoring files, but also restoring the context, metadata, site architecture and all other settings associated with a site. Previously, it was not possible for IT administrators to perform a site restore themselves and had to submit a ticket to Microsoft to do so. Today, however, IT administrators have the ability to perform a site-restore using the built-in functionalities of SharePoint.
Backup for Microsoft Teams
Microsoft Teams is built on several systems, including Exchange, SharePoint and OneDrive. However, it is not easy to restore a backup for an entire team, since Microsoft Teams is built on different systems and restoring a backup can lead to integration and delta changes. Therefore, it is better to define policies that ensure that crucial data cannot be deleted, for example, by processing files with PowerAutomate and implementing processes that ensure that this data enters the organization in a safe way deeper than static files. In this way, it is no longer possible to recover sites.
Data Loss Prevention (DLP).
DLP, or Data Loss Prevention, is a technology designed to identify and protect sensitive information across multiple sites, such as Exchange Online , SharePoint Online , OneDrive for Business and Microsoft Teams. With DLP, for example, you can identify any document that contains a credit card number that is saved in a OneDrive for Business site, or you can monitor and protect only specific people's OneDrive sites. DLP can help prevent sensitive information from being accidentally shared or released to unauthorized individuals.
I previously wrote a technical elaboration of DLP in the article governance for Microsoft Teams. More information can also be found on Microsoft's documentation page.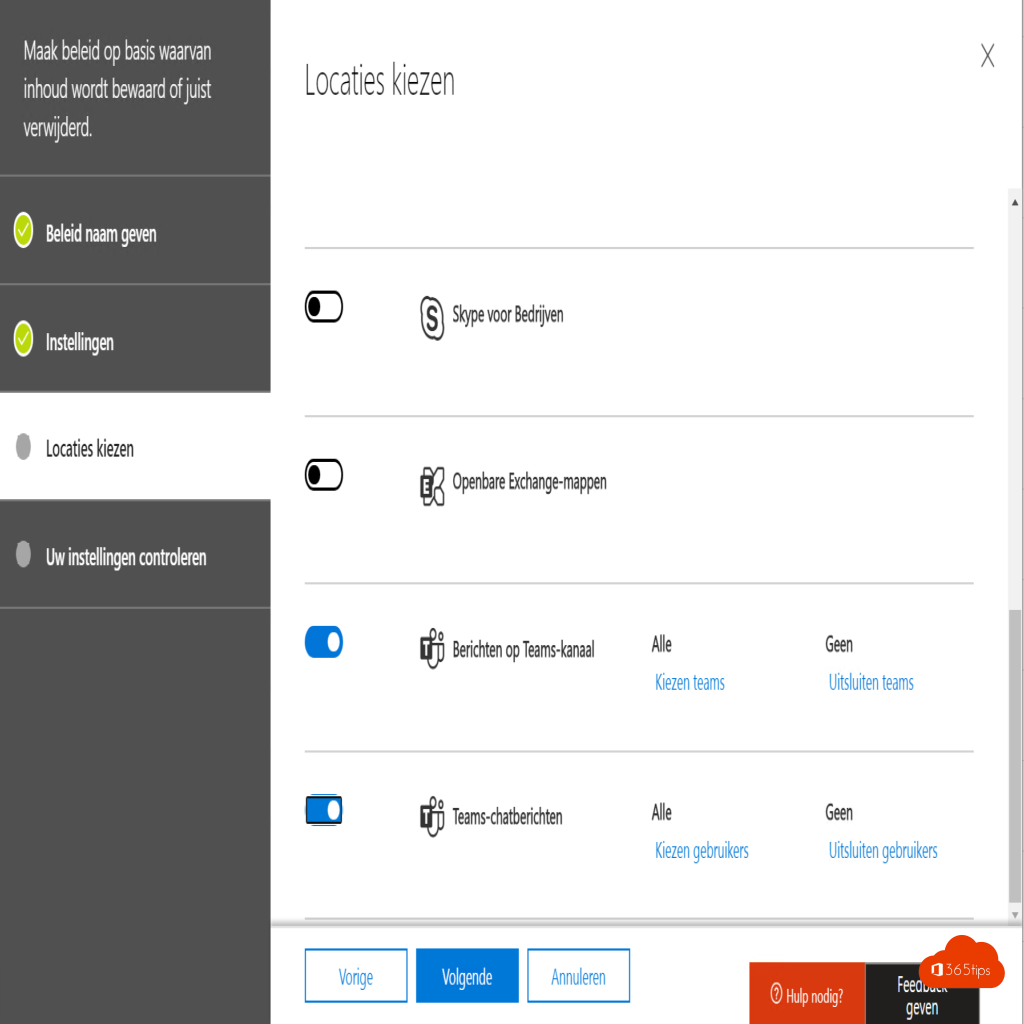 Is office 365 backup needed
If you want to be able to restore files regardless of how and where they were deleted, you need a third-party backup. Office 365 offers solutions for restoring files for up to several years or up to 93 days with OneDrive, but this is often not enough to provide full protection. There are several solutions on the market that you can use to address this challenge.
In addition to backup, it is wise to implement processes and procedures and establish technical policies to prevent data loss. That way you are always in control and at less risk of losing critical files or data. Keep in mind that backup is often related to your disaster recovery plan (DRP). Your DRP plan does not directly deal with file-level backup, but it does deal with the ability to restore your entire environment in the event of a hack or system failure.
Tagged: Backup, E-Mail, Manual, Microsoft 365, Microsoft Office 365, Microsoft SharePoint, Microsoft Teams manual