All about Microsoft Office 365 backup, file restore and third-party
In this article you will read all about Office 365 backups. Is Office 365 backup necessary? Where do you host backups? All tough questions answered in this article.
What is backup?
A backup is a snapshot, a backup copy you can make of Your Office 365 environment. We used to make server backups of files or data on our file servers. Backup servers, systems or other applications.
Does Office 365 have a backup mechanism?
If we assume that Office 365 backup means you can restore a backup asap then the answer is no. Of course, today there are other ways to ensure that you can restore files. But first we need to understand the implications, the possible advantages and disadvantages. You can read more about alternatives in the following sections.
Why get rid of backing up "everything" in Office 365
Office 365 backup would potentially remove any file or email from Exchange Online, SharePoint, OneDrive and Teams . Useful if someone deletes a file. There are already powerful solutions in the market for this. These can recover files from the backup system at the file level. Advantage: convenient and fast. Disadvantage: limited to the file level. And that is not so modern.
What can be done in Office or Microsoft 365 Enterprise?
For email with Exchange
One reflex we can make apart from backup is to make sure that documents cannot be deleted. Take for example that you put mailboxes in legal-hold. This capability will block, or not allow emails to be deleted by users.
Or Exchange eEiscovery; If your organization adheres to legal discovery requirements (related to organizational policies, compliance or litigation), In-Place eDiscovery in Exchange Server can help you search for relevant content within mailboxes. You can also use In-Place eDiscovery in a hybrid environment of Exchange to search on-premises and in the Cloud in the same search.
OneDrive for business
Within OneDrive for business or OneDrive for Business, there are 2 ways to recover files. On the one hand, you can recover files after a ransomware hack using this procedure. In addition, you have the option to recover files in the Recycle Bin, and in the2nd Recycle Bin for up to 93 days.
SharePoint
SharePoint gives the exact same options to file backup like OneDrive for Business. There are also options to do a site restore as an IT Administrator. Here it's not just about the files. But also about the context. Metadata, site architecture and all other setups come back from the backup. Built-in. In the past, it was not possible to do a site restore yourself and you had to log a ticket to Microsoft. Today, it is possible as an IT Administrator to perform a site-restore.
Microsoft Teams
Microsoft Teams is built on Exchange, SharePoint, OneDrive and others. Here you can read more in advance. As you can also conclude, it is not easy to restore a backup for an entire team.
I am already convinced that we should not back up entire team sites that we rashly roll back and modify integrations or delta changes. It is better to define policies that make sure we can't delete just the crucial data. Process files with PowerAutomate and processes so that they land in organization "deeper" than static files. At such a time it is no longer possible to restore sites.
Data Loss Prevention (DLP).
What is DLP? an example: Identify sensitive information across many sites, such as Exchange Online , SharePoint Online , OneDrive for Business and Microsoft Teams. For example, you can identify any document that contains a credit card number that is saved in a OneDrive for Business site, or you can monitor and protect only specific people's OneDrive sites.
I previously wrote a technical elaboration of DLP in the article governance for Microsoft Teams. More information can also be found on Microsoft's documentation page.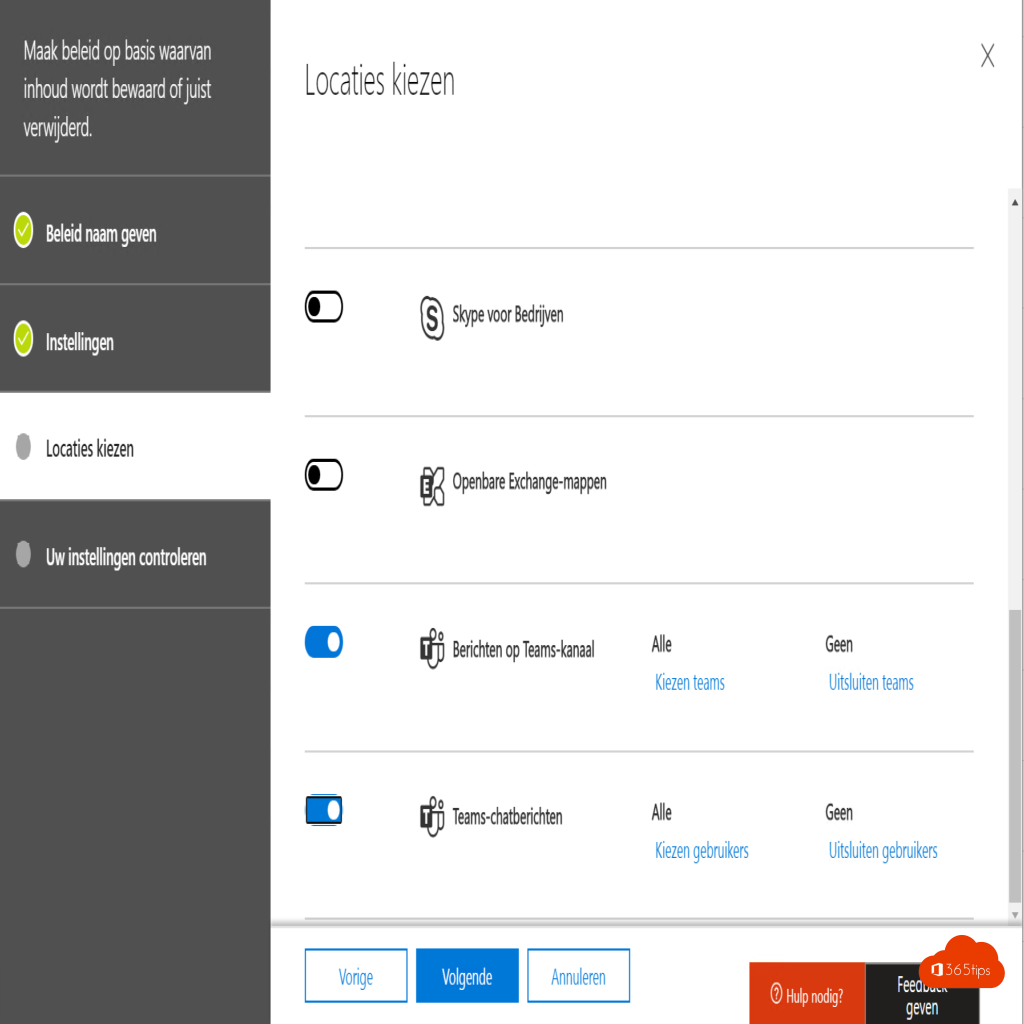 Is office 365 backup necessary?
If you want to be able to recover files no matter how and where they were deleted then you need a third-party backup. Office 365 has solutions up to often several years or 93 days with OneDrive but you can't go long with that. There are several solutions on the market to address this challenge.
If you want to move in the right direction and understand that you can't actually move forward with backup alone. Then it makes sense to implement processes and procedures as well as technical policies to prevent data loss. The advantage here is that you always have control, and little risk of losing crucial files or data.
Important to know: Backup often has the link to your disaster-recovery-plan plan. (DRP) Your DRP plan in itself has nothing directly to do with backup at the file level. What it does have to do with is the fact that in the event of a hack or system outage, you have the ability to restart your entire environment.
About the author
Tagged: Backup, E-Mail, Manual, Microsoft 365, Microsoft Office 365, Microsoft SharePoint, Microsoft Teams manual