Enable new Teams meeting experience for together mode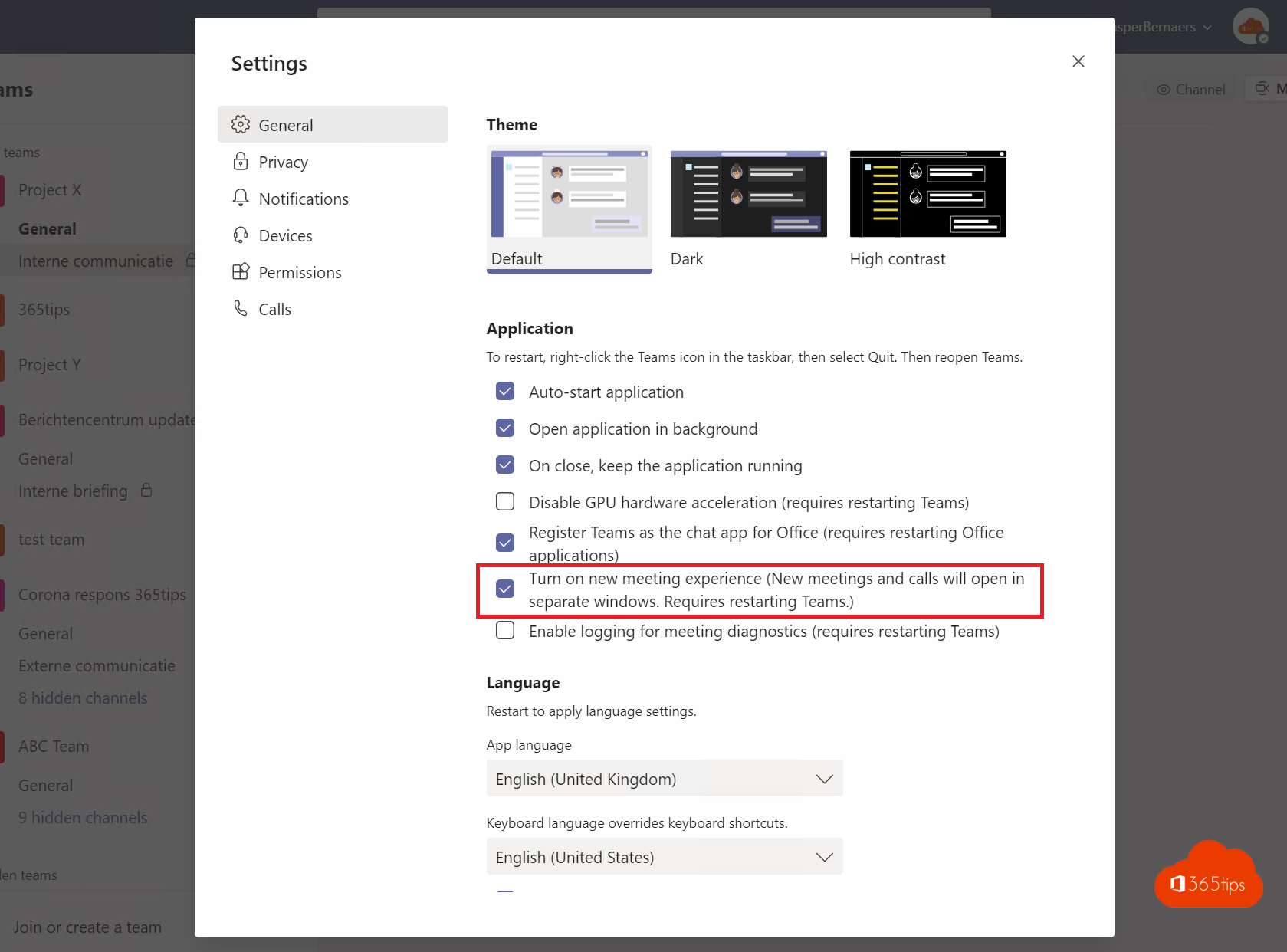 Chatting in a separate window could be set up earlier via these instructions.
Recently, it has become possible to enable the new meeting experience to use functionalities such as; multiple Teams screens, make video calls with 49 people simultaneously, the new focus & gallery mode,...
In this blog you will read about the activation. Listed below are all the options.
1. Open Microsoft Teams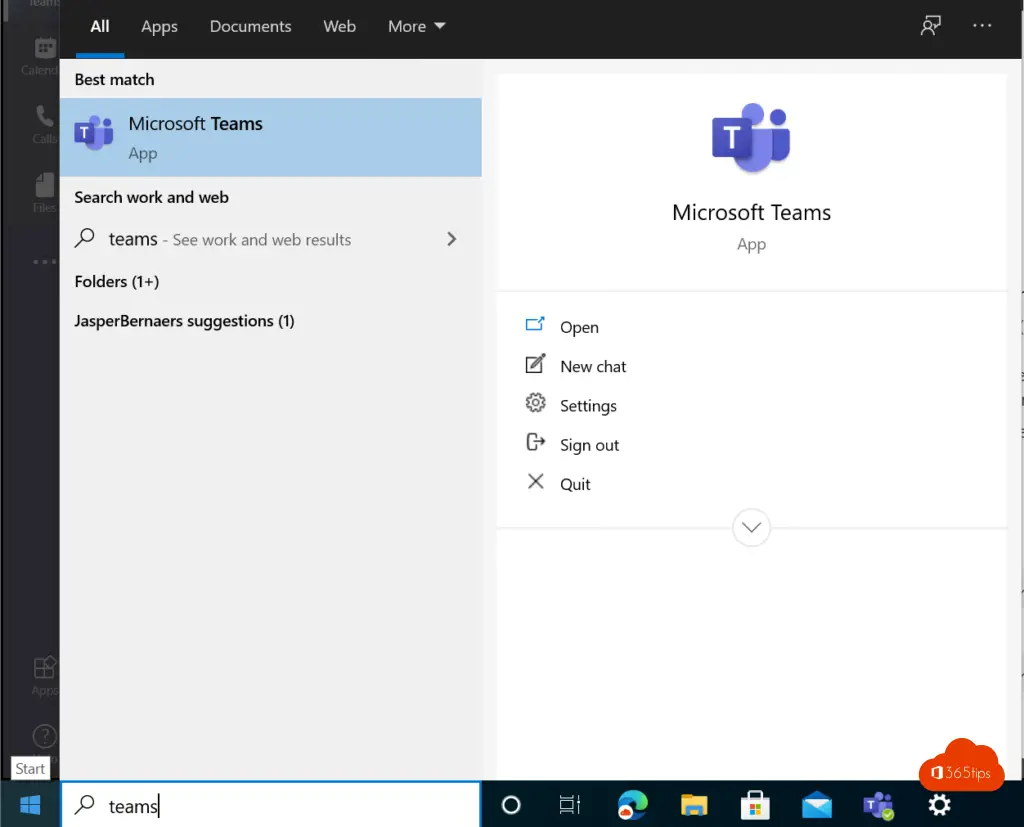 2. Select settings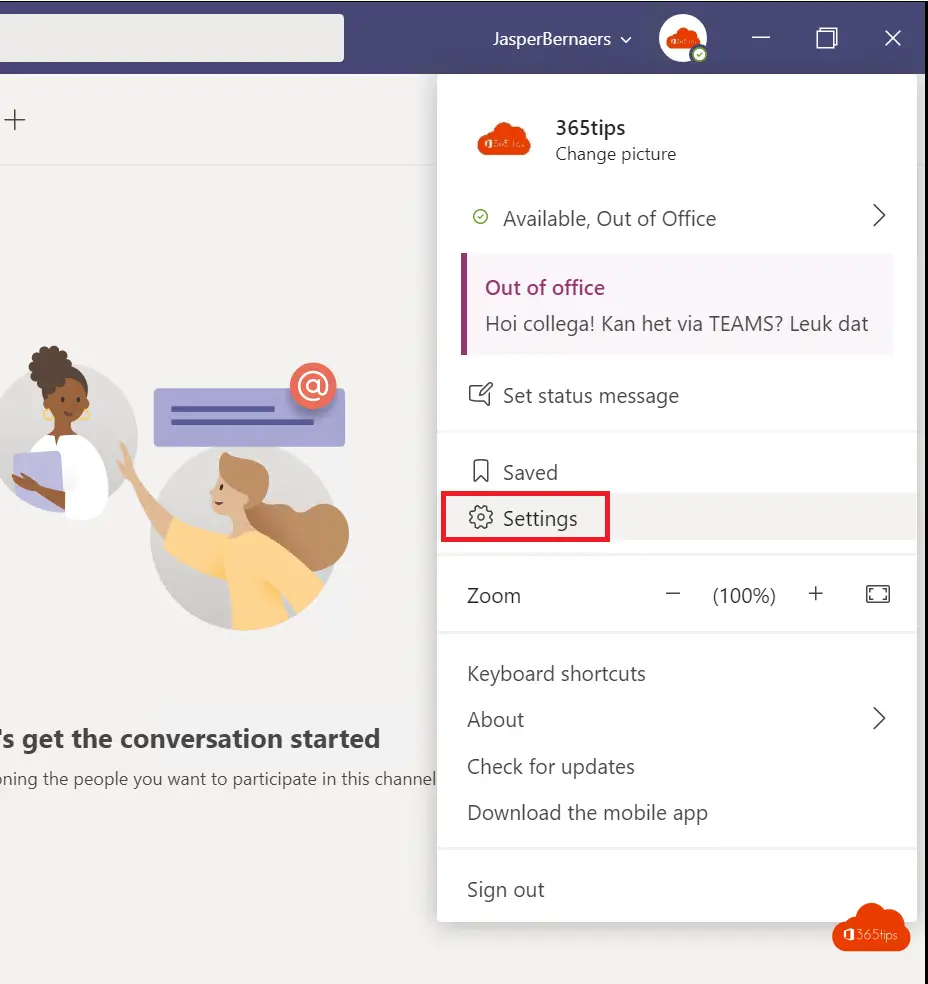 3. Enable together mode via settings in Teams
Enable new meeting experience (new meetings and calls are opened in separate windows. Requires restarting Teams.)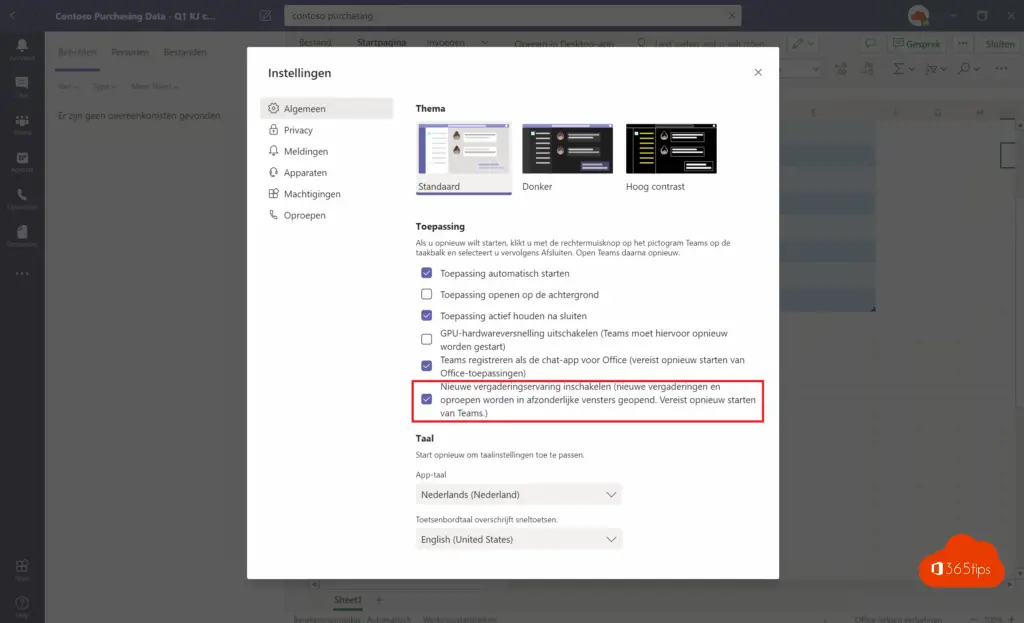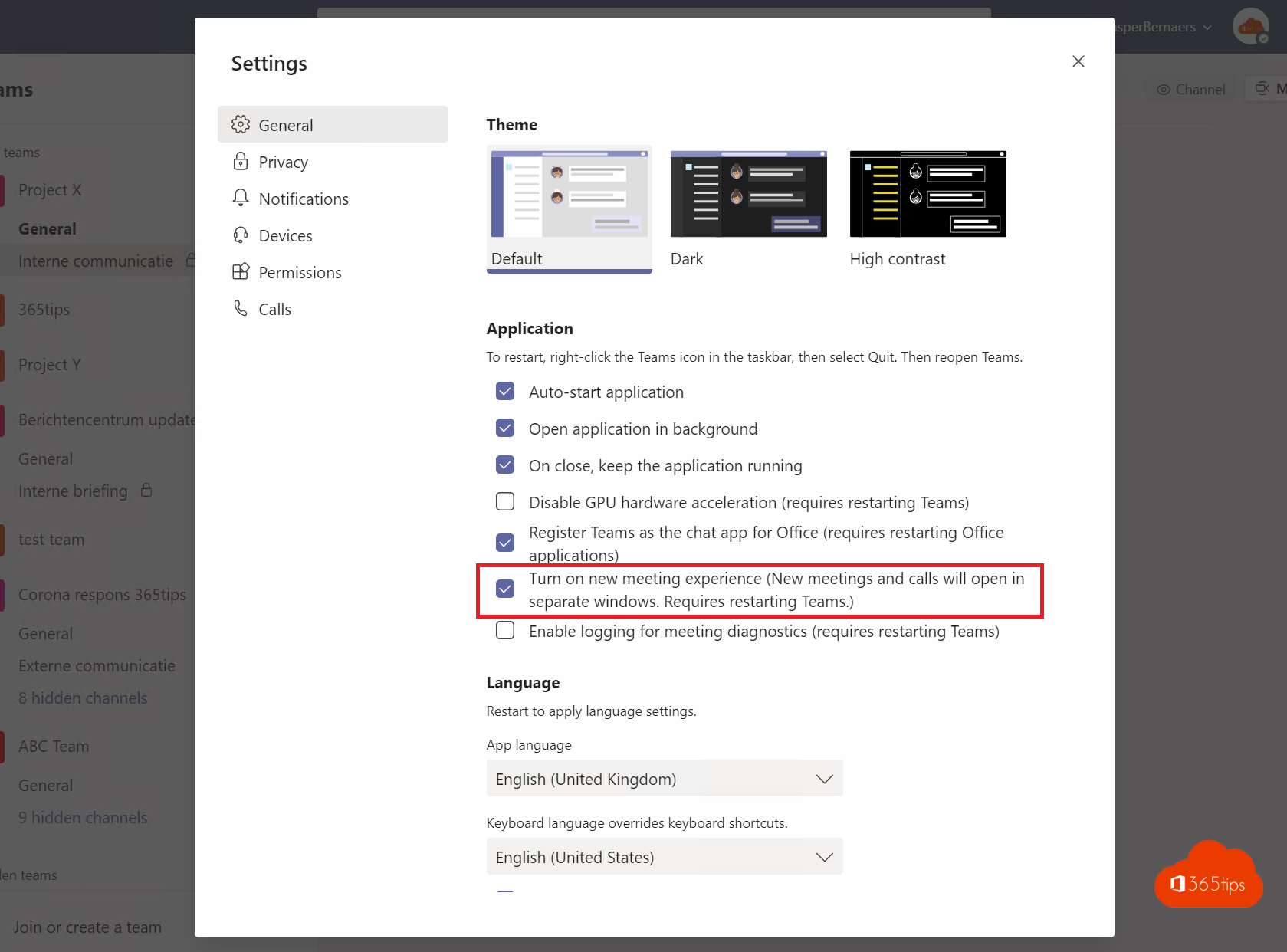 From now on you can work better thanks to together mode
Use Together mode when you are in a meeting with other people.
You enable the together mode by clicking on: Settings - Together mode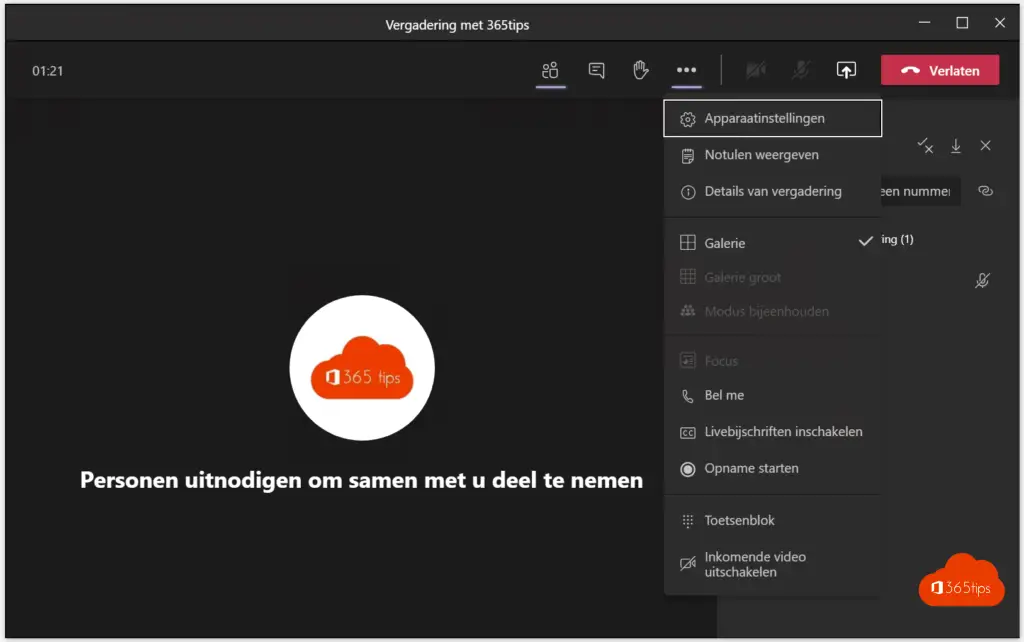 If you have an interview you can still work in the Teams client
Multiple session finally...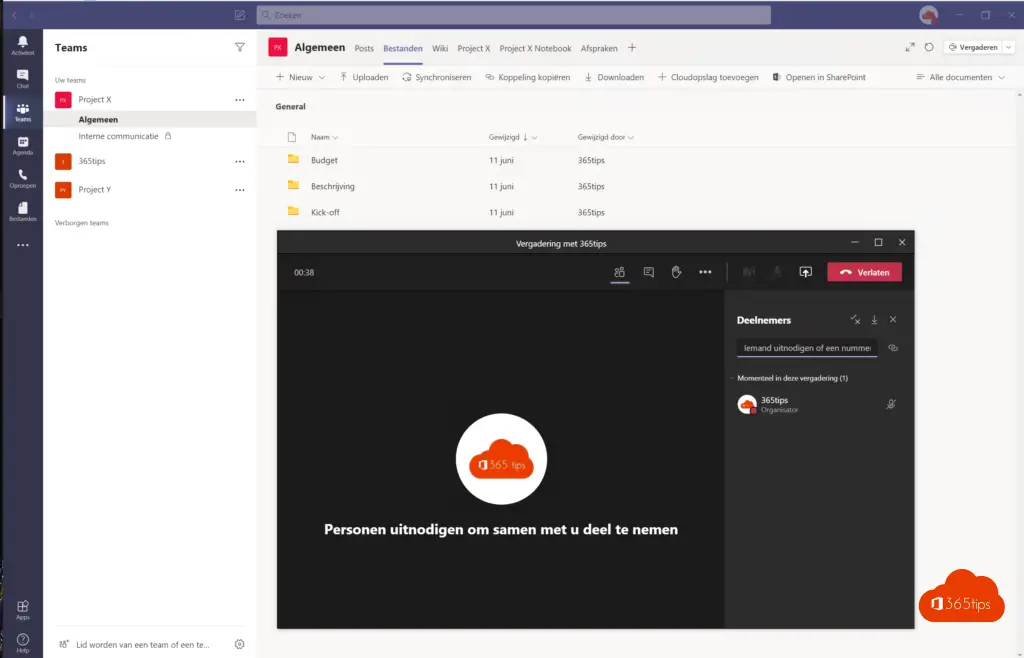 What's included
When you have enabled the new experience and restart teams , the biggest thing you will probably find is that all calls and meetings are displayed in a separate window, separate from the main window teams. This makes it easier to switch between the meeting or call and the main teams window. Here you can still see what you see:
The meeting and call controls are at the top of the Meeting window or call window, rather than at the bottom. They are docked there so you can access them anytime (without jiggling the mouse) and they are not part of the content and video images being shared.
In the large gallery view, you can see up to 49 video streams at one time. This view is available when there are 10 or more participants sharing video. To switch to the large gallery view, go to more options (...) in meeting controls > large gallery.
The collaborate mode allows you to work just as if you were in the same shared space as everyone else in the meeting. It is in the same menu as the large gallery, just below it.
Meeting minutes are now created directly on the meeting minutes tab in the main teams meeting window. If you want to open or create notes from the meeting window, select more options (...) > view minutes and you will see the top pane. In the pane you will see the take notes button that allows you to see the meeting minutes tab.
Focus mode is available when sharing content. If you want to focus on content without the distraction of watching video feeds, focus mode is for you. It is available in the meeting controls under more options (...) > focus mode.
Current subtitles are located in the center of the meeting screen, rather than on the left side, for better readability. (English only)
Please note that the major and collaboration mode will be implemented gradually over the next few weeks. If you don't see them right away, check again later. 
Check out all the new ways to collaborate inMicrosoft Teams. Now you can join your team in the same virtual space with Together mode, see up to 49 people at once in the large gallery view, and collaborate live on the same page with Microsoft Whiteboard.https://www.youtube.com/embed/RZgik33VHFc?feature=oembed
Together mode
Together mode can be used up to a maximum of 49 people. To activate this feature, please go here: Enable new Teams meeting experience for together mode
Activate gallery mode
Above the button of together mode you can find large gallery or gallery. this gives the result below.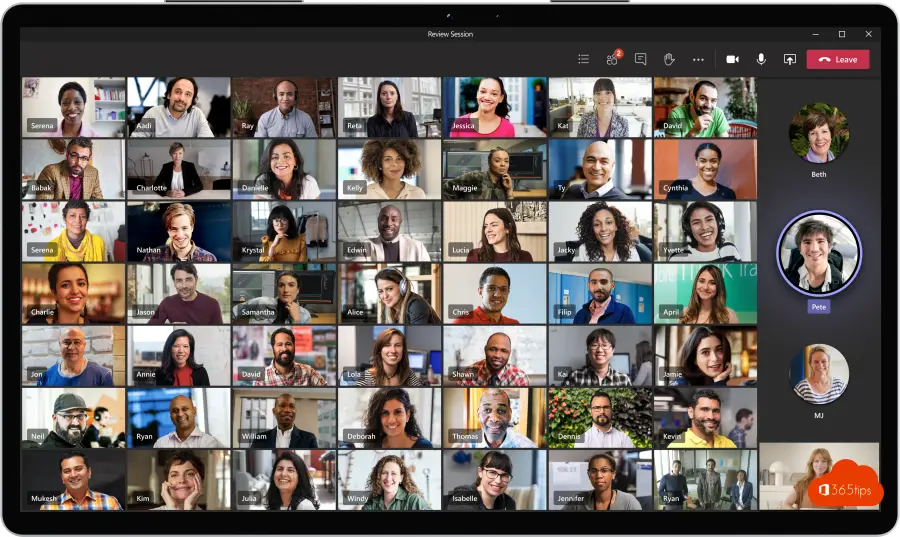 Also read
Chat in a separate window with Microsoft Teams
Automatically turn any meeting into a Microsoft Teams meeting!
Tagged: Activate, Manual, Microsoft Teams manual, Together mode, Meeting, Video