"Try the new outlook client" a new web-based client instead of a heavy application
"Try the new Outlook" in Microsoft 365 apps for business
Microsoft recently announced that a new feature will be added to the fat-client application Outlook for Windows. Starting in April 2023, you will be able to convert your Outlook client to the web-based Outlook.
Press "Try the new Outlook" at the top to convert your Outlook.
It is important to note that the new version of Outlook for Windows not only has an improved user interface, but also includes some new features. For example, it has an improved search function and the ability to delete multiple emails at once. Logical since this web app is not much different from https://outlook.office.com
The toggle feature allows users to try out the new features and see if they want to use the new version of Outlook for Windows. However, if they prefer the classic version of Outlook, they can easily switch back using the toggle button at the top right.
Overall, it is positive to see that Microsoft continues to innovate and add new features to its products. This helps users to be more productive and efficient in their daily work. Web apps connect better with other services such as Microsoft Teams, SharePoint and can therefore take a step closer to a better and faster user experience.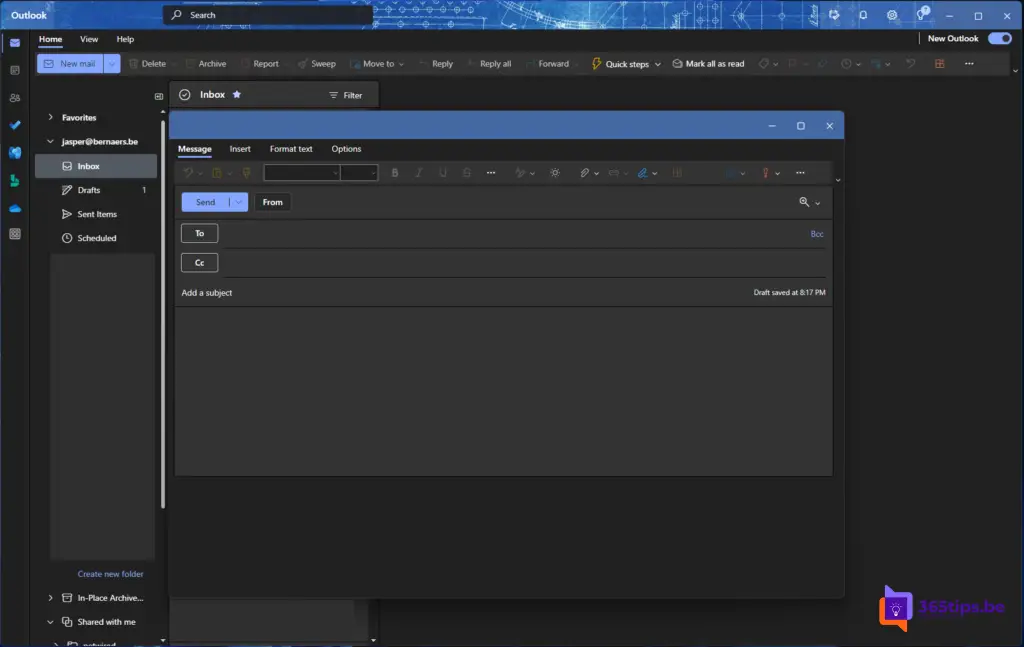 Support for key Outlook features
Function
The web version of Outlook
Outlook for Windows
Windows Mail app
New Outlook for Windows
Pinning e-mail messages
Pinning a message to move it to the
in your Inbox for easy
searching later.
Yes
No
No
Yes
Defer e-mail messages
Defer an e-mail message temporarily
delete it from your Inbox and
schedule it to display as a new
e-mail for later, when you can respond.
Yes
No
No
Yes
My Day View
Use My Day to view your scheduled calendar events
and tasks anywhere in Outlook, including Mail, Calendar and People.
Yes
Yes**
No
Yes
Rules
for Inbox Use Inbox rules to automatically perform specific actions on e-mail that arrives in your Inbox.
Yes
Yes
No
Yes
Conversation Settings
You can change the appearance
of the message list and reading
Pane. Email in the message list
can be displayed as individual
messages or grouped by conversation.
Yes
Yes
Yes
Yes
Loop Parts
Use loop parts to collaborate in Outlook.
Yes
No
No
Yes
Microsoft 365 account
Support for Microsoft 365 account.
Yes
Yes
Yes
Yes
Outlook.com account
Support for Outlook.com account.
Yes
Yes
Yes
Yes
Third-party accounts (Gmail, Yahoo, etc.)
Support for third-party accounts.
Yes***
Yes
Yes
Yes***
Multiple account support
Access multiple accounts from within your Outlook client.
Yes***
Yes
Yes
Yes
Support for PST files
Use a PST file (Outlook data file) to back up or export items from your e-mail account
No
Yes
No
No*
Delegation
Allow someone else to manage
your inbox and calendar.
Yes
Yes
No
Yes
Shared mailboxes
Groups allow users to check
and send e-mail messages from a shared
Mailbox.
Yes
Yes
No
Yes
Offline support
No
Yes
Yes
No*
Web Add-ons
Integrations built on Outlook by
using our modern web-based
Platform.
Yes
Yes
No
Yes
COM plug-ins
Integrations built on Outlook using COM integration.
No
Yes
No
No
Source: Getting started with the new Outlook for Windows - Microsoft Support