Micrososoft 365 implementation in multiple tenants from 1 AD environment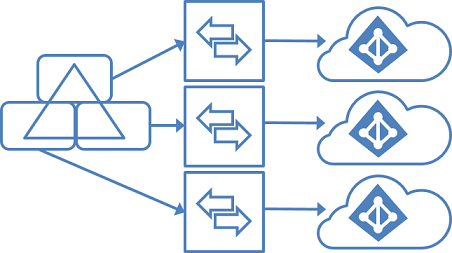 Sometimes you see IT service providers who have multiple clients housed in one AD environment. In the past maybe a good solution. Since the advent of Microsoft 365, regulations like GDPR, AVG, iso 27K, modern tools like Microsoft Teams, Voice, etc unfortunately not a good solution anymore.
Principles
You want modern collaboration and to move away from your current legacy infracture.
You want to manage cloud-only devices.
You want to manage your identities in Office 365 / Azure.
You leave on-premises, and make the smartest choice to work full-cloud.
Each object only once in a Azure AD-tenant
It is perfectly possible to populate your AD objects in Office 365 from one AD Domain to multiple Office 365 tenants.
Why this approach?
You want to give organizations back the power to make their own decisions on how to handle their organization within Office 365 .
Flexibility is important, regulations and security also.
Not everyone is growing at the same rate. I mean, it's not because you have 1 AD domain now. that you want to trigger changes for everybody because one organization is migrating away from this environment.
Productivity - What is the value of your on-premises environment versus the opportunity of full-cloud?
Migration scenario
This is an ideal scenario to create the users in Office 365 / Microsoft 365 to quickly transition to Office 365 in case of a Exchange migration.
Migrate your home drives or personal drives to . OneDrive.
Migrate your applications to Azure, or third-party.
Convert your printers to a cloud solution or integrate them via Intune on all devices.
Manage your devices with Intune.
Convert your profiles of your computers so that they are no longer linked to the current AD. (on-premises)
Migrate your GPOs to CSP policies.
Related posts
Create an education tenant for Office 365
Configure your Office 365 tenant to 'First Release' in 3 steps
How to create a Office 365 Tenant
About the author
Tagged: Application, Azure, Domain, Exchange Online, GDPR, Manual, Microsoft, Microsoft Cloud App Security, Microsoft Office 365, On-premises, productivity, Sync, Tenant