Why and when do you choose a Microsoft Exchange Hybrid configuration?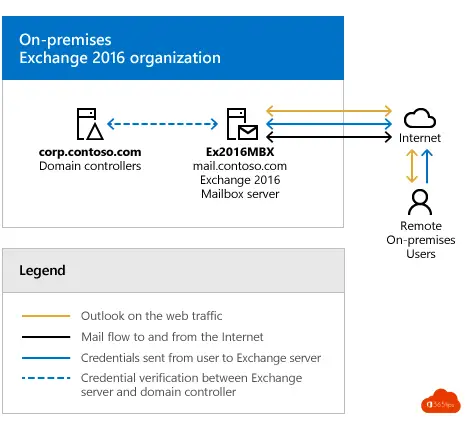 Why a Exchange Hybrid?
A Hybrid Exchange environment allows you to take your local environment and the cloud environment together as a single mail organization.
This is practical because the management is on-premises (Active Directory) and the maillboxes management can easily be done through a Hybrid environment towards . Office 365 Exchange Online.
Hybrid = Recipient management on-premises, ACL (permissions) on-line.
The main advantages of a Hybrid Exchange
Hybrid exchange enables secure e-mail routing between your local and Exchange Online -organizations. This cannot be done easily with an SMTP gateway.
Administrators can use powerful and familiar Exchange management tools to move users to Exchange Online and manage users.
Printers using the Exchange environment today continue to relay in exactly the same way as before.
Hybrid Exchange is a requirement to migrate as easily as possible without user impact and reconfiguration of each device. With a hybrid migration, only a username & password needs to be pressed after the mailbox move.
Why not choose a hybrid Exchange?
If you want to migrate quickly to Exchange Online .
If Security highly regarded in your organization.
If you have no knowledge of Exchange.
Don't you want a Hybrid Exchange?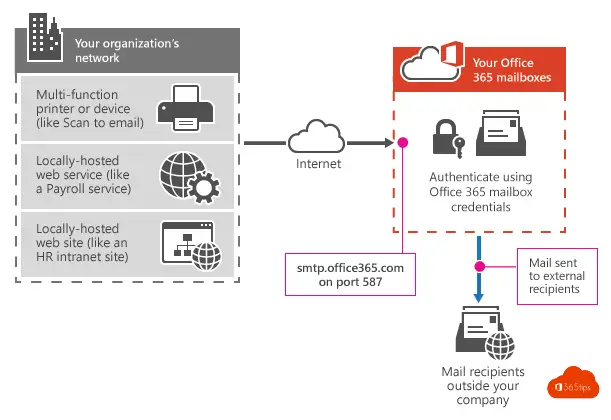 1. Adjust your mail flow
Migrate all mail flow from on-premise to Office 365. So all scanners, copiers, applications dedicated to Office 365.
2. Send your mail via SMTP authentication (recommended).
You want to send e-mail from a hosted application, service or third-party device.
You want to send e-mail to people inside and outside your organization.
Let your device authenticate directly to the Office 365 mailbox and send out your mails via SMTP auth submission.
Benefit: Total control of mail flow & mailbox visibility.
Disadvantage: There is a license attached to each user mailbox.
| Application or printer settings | Value |
| --- | --- |
| Server/smart host | smtp.office365.com |
| Port | Port 587 (recommended) or port 25 |
| TLS/StartTLS | Enabled |
| Email address and password | use your login from your mailbox |
There are also 2 other methods, these are only recommended if the above options are not sufficient.
Option 2: Send your mails directly to O365 over port 25.
It is best to take this option only if option 1 is not possible.
Option 3: Configure a connector to send out mails to Office 365. (relay)
It is best to take this option only if options 1 and 2 cannot be done.
Technical content & configuration read here!
3. Build off your Hybrid Exchange
Remove roles from your Exchange servers so there are no active roles.
Remember that if you only break out your Exchange and you use Azure AD connect in Hybrid Mode you always have to set e-mail addresses, policies, and so much more manually on the AD objects. This takes a lot more time and doesn't guarantee typos etc.
Be sure to read! https://365tips.be/2020/02/16/why-choose-for-exchange-hybrid
4. Recommended Exchange Hybrid only management, no hybrid mail flow.
If you still want to do management you can install a Exchange 2016 server with a free license. (for Exchange)
The key can be obtained at: https://aka.ms/hybridkey
Unfortunately, this is not (yet) for Exchange 2019. Well 2016.
About the author
Tagged: Azure, E-Mail, Exchange Online, Manual, HybridExchange, On-premises, PowerShell