How to install Remote Server Administration Tools for Windows (RSAT) in Windows 11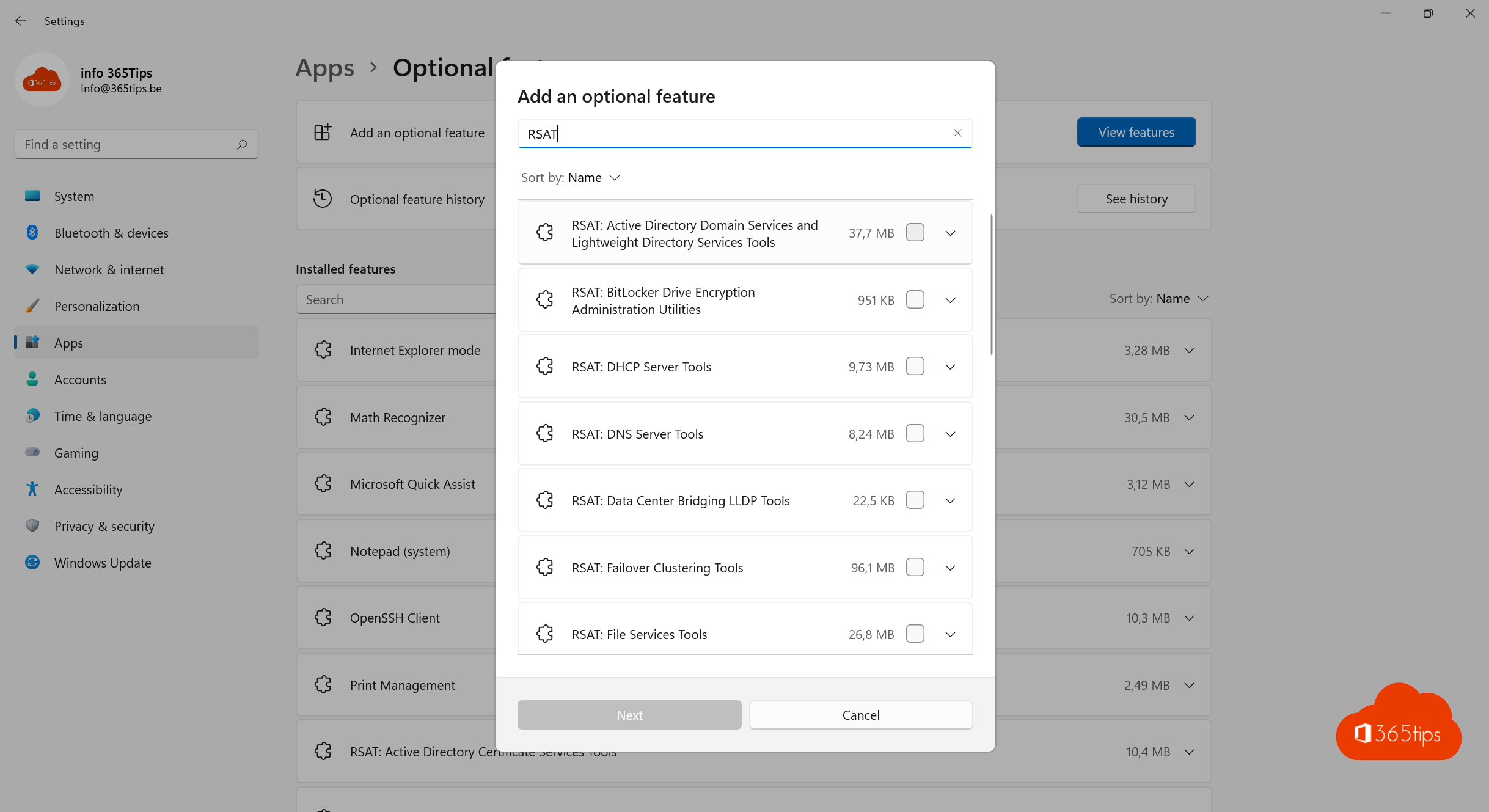 If you are wondering how to install the Remote Server Administration Tools (RSAT) on Windows 11, you have come to the right place in this article. You used to be able to install RSAT via a separate installation, now it is offered as an optional feature in Windows 11.
Install RSAT in Windows 11 with video instructions
In this video you can see how to install RSAT in Windows 11.
How to install RSAT in Windows 11?
Go to the settings menu in Windows 11.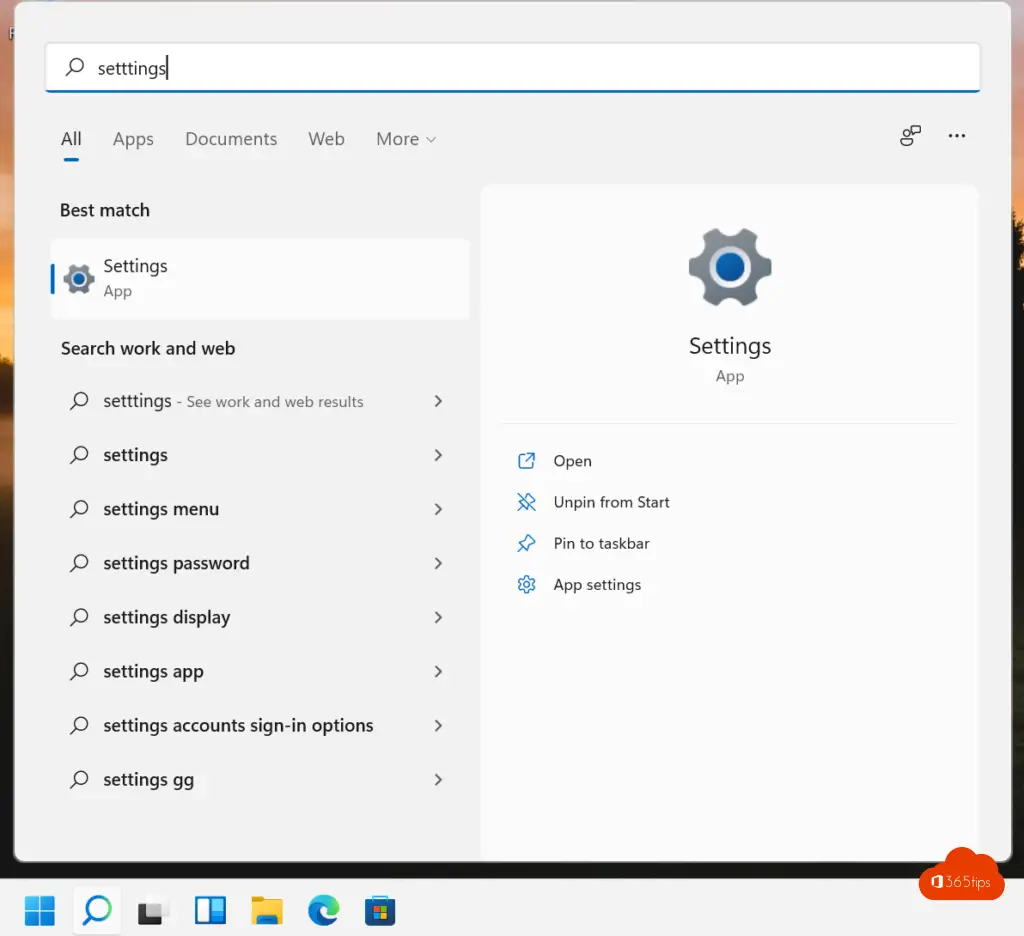 Under Apps -> optional features of Windows 11.
Then select: See all features.

Search for RSAT in the search bar and then press install.
You can install RSAT: Active Directory Domain Services and Lightweight Directory Tools to manage Computers, Users and Objects in Active Directory.
Or RSAT Bitlocker Drive Encryption utilities.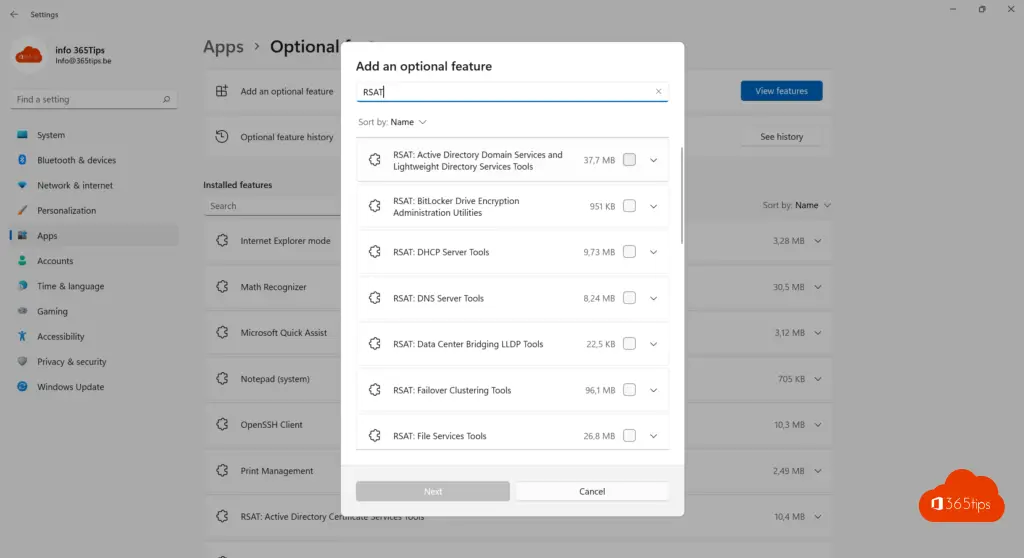 Starting up Windows Tools in Windows 11
Then restart your computer and open Windows Tools in the search bar.
Active Directory Users and Computers RSAT startup in Windows 11
All administration tools can be found in this location.
C:ProgramDataMicrosoftWindowsStart MenuProgramsAdministrative Tools
You can connect to an Active Directory domain with a different user and a different domain by pressing CTRL + SHIFT + Right mouse button. Then choose: Run as different user.
All the services listed below are available after installation:
Active Directory Administrative Center, Active Directory Domains and Trusts, Active Directory PowerShell Snap-In, Active Directory Sites and Services, Active Directory Users and Computers, ADSIEdit, Certification Authority, Component Services, Computer Management, dfrgui, Disk Cleanup, Event Viewer, iSCSI Initiator, Memory Diagnostics Tool, Microsoft Azure services, ocspresponder, ODBC Data Sources (32-bit), ODBC Data Sources (64-bit), Performance Monitor, Print Management, RecoveryDrive, Registry Editor, Resource Monitor, Security Configuration Management, Server Manager, services, System Configuration, System Information, Task Scheduler, Windows Defender Firewall with Advanced Security
Removing optional features in Windows 11
If you want to remove optional updates, go to: settings - APPS - remove these applications separately.
Also read
The most common tips to speed up a slow Windows 11 computer
How to join a Windows 11 computer to an Active-Directory domain?
How to install Outlook online as a PWA app in Google Chrome or Microsoft Edge?