How can you share a OneDrive document in revision mode?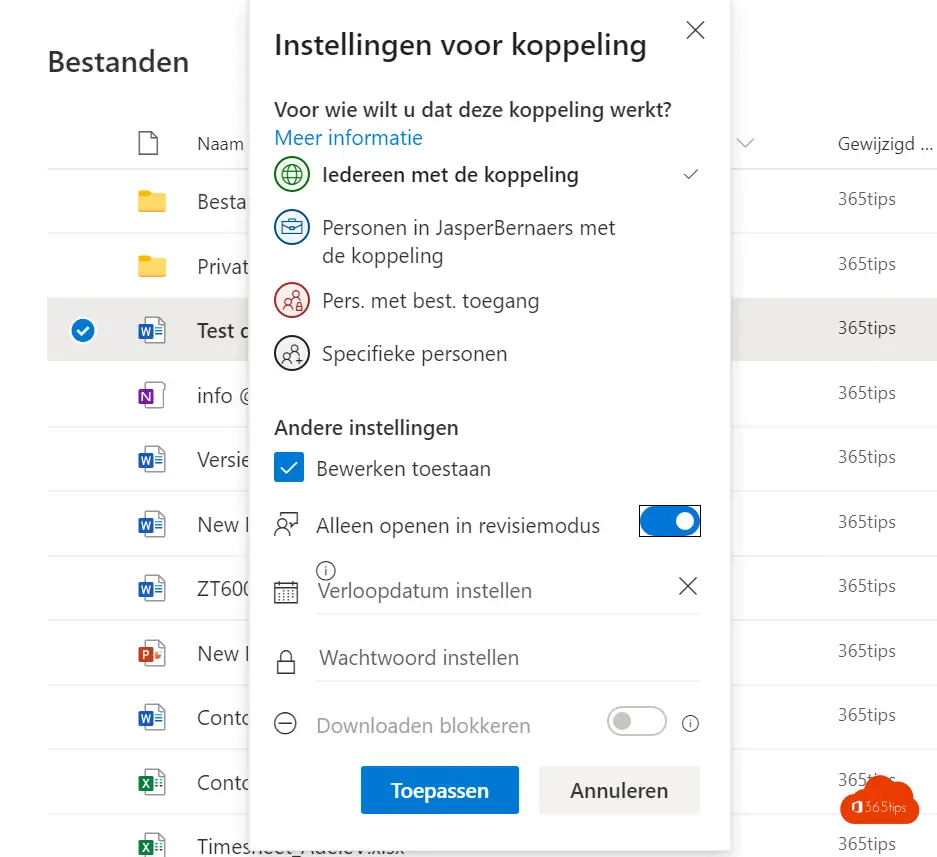 When you share a document from SharePoint or OneDrive, you can set adjustments to be highlighted. This is a useful feature to ensure that you have an easily traceable way to see third-party modifications on a document you make available. This is useful, for example, if you want to share a document with a group of people and want to know who modified what.
To share a document in revision mode, you can follow the following steps:
Go to the location where the document is saved, for example in SharePoint or OneDrive.
Right-click on the document and choose "Share" or "Share" (depending on your language preference).
Enter the e-mail addresses of the people you want to share the document with, separated by commas, in the "Participants" text box.
Make sure the check mark next to "Adjustments highlighted" is checked. This ensures that adjustments are highlighted when someone edits the document.
Optionally, add a message in the "Message" text box if you want participants to know why you are sharing the document and what you expect of them.
Click "Share" or "Share now" (depending on your language preference) to share the document.
The people you shared the document with will receive an email with a link to the document. When they open the document, they will see that modifications are highlighted so they can easily see what has been modified. This is a convenient way to see what has been modified on the document and to keep track of what has been changed.
Use OneDrive or SharePoint
Navigate directly to portal.office.com
Or Browse to OneDrive or SharePoint.
Parts with revision capabilities in OneDrive for Business
If you right-click on the document from your OneDrive or SharePoint site you can choose 'open only in revision mode'
Other practical tips about OneDrive here!

Tagged: File sharing, Manual, Microsoft SharePoint, Microsoft Teams manual, Tenant