🙋 What to do if Office 365 is unavailable: view Microsoft 365 service health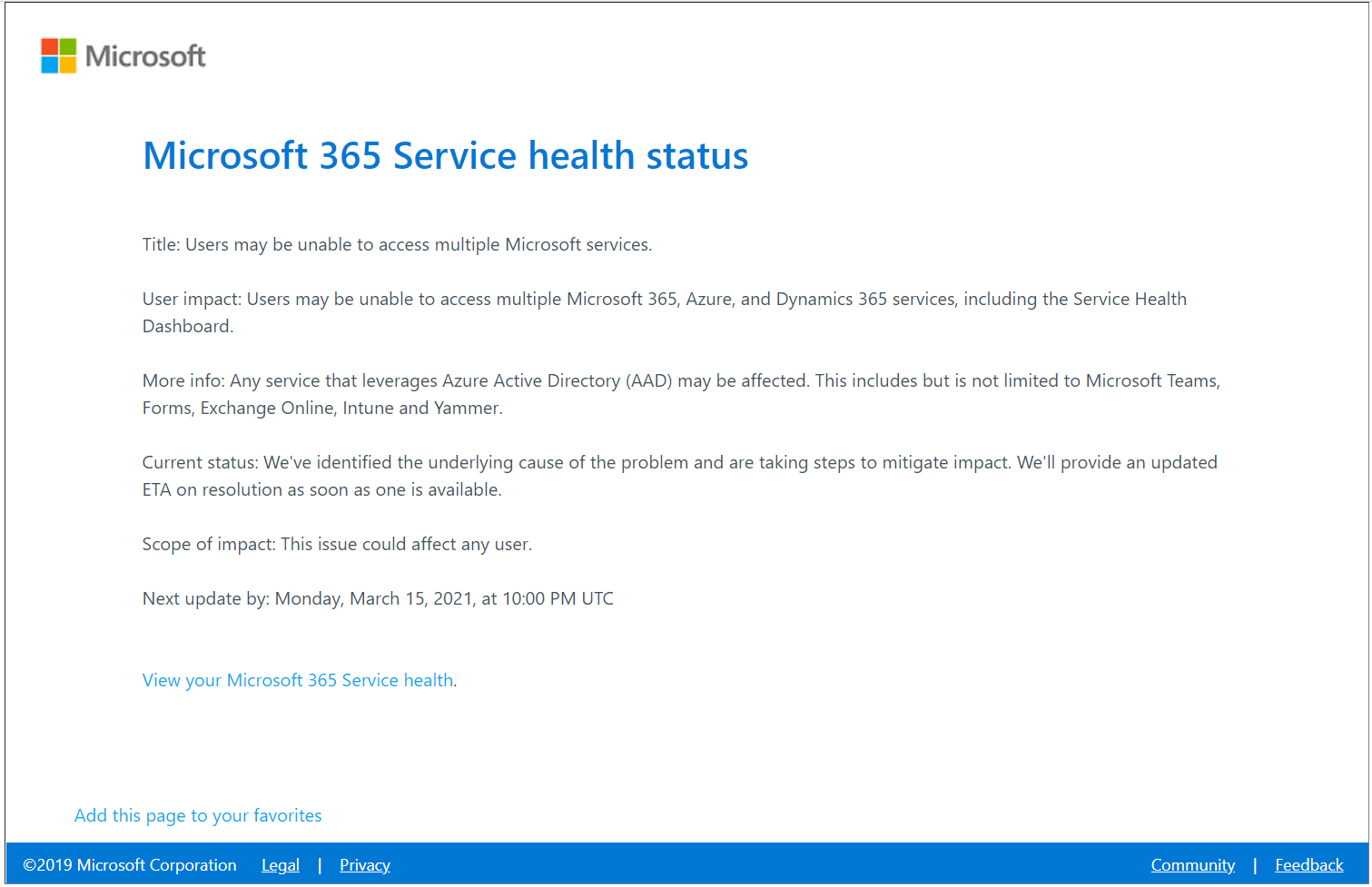 It is not the first time a service such as Microsoft 365 has been temporarily unavailable for use due to various circumstances. This can happen to both large and small services. Because of this, should you consider not hosting services in the Microsoft Cloud?
In this blog you will read about alternatives or intermediate solutions for times when the service is not available.
What are the choices and differences between Microsoft Azure, Office 365 and your own data center?
If you have your own server infrastructure, you need to make sure it is properly maintained. In the Cloud, Microsoft takes this out of your hands by automatically replacing hardware as needed. As a customer, you no longer have to worry about this - this is a basic requirement that you can also get from third-party providers.
In addition to Microsoft Azure, you also have Microsoft 365, which consists of dozens of components, such as Teams, OneDrive, SharePoint, Planner, Yammer and Exchange.
Microsoft Azure offers services in a service model with a modern twist. For example, instead of running a Windows Server with an SQL server on it, you can use the SQL Service in Microsoft Azure. This means less complexity, higher performance and easier backups. While Microsoft Azure is not suitable for hosting 100% of all your servers, it can help redesign your IT environment to take full advantage of the added value of the Azure Cloud. Simply moving your server infrastructure to another data center without considering the capabilities of the Azure Cloud is not recommended.
What service level agreements (SLAs) does Microsoft offer?
Microsoft has built an ever up-to-date SLAs, terms and conditions and other agreement-related documents catalog that you can access extensively at this link: Microsoft Volume Licensing - Product Licensing Search. A sample table of contents can be found below.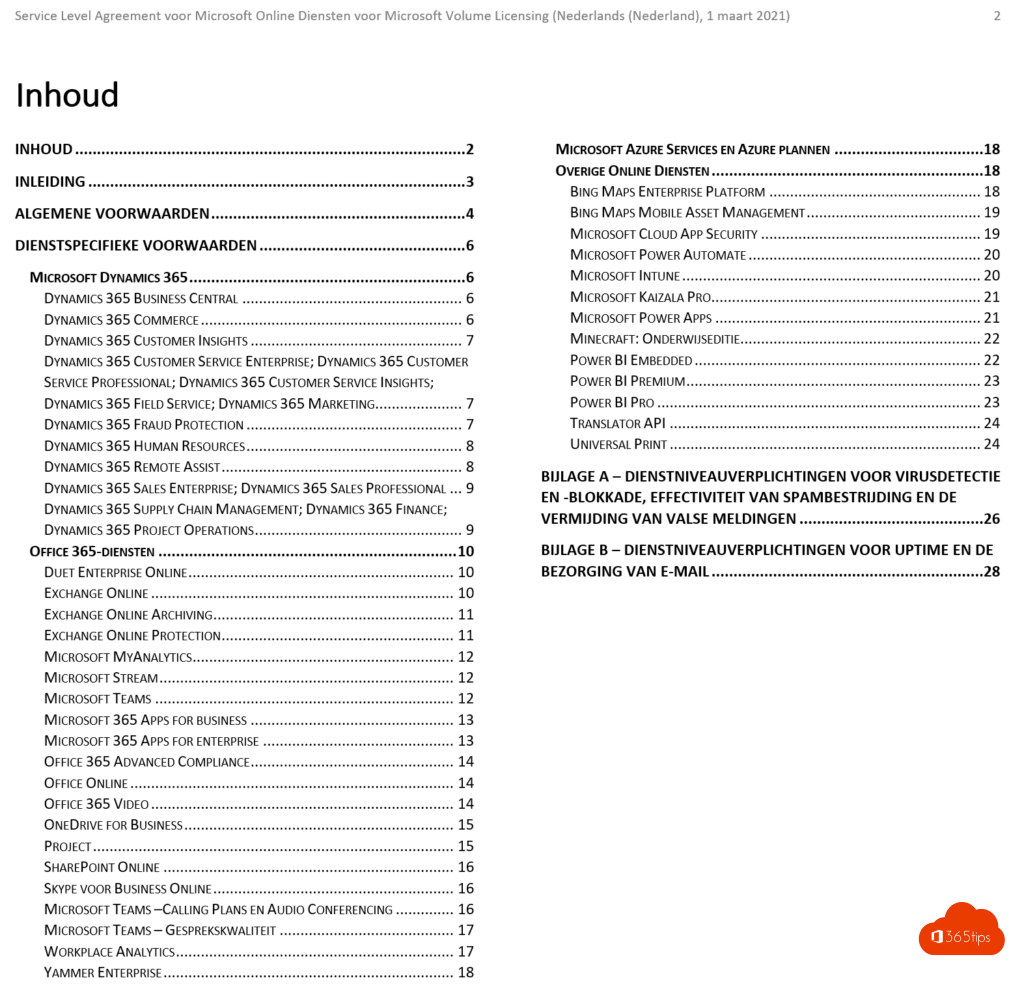 Maximizing offline document work: here's how to do it
There are several ways to keep documents offline. For example, you can use OneDrive synchronization to sync important files to your local computer. This can be done at the global level or at the individual level. You can also allow users to choose which libraries they want to sync on their own computer. You can read how to set this up here: Microsoft teams syncing files with windows explorer.
How do you maintain productivity with minimal workplace during downtime?
If you have Windows 10 devices, Office 365 is your default package for communications, internal services, documents, then you have actually already chosen the Microsoft 365 Cloud. At that point, it may be time to integrate Microsoft 365 deeper into your workplace.
Making devices hybrid or cloud-joined. So that they are in management in Endpoint manager. And can authenticate to Microsoft 365 - Azure AD. This gives freedom to users to always be able to log in, and makes the appliance known in Azure AD. In case of downtime, it is still possible to log in to your device with cached credentials. If the device is 'away' for a long time, it will need to be able to log into Azure AD.
Email synchronization to your local workstations. Emails will continue to be massively used even in 2021. I sometimes see organizations that choose to only sync emails for 1, 3 or 6 months. You may want to offer more emails in this case?
Offering documents or critical data via OneDrive synchronization is an option. But Teams also has a solution for offline workers. There is recently a new offline experience for Teams with support for message queuing in chats and channels. All messages will be sent when the device is reconnected.
Procedure, work processes, these are the things you need in case of Microsoft 365 downtime. When people work from home and end up in an interruption, often the problem is not that e-mail doesn't work for a while. But that the users do not know that they can continue in Microsoft Teams, OneDrive, SharePoint, Dynamics. If you have procedures in place, you can proactively or reactively help users make the best of their day jobs. With hugely critical systems, a backup procedure is a must. A manual process for basic services. All best worked out before downtime. Or is continuity for a few hours not so important after all?  
Where can you check the service health status?
With https://status.office.com, you can quickly see what goes wrong during downtime. At the bottom of the page you can specifically tenant look for problems with specific services such as Exchange (email), SharePoint, Teams and Azure AD.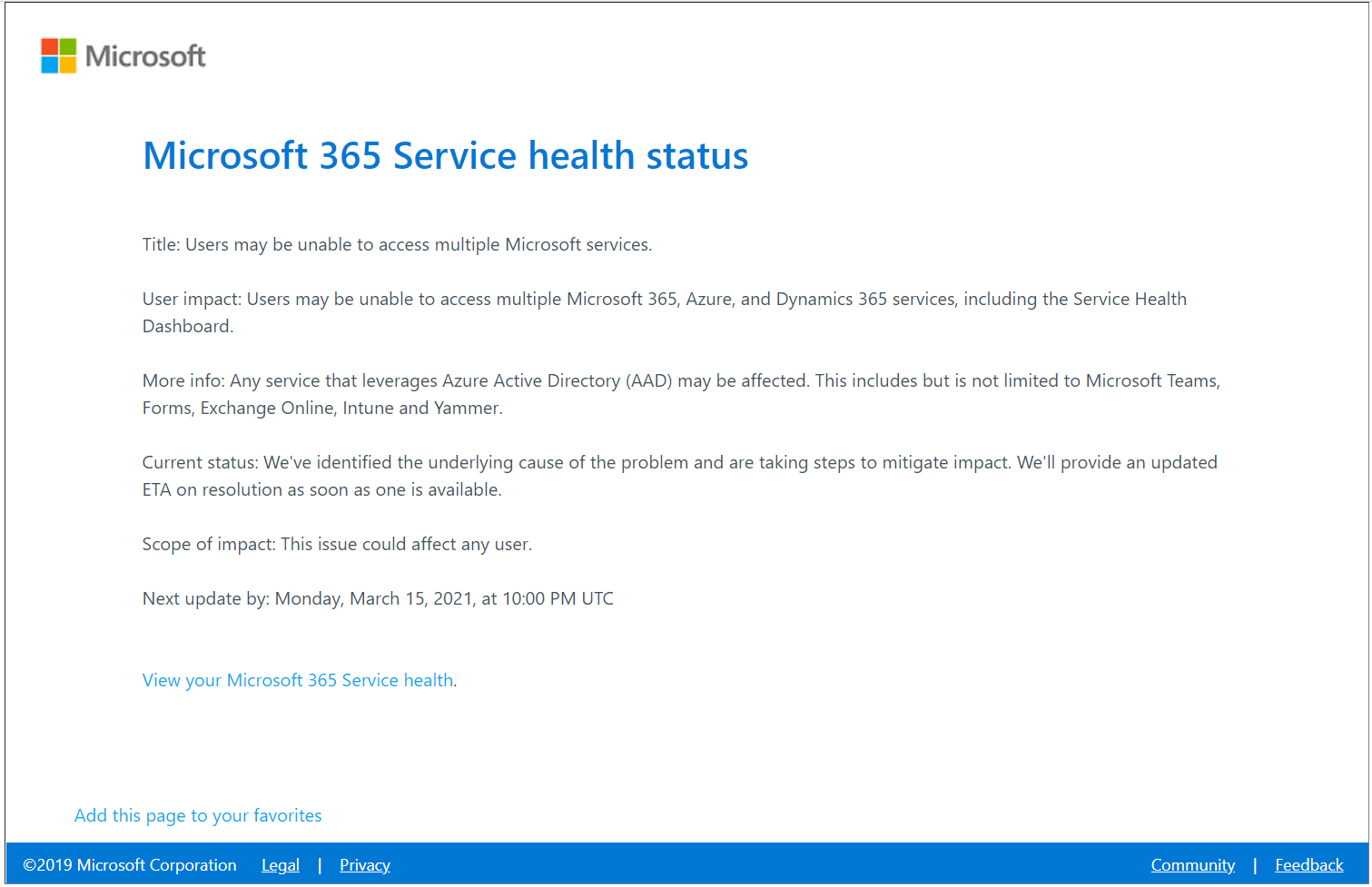 Small nuance about downtime
On the service pages, it is often seen that some services are downgraded. This does not always mean that the services are completely unavailable. It is not often that Microsoft services have been completely impacted, and when they have, the time has usually been short.
The choice is yours: do you go for the dynamic Microsoft Cloud with daily new features security updates and flexibility to scale quickly and pay according to usage, or do you build your own services, but with fewer features? The question is whether you yourself would be able to provide a better service than Microsoft, with the same value for end users.
Microsoft Azure status downtime
Microsoft Azure may also be experiencing downtime. The statuses can be accessed here. https://status.azure.com/en-us/status
About the author
Tagged: Microsoft SharePoint, Microsoft Windows