How do you see which Office 365 licence is active on your account?
After your organisation has registered for Office 365your administrator can assign different Office 365 licenses to each user account. Read below how you can already check which licence you have.
Office 365 portal
The office 365 portal can be accessed in several ways. Via https://outlook.office.com (click through at the top left), https://admin.microsoft.com (for administrators)
Browseto: https://www.office.com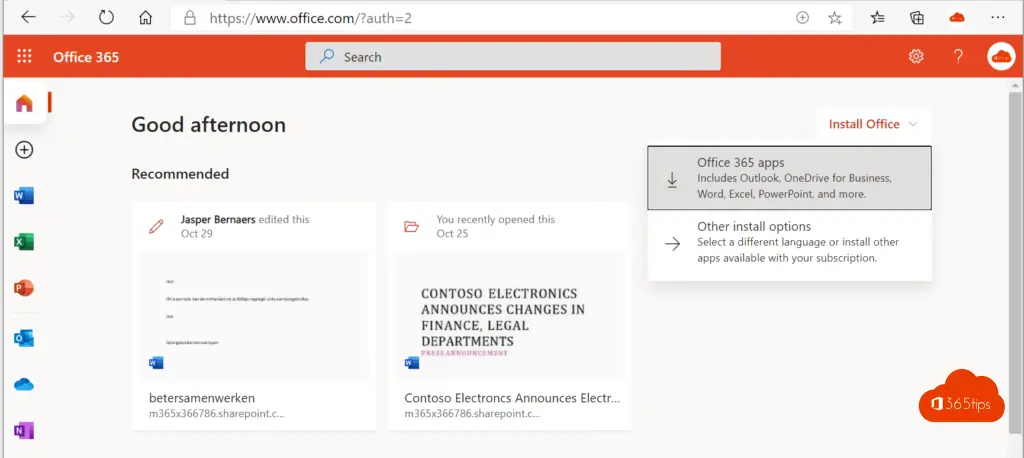 Click on your name in the top right corner and click on "My account".
Click on: Show subscriptions
Subscription
Below is the list of all sub-licences of e.g. Microsoft 365 E3 licence.
Office 365 E3
Microsoft Kaizala Pro
Whiteboard (Plan 2)
Information Protection for Office 365 - Standard
Insights by MyAnalytics
To-Do (Plan 2)
Microsoft Forms (Plan E3)
Microsoft Stream for O365 E3 SKU
Microsoft StaffHub
Flow for Office 365
PowerApps for Office 365
Microsoft Teams
Sway
Yammer Enterprise
Azure Rights Management
The latest desktop version of Office
Skype for Business Online (Plan 2)
Exchange Online (Plan 2)
Also read: Microsoft 365 F3! The former F1 licence, How to add Office 365 licences to groups of people, Office 365 vs GSuite comparison