E-mail delivery during colleagues' working hours - Delayed Delivery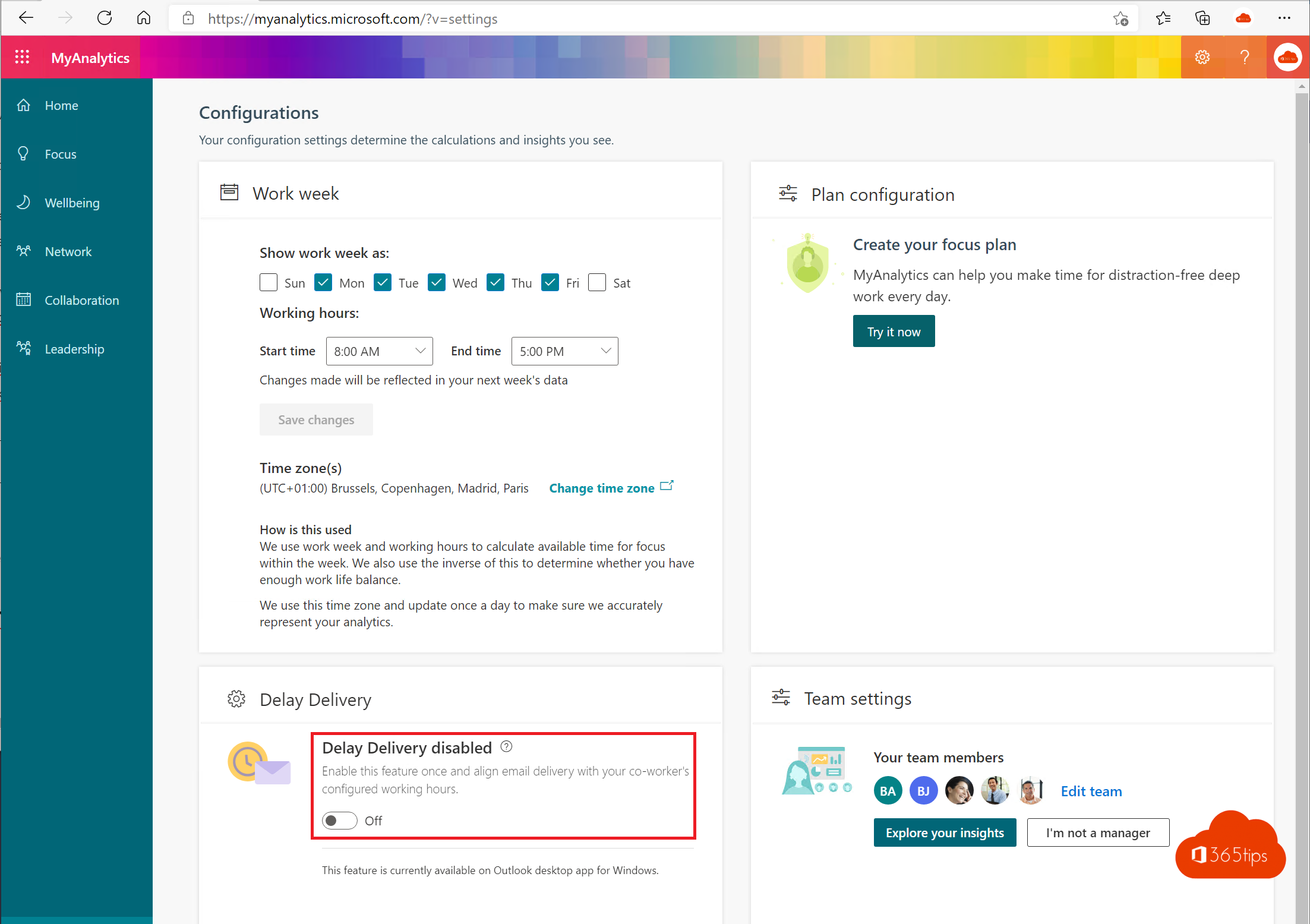 When you compose an e-mail in Outlook, delayed delivery shows you suggestions for scheduling e-mail delivery that matches the working hours of the recipients in their respective time zones.
This delay prevents you from bothering people when they are not actively working.
If delayed delivery is enabled, you can receive up to two daily delayed delivery suggestions.

If you want to get more than two per day, you need to sign up for the delayed delivery plan. You can sign up for the delayed delivery plan through MyAnalytics or through the Insights Outlook plug-in to get an unlimited number of suggestions for delayed email delivery to your colleagues.
The delayed delivery plan is currently available to users of Microsoft 365 or Office 365 E5 and only for the Outlook desktop app for Windows.
Activation of Delayed Delivery
Navigate to: https://myanalytics.microsoft.com/?v=settings
Enable delay delivery.
Set your working hours in Office 365
Working hours can be set in 2 ways:
Using delayed delivery
When you compose an e-mail in Outlook, you can postpone the delivery of an e-mail as follows: When you see a suggested delivery time while composing an email, such as do, Nov 07, 10:00 am (as shown in the image), select Postpone Send to schedule the delivery of the message.
Licence requirements
For Delayed Delivery you need Microsoft 365 or Office 365 E5.
1. Buy a trial licence
Browseto your admin portal - https://admin.microsoft.com
2. Choose the required licence - for delayed delivery you need Microsoft 365 or Office 365 E5.
Choose the desired license
Click on free trial
3. Prove that you are not a robot
Enter your mobile number and your code in the web portal
Click on Begin to start your free trial.
Assign a licence to the user
This can be done via the Office 365 portal.
Also readthese blogs!
Measure your personal productivity with MyAnalytics
5 tips for measuring adoption in Office 365
Features & functions of Microsoft 365 for your digital workplace
See which Office 365 licence is active on your account?