These are Microsoft 365's best features and functions for your digital workplace

This article offers insights into setting up a modern digital workspace using features available in Microsoft 365 E3 or E5.
Furthermore, we will explore specific themes of Microsoft 365 to better understand the unique value they add to your digital workplace.
The ultimate goal is to create the most user-friendly environment possible with Microsoft 365 that facilitates users to collaborate and communicate efficiently.
Introduction
Digital transformation is a crucial initiative for any business in today's highly connected world. Microsoft 365 acts as a powerful ally to make this digital transformation smooth and efficient.
One of the main objectives is to increase the flexibility of the organization so that it can respond more quickly and effectively to changes in the business environment.
Another essential pillar is enabling collaboration between different types of workers - from information workers to front-line workers. Regardless of their roles, Microsoft 365 provides a platform that supports their collaborative efforts.
Moreover, Microsoft 365 is designed to support different work styles. Whether you are dealing with millennials, Gen Z, Gen X, or baby boomers, there is a customized solution for each generation.
Better insights are another big promise of Microsoft 365. With real-time reporting features, your business can make more informed decisions.
These days, mobility is key, and Microsoft 365 makes it easy to work from any location. Did you know that 98% of information workers communicate with someone else at work every week?
Finally, Microsoft 365 helps improve security and compliance. In a world where data loss and non-compliance can have serious consequences, Microsoft 365 provides robust data management and protection solutions. Rely on Microsoft 365 to guide your digital transformation!
Microsoft 365 E3 or Microsoft 365 E5?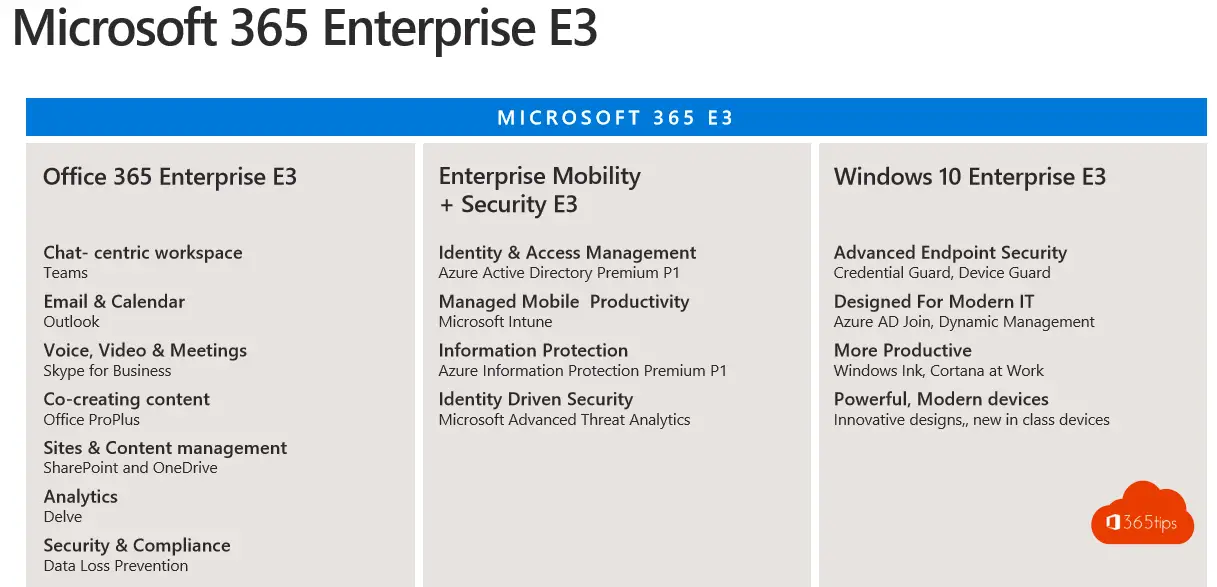 Office 365 - This is the standard set of applications that every organization uses
All businesses need some form of email and calendar management. The shift to Exchange Online is a proven and reliable standard in this regard.
Telephony, voice communications, video meetings - they all now take place on Microsoft Teams. With more than 500,000 organizations using it worldwide, Microsoft Teams has established itself as the new accepted standard for collaboration.
Office ProPlus is also an essential part of most organizations, with Word, Excel and PowerPoint as the cornerstones of document creation and presentation.
Tools such as Planner, Yammer, OneDrive and SharePoint have also proven their worth, providing additional features and opportunities to streamline and improve business operations.
Office 365 - advanced options
'Built-in' Analytics is one of the many valuable features of Microsoft 365. Have you ever thought about how many services are available by default, for free, right out of the box? These services come with built-in dashboards, making customization unnecessary.
Workplace analysis is an important part of this. This feature allows you to measure the progress of your transformation goals and evaluate the effectiveness of your change efforts.
With these tools, you can track hours spent in meetings, discover inefficient processes and identify obstacles to innovation. You can even identify influencers, both positive and negative, allowing you to target innovation. The goal is not just to measure, but to improve and innovate wherever possible.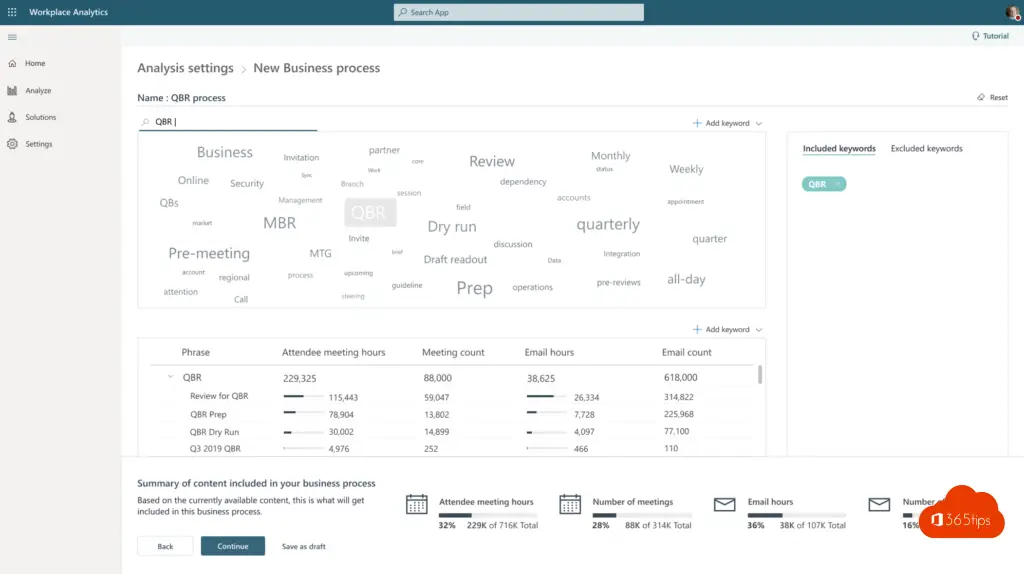 MyAnalytics is a tool designed not to monitor people's activities, but to provide insights into your organization's efficiency. Employees within your organization will have the opportunity to discover and improve their own work habits, thanks to the valuable insights provided by MyAnalytics.
The goal is not to replace employees, but to help them focus on tasks of greater importance. MyAnalytics supports the human and intellectual aspects of work by automating routine tasks and giving employees the time and space to focus on their core tasks.
Enterprise Mobility + Security (EM+S)
Security and compliance: There are still too many organizations that are not fully aware of the capabilities Microsoft 365 offers in this area.
Management remains within the organization, whether you are working on location (on-premise) or using the Cloud.
You have the ability to identify where documents are located and act based on the needs that arise. This allows you to maintain control and act proactively to ensure the integrity and security of your data.
Identity and access management: By using simplified identity management, you can more easily implement security protocols. In doing so, users can reset their own passwords and more - all without direct intervention from IT. This is the power of Zero-IT.
In today's context, identity management is a hugely burdensome task for many IT departments.
Managed Mobile Productivity: Autopilot can be used to roll out new devices, which in turn improves productivity.
By maintaining full control over Windows 11 devices and mobile devices, you can reduce help desk costs! It is important to remember that mobile devices are often overlooked, when in fact they are the biggest attack surfaces. Increasing the security and management of these devices should be a priority.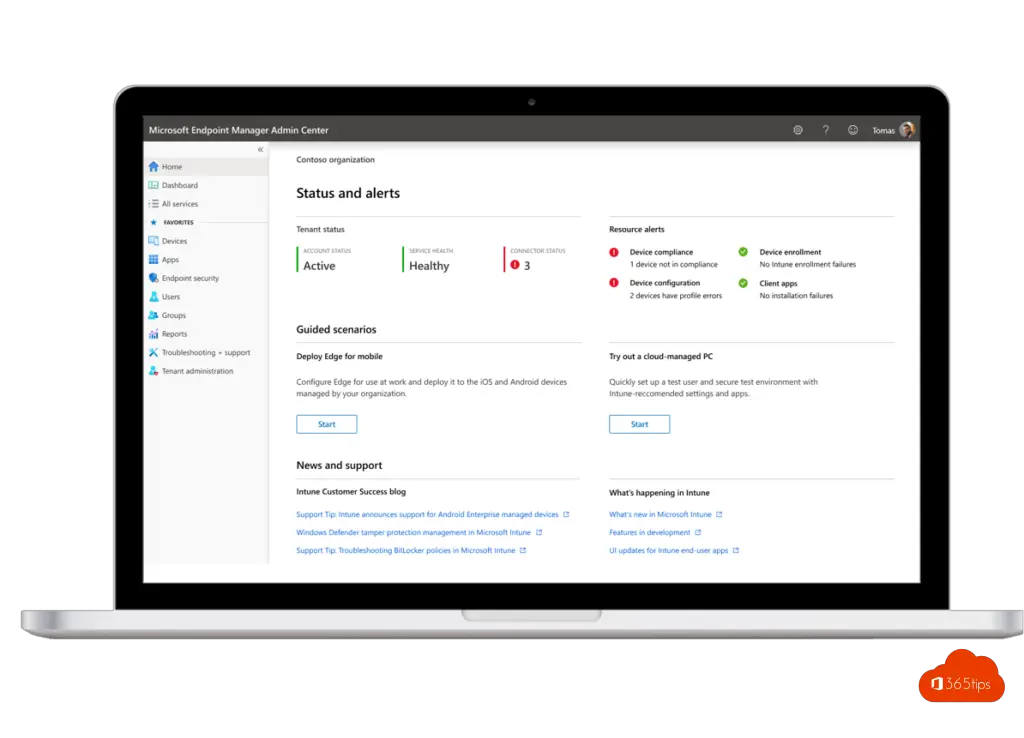 Identity driven Security: Because of the use of a single-identity in Azure. Or hybrid synchronized by your local Active Directory services organizations, Microsoft 365 can act automatically when needed.

Empower users to do as many necessary actions themselves as possible.
Information Protection: This allows documents to be automatically classified and berscherm-labeled.

Start simple with some labels. do not auto-assign!

Once everyone in the organization has made the transition to this new way of working and fully understands how the technology works, confidential files can be automatically tagged and secured. This means they cannot be shared externally or accessed by third parties without the necessary permission. The security and integrity of confidential data is thus assured.
Advanced Threat Protection: Most reports are built in and integrated by default in Microsoft 365 E5. ATP gives the ability to stop malware such as Office 365 ATP. But Windows Defender ATP & Azure ATP are also among the possibilities.

These ATP reports provide insights and a reflection of needs or investment areas. From Windows update to ransomware protection.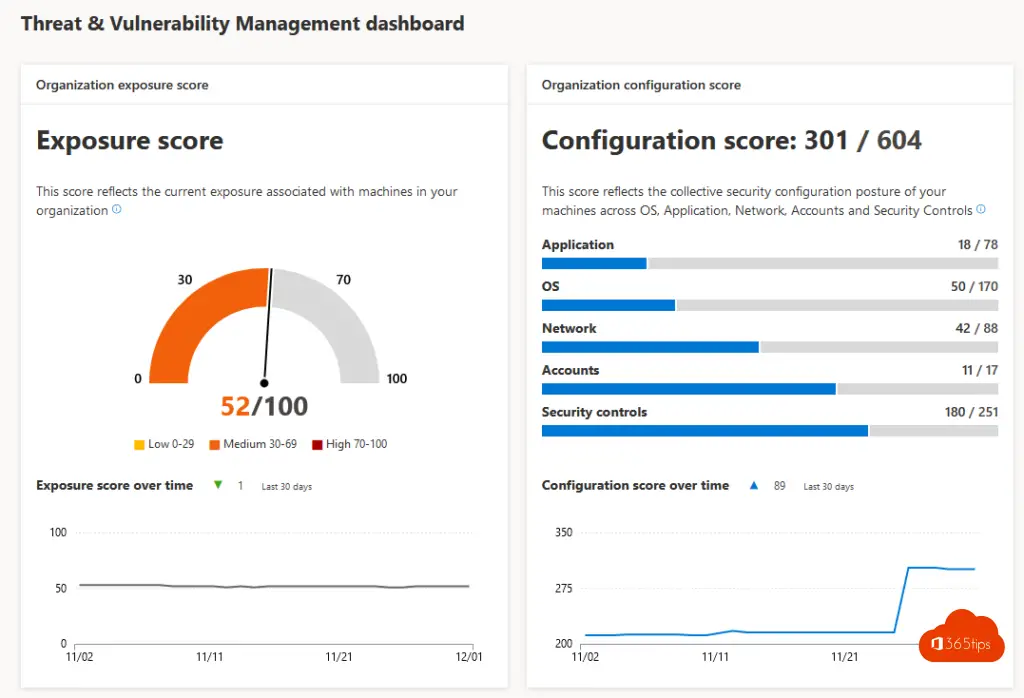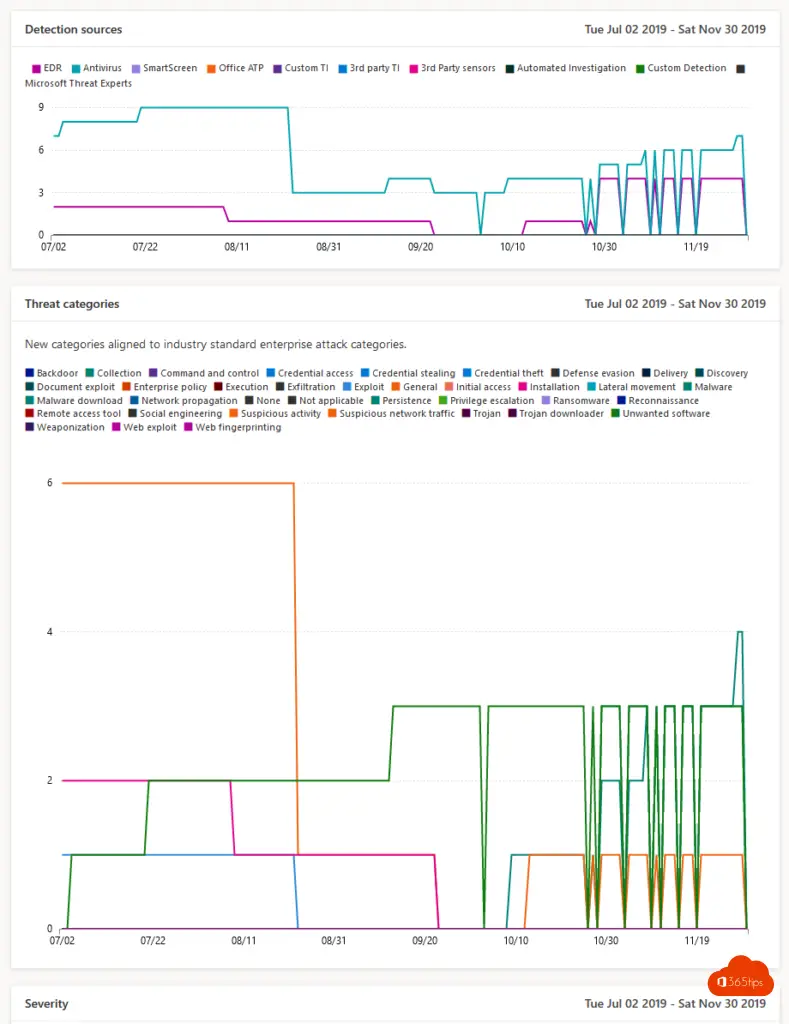 Windows 11 Enterprise - made for modern IT
Windows 10: Unfortunately, this operating system is often a weak link within organizations, mainly because properly managing and implementing patches is not always well understood or executed. Setting up a robust patch management system is essential, but constantly monitoring and updating it is even more crucial.
Microsoft Windows 10: With now ten versions, starting with version 1507 from 2015, and then 1511, 1607, 1703, 1709, 1803, 1809, 1903 and 1909, Windows 10 has gone through a wide range of development stages. It is important to note that the early versions have now reached end-of-life status and, unfortunately, are still widely used.
Microsoft Windows 11 Enterprise: This version is designed for continuous improvement and should be implemented in a service-oriented model that includes automatic updates, rollouts, deployments, patching, updates and self-service software requests.
These are not traditional approaches such as imaging and manual updates.
Intelligent insights allow you to closely monitor processes and achieve complete control over the system.
Desktop Analytics: New for organizations that traditionally image their IT fleet. This is a key pillar to consider to ensure that update management will be done in a smart way. With recommendations, analytics and data insights.
It has become impractical to create golden-images in an ever-changing world of software, versions, etc..
PowerBI Integration: Because of the rich Eco system within Microsoft 365, everything can be measured. This below report is standard without any manipulation with Power-bi.
Cloud App Security: Gives the ability to glue together the entire Microsoft 365 stack. From Office 365 insights to OneDrive, SharePoint but also Teams. From Windows Defender ATP to ATP sensors on your domain controllers. one simple view. where you can see exactly what is happening on your environment.
Fully automatic handling of alerts. If you get an alert in Cloud App Security you can act automatically. For example: Your CEO suddenly logs into China. Block account. Create a ticket in your ticket tool. Schedule an engineer for high-attention contact with identity verification.
Also read: In 15 steps to a digital workplace with Microsoft 365 E3 or E5
Tagged: Advanced Threat Protection, Analysis, Azure, Domain, E-Mail, Excel, Exchange Online, Free, Microsoft, Microsoft 365, Microsoft Excel, Microsoft Office 365, Microsoft SharePoint, Microsoft Windows, MyAnalytics, Office 365 ProPlus, On-premises, Planner and ToDo, PowerPoint, productivity, Sync, Video, Windows Autopilot, Yammer