Set up Microsoft Teams to manage projects - project management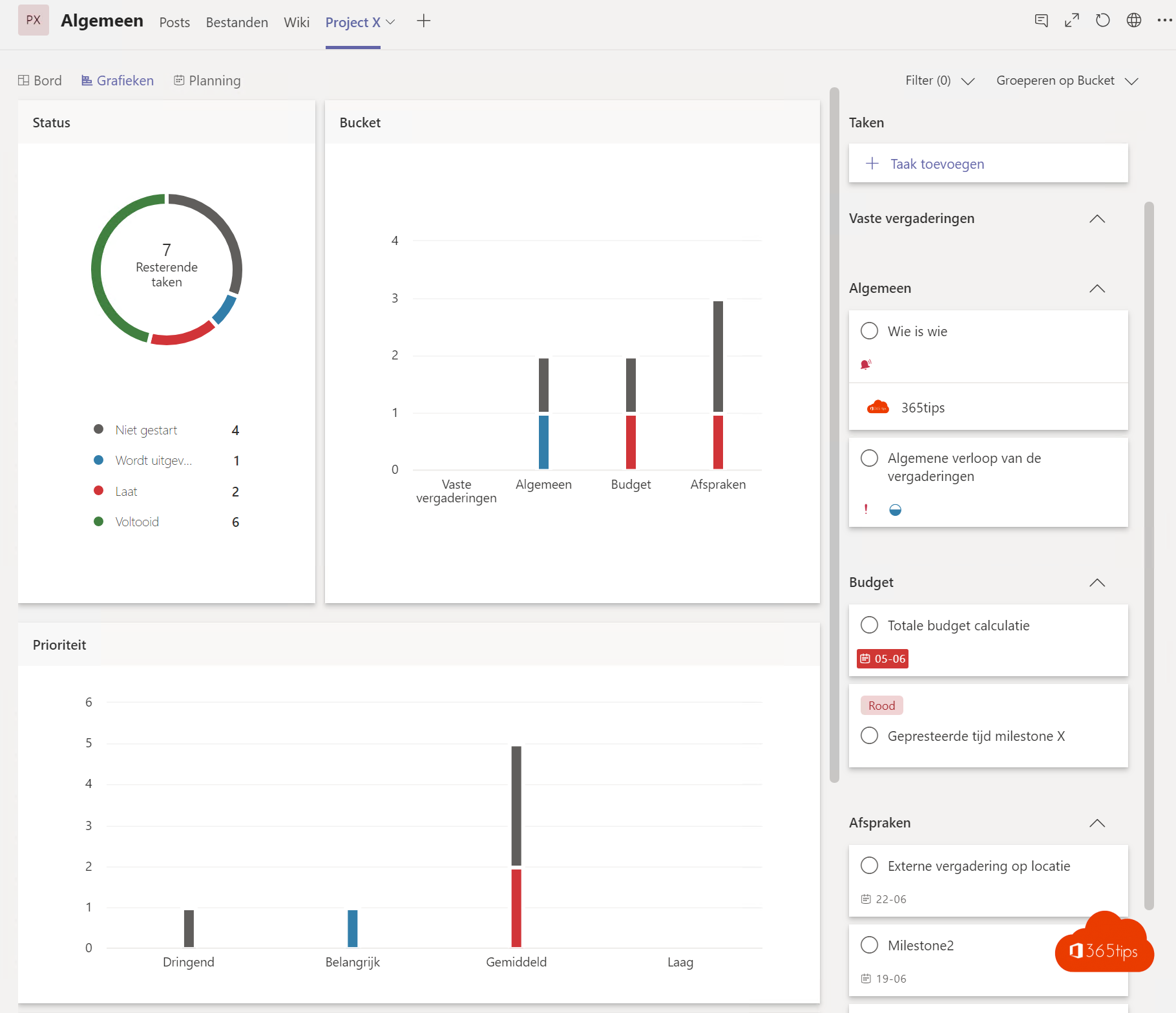 Microsoft Teams is a powerful platform when it comes to collaboration. Project management can be fully incorporated into this solution.
Why Microsoft Teams as a project management platform?
Microsoft Teams exists in more than 50 languages, uses Office 365 and is often a well-known technology to its users.
Office 365 contains Exchange, SharePoint OneDrive, Planner, etc which you can use to manage your project well. And Microsoft teams has made sure that everything is in one place.
1. Start by creating a team
Start from the Windows App, click on a Create a team
Select the team you want to create
Add members to this team
Your team has been created
2. High-level planning and overview
Add a tab from the top bar in your new project team.
Add planner as tab
Create a new plan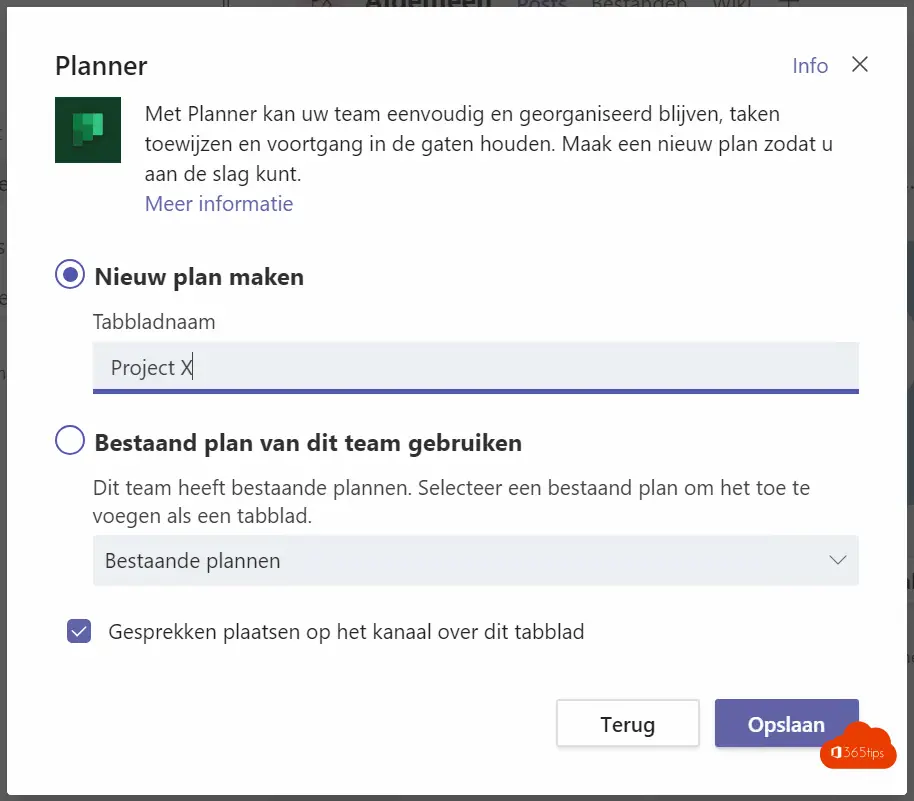 Describe the high-level milestones as buckets - or the phases of the project.
Set up your frame in Planner
Organise tasks and set them by dates, and by the names of the parties involved.
Overview is easy to maintain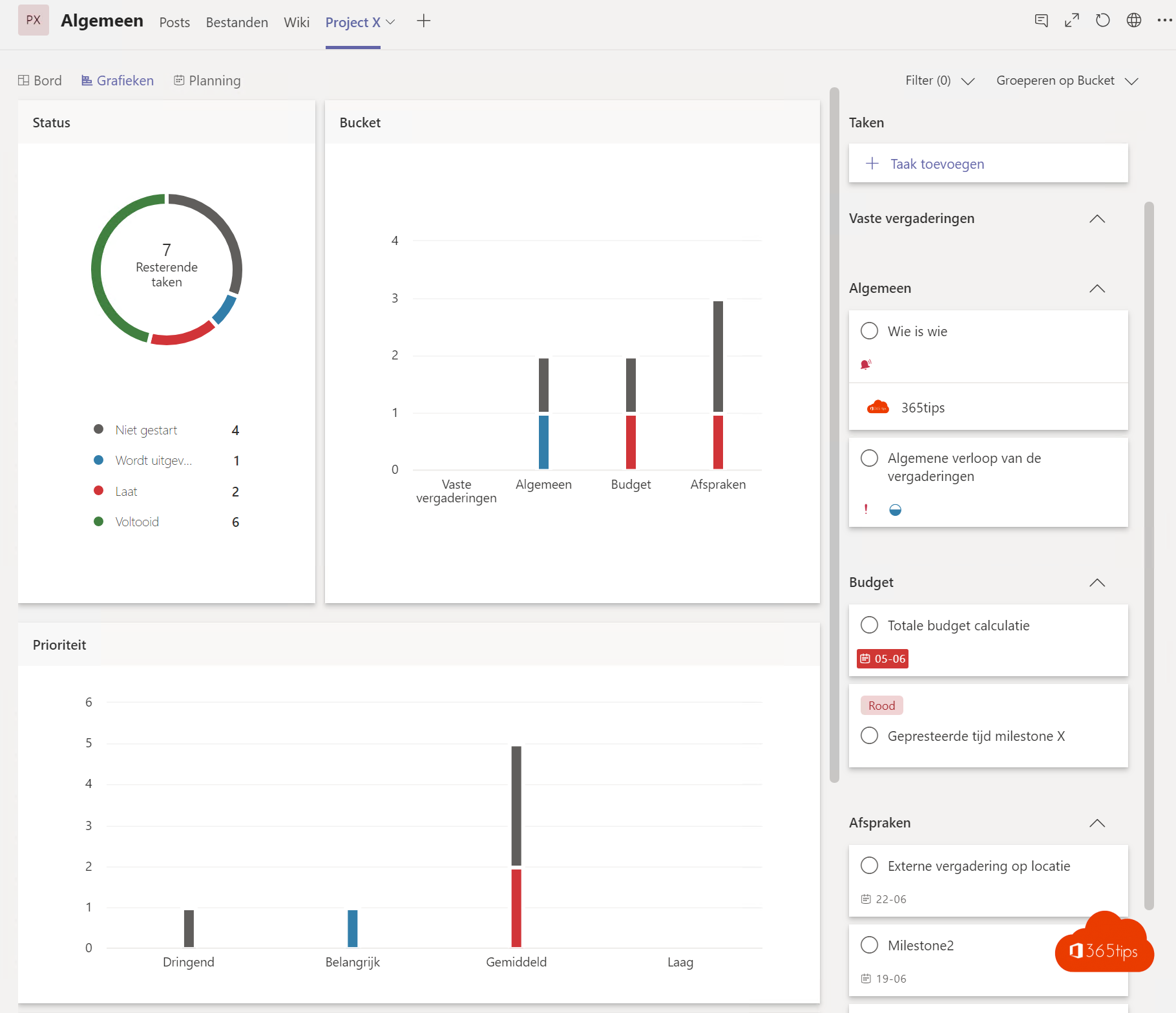 Shift the planning where necessary. In this overview you can see tasks in time. You can give them a weight of low, medium, important & urgent. You can also schedule and track the start time.
3. Cooperation and sharing with third parties
Optimal cooperation and project follow-up is only possible if everyone is involved in the project. Therefore, add all stakeholders and involved parties to the team. This can be done via this article.
Remember that if you use general channels that anyone who would add to this channel can!
4. Sharing files with external stakeholders
You can choose to share files as shown in this guide. This is useful for individual files. But not for really good collaboration. For optimal working conditions you should invite guests as in the following step.
If you want to upload crucial final documents to the team that has been set up especially for this project. Then you can create a folder in general. Upload all project documentation and orders and uneditable data and set it to read-only via this item.
5. private channel for internal communication
In a project structure it is recommended that a private channel be created for the internal discussions of the project.
To create a private channel, right-click on your team - add channel - select private channel below.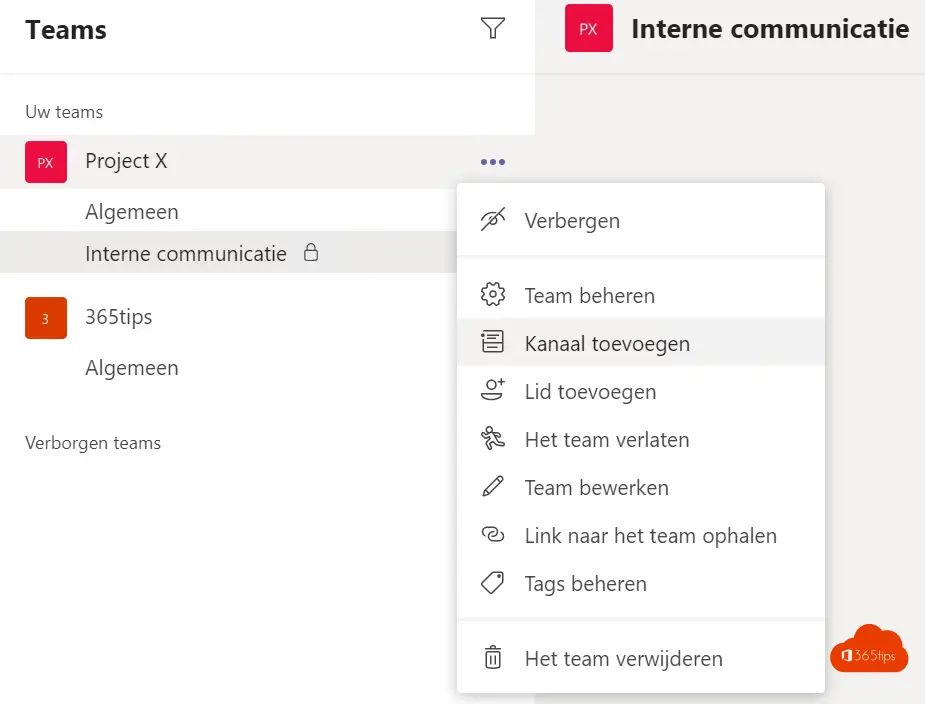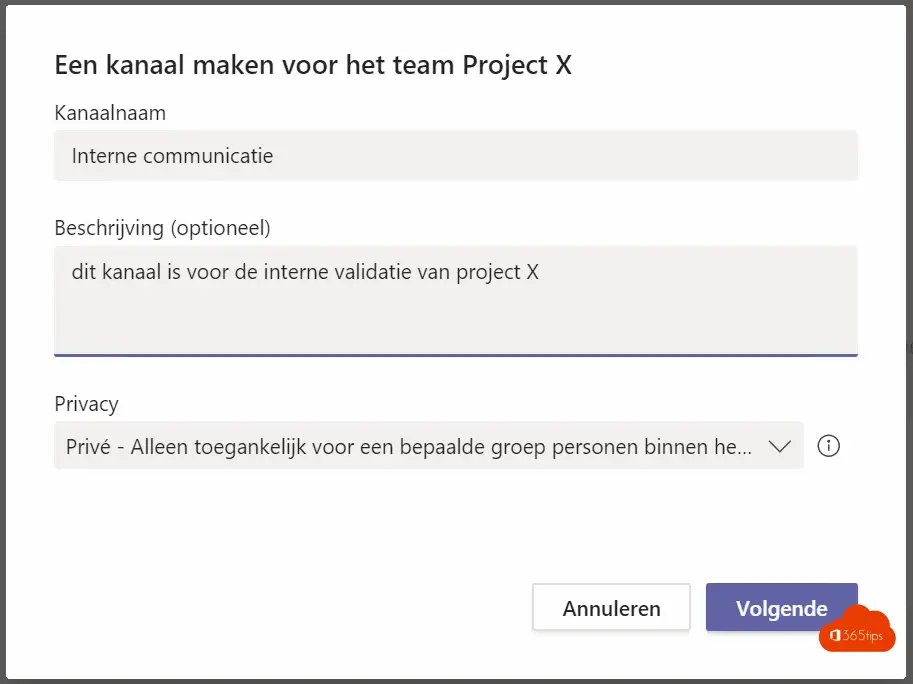 6. OneNote for notes
You can also add OneNote via the Add tab. This will create a notebook in which you can record the discussions.
Important to know, every Microsoft Teams conversation can be recorded.

7. Project structure
How does a project fit into Microsoft Teams? Which technology provides a solution for the project managers' challenges?
Conferencing planning -> Planner and Todo with Planner you can perfectly plan the days, and with Outlook you can send out Microsoft Teams meetings.
Memos -> OneNote: In OneNote you can make notes that you later put in Planner as a task for follow-up.
Project overview -> Planner: The most important thing in every project is: Time, Budget & Resources. It is best to bring this together in one clear overview.
Product launch plan -> A separate planner, Excel or a document
Other documents -> Files: In files you can work on saving documents statically.
More complex input & output can be processed in SharePoint lists and can be processed in PowerBI or the PowerPlatform.
Approval flows can be created as in this article.
You can forward mails to your Team using these steps.
What are the next steps?
You can define a standard project structure in which you always work with the exact same 'template' by setting up one team and using it as a template for all subsequent projects.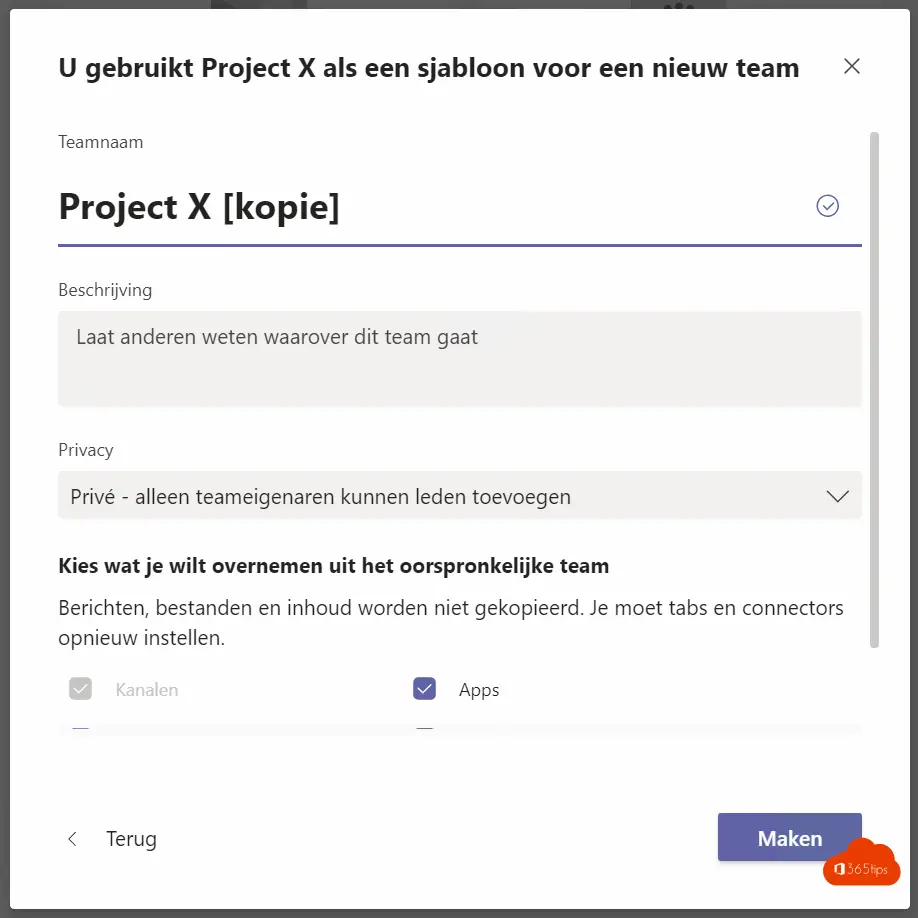 You can fully automate the setting up of this project site when a teams request is made by users.
Was this blog useful for you? Leave a comment at the bottom of this post. Also read200 blogs about Microsoft Teams.