Rolling out Microsoft 365 Apps with Microsoft Intune in 8 steps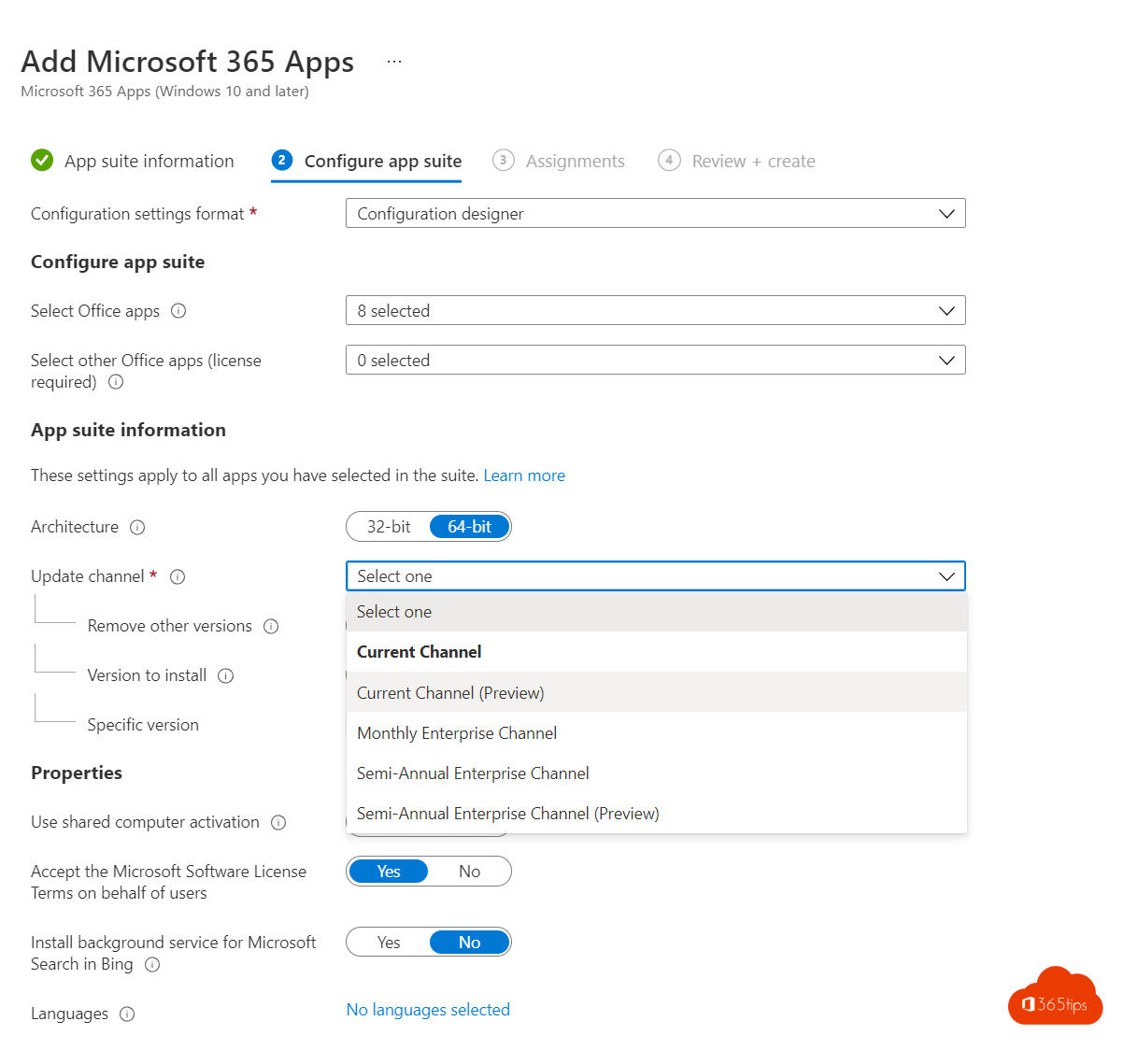 Welcome to this comprehensive blog post where we are going to discover, step by step, how to implement and update the powerful software package, Office 365 ProPlus, to seamlessly deploy and update on all your Windows devices.
Office 365 is a bundle of high-quality and useful software programs developed by Microsoft. These include Word, a word processing tool that lets you create professional documents; Access, a database system that simplifies complex data management; Excel, a spreadsheet program that provides powerful data analysis and visualization; OneDrive, a cloud storage service that lets you store and share your files; OneNote, a note-taking tool ideal for brainstorming sessions and organizational tasks; Outlook, an e-mail management program with integrated calendar features; PowerPoint, a presentation tool that helps you present your ideas in a visually appealing way; Publisher, a desktop publishing tool-program for creating professional publications; and finally Microsoft Teams, a collaboration platform for team communication and file sharing.
Deploying Microsoft Teams, as an integral part of the Office 365 suite, is a crucial part of the click-to-run Intune deployment process. Intune makes it easy to deploy this software in a user-friendly, efficient manner, allowing you to easily navigate the sometimes complex task of software deployment.
Within this blog post, we will walk you through the entire process, from setting up the initial configuration to managing the updates in a way that best suits your specific needs. This article is both for beginners just getting started with Office 365 ProPlus, as well as IT professionals looking for a reliable source for best practices for deployment and management. So let's begin this journey to a smooth and effective rollout of Office 365 ProPlus!
Technical requirements of Microsoft Intune
1. Login to the administrator portal of Microsoft Intune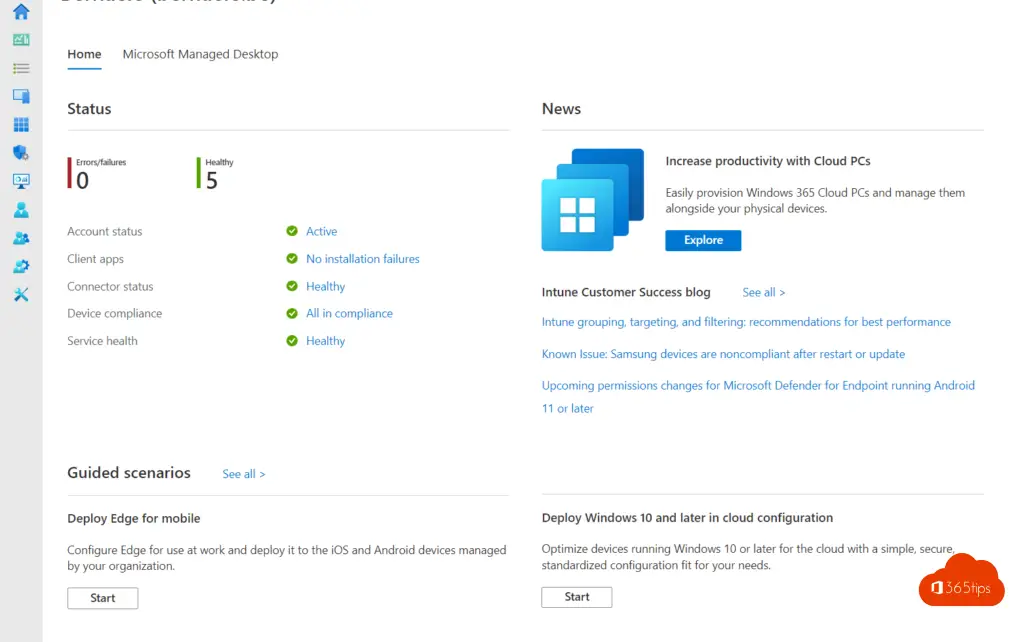 2. Navigate to Apps - all applications
Click Apps under favorites
Click on All Apps
Click on Add
3. Select Windows 10 or higher under Office 365 Apps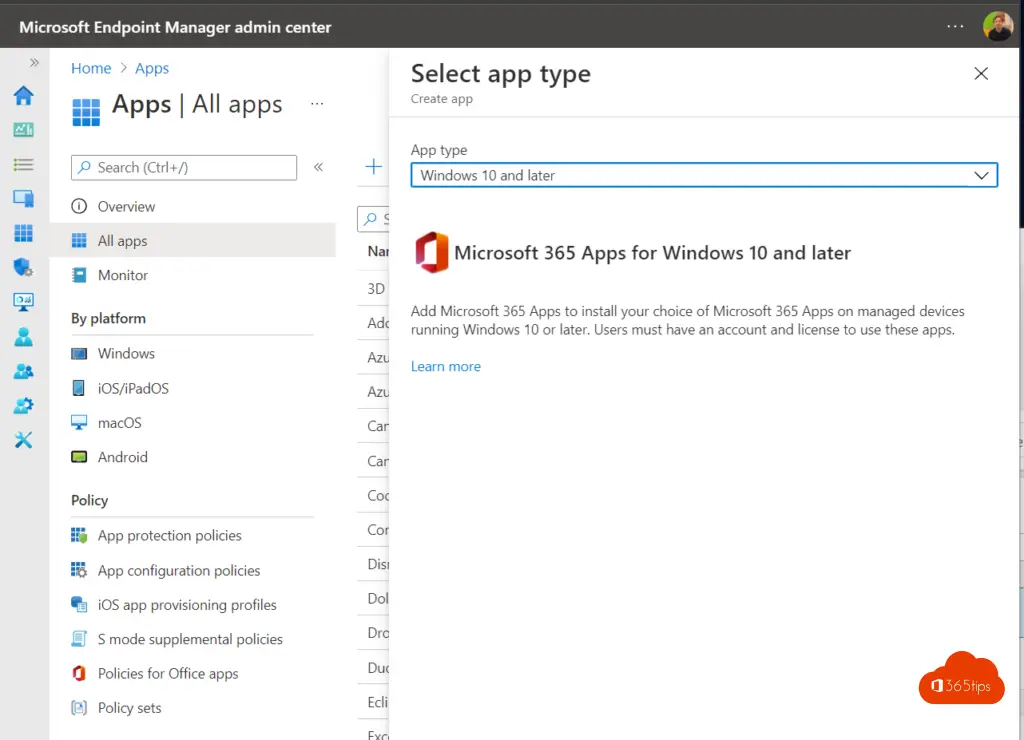 4. Select configuration designer
Enter a name for your Suite
Enter a description of your Suite
You can choose to display the apps in the company portal.
Optional: You can create an Office Apps package with help at http://config.office.com.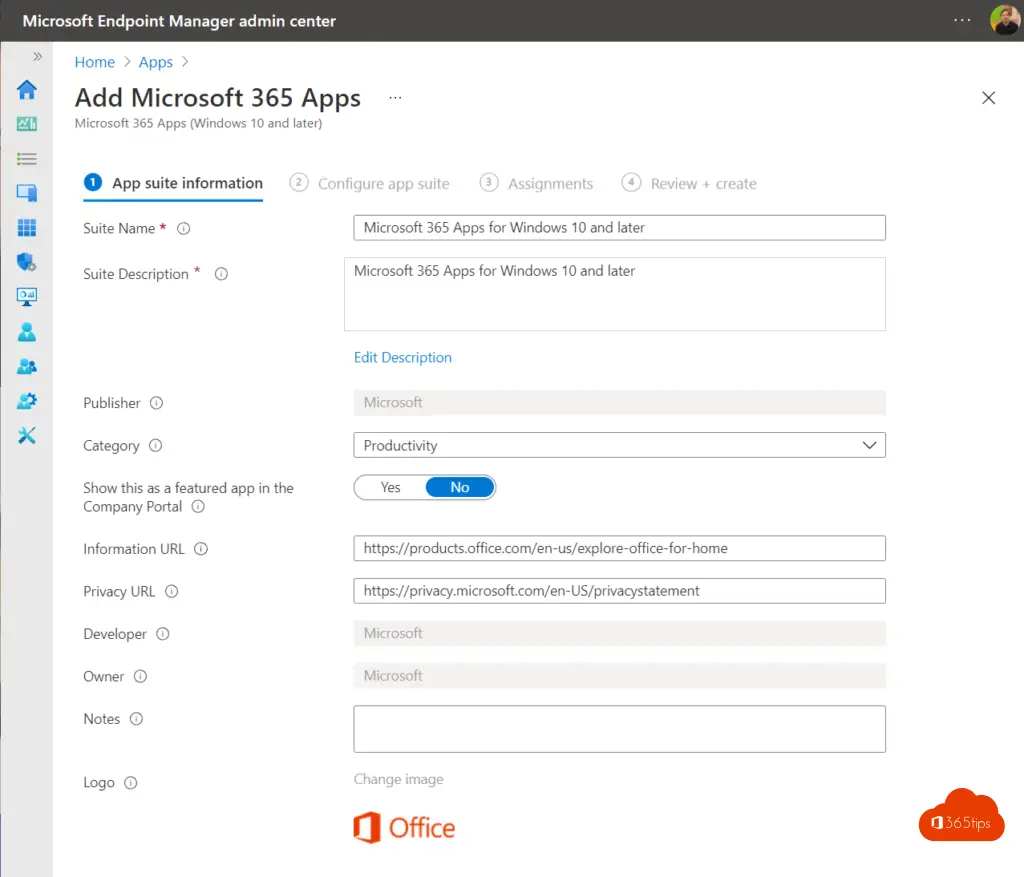 5. Select the apps within Office 365 that you wish to install.
It is recommended that you install all the apps included in your subscription. If you have a Office 365 E3 license then the configuration below is perfect.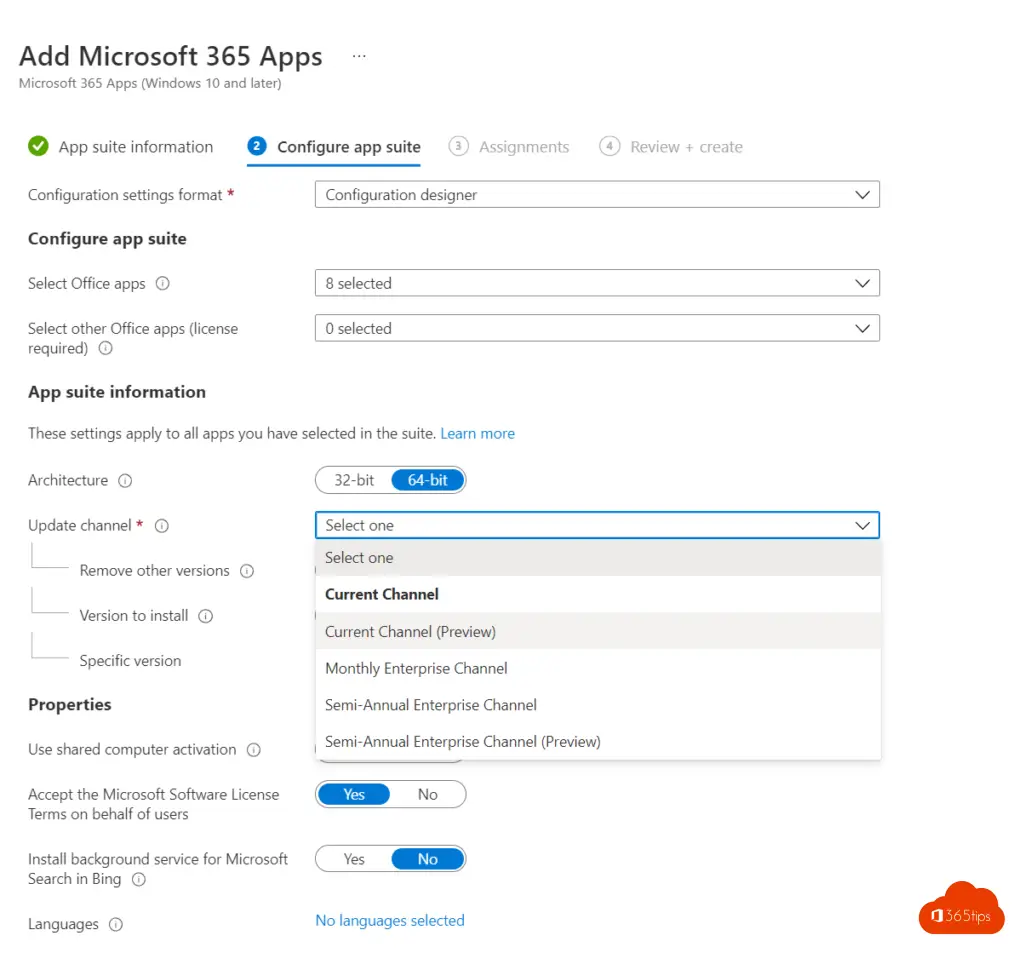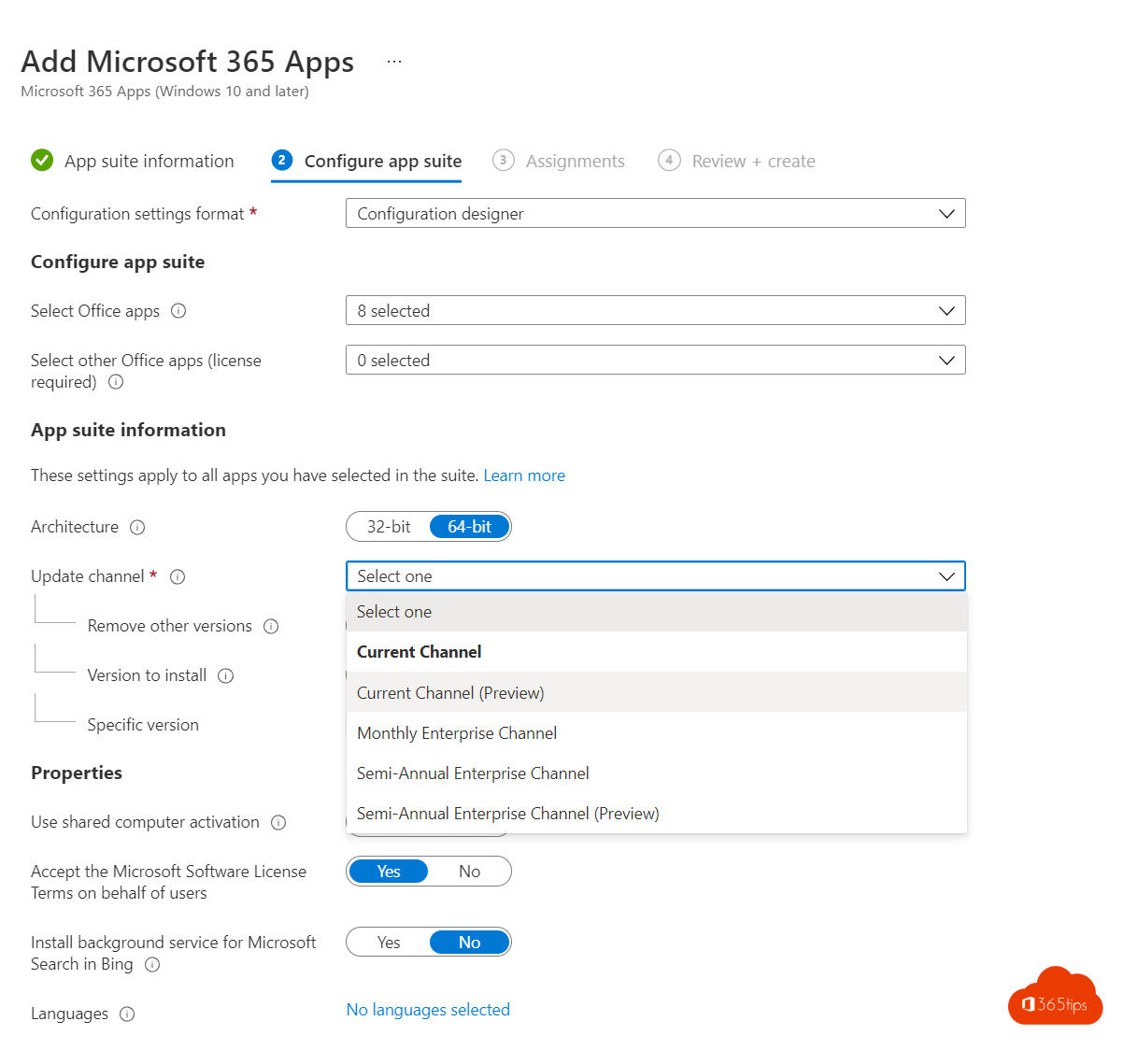 6. Update channels
Choose 64-bit installation.
Select monthly update or your personal preference.
7. Add app
Your Office 365 'package' is ready
8. Assign the application to at least one group.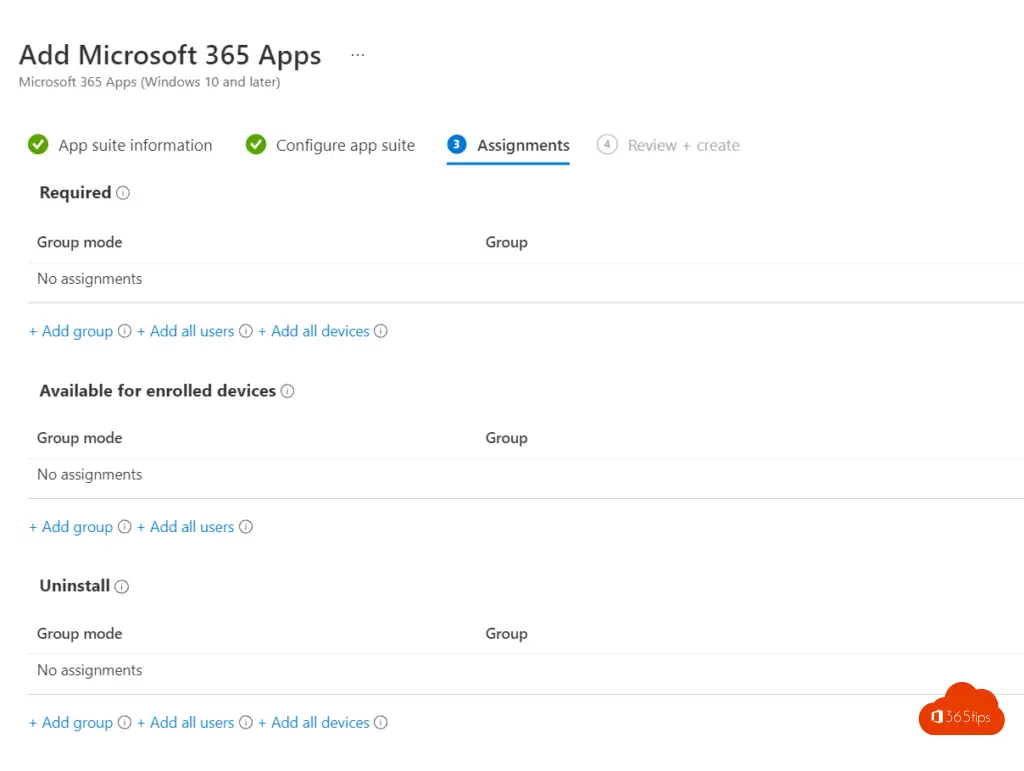 Add group
Allocation type: Required
Create a group or choose 'require this app on all devices'
Practical Tips
Create a group by type of users to keep your IT organization transparent and simple.(personas)
Give licenses to groups, not people.
Create simple logical groups by "department"/need.
Also read
Install Outlook online as a PWA app in Google Chrome or Microsoft Edge?
Tutorial: Share Microsoft Outlook emails in Microsoft Teams
Emoji support in Outlook, Windows 11 and Microsoft Teams
How to password protect emails in Microsoft 365 or Outlook?
Tagged: Domain, Excel, Manual, Microsoft, Microsoft, Microsoft 365, Microsoft Excel, Microsoft Office 365, Microsoft Outlook, Microsoft Windows, Office 365 Login, Office 365 ProPlus, OneNote, PowerPoint, Skype for Business Online, Tenant, Access