💾 These are the 25 most-used, best free software packages of 2022 to download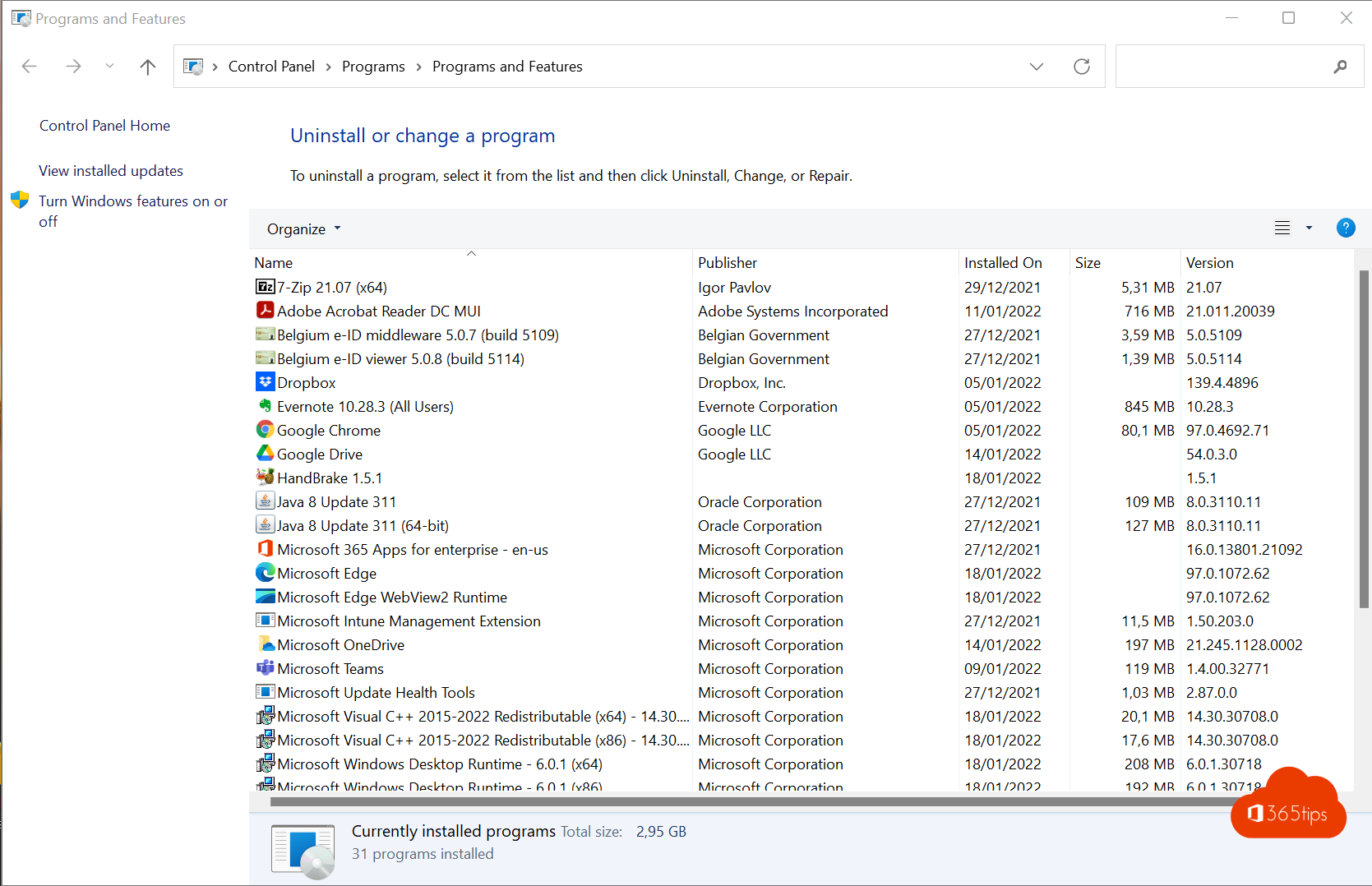 In this article you can find the most commonly used software for Windows computers. All of this software is offered for free, so it certainly cannot be missing from your PC. Third-party software gives the chance to accomplish additional tasks not included in Windows 10 or Windows 11.
What software do you use the most?
These are the most commonly used free Internet tools
1. Chocolatey or Winget to install software
Winget or Chocolatey are Windows Package Managers that make third-party software installation easy. If you have Chocolatey installed on your computer, you can more easily install software from the list below on your computer.
Chocolatey software installation can be done via the command: Choco install GIMP -y
The software package manager itself can be installed via: Chocolatey Software | Installing Chocolatey
2. GIMP for photo editing
GIMP (GNU Image Manipulation Program) is a graphic program for digital image editing, including photo editing, on the computer. GIMP is a counterpart to Photoshop or other photo editing programs.
YouTube allows you to follow different training courses: Complete Tutorial for Beginners 2020 - YouTube
3. LibreOffice or Microsoft Office Online for word processing
LibreOffice is a powerful office package that allows you to do word processing in a similar way to OpenOffice or Office 365 Apps. The advantage with LibreOffice is that it is free. Disadvantage; many files have their own visual design because almost everyone works with Microsoft Office. Within the Microsoft Cloud you also have the ability to edit files for free albeit completely online.
4. Audacity for sound editing
Audacity is an Open Source program for sound editing and editing. It is perfect for cutting clips, fading in and out, increasing volume, suppressing noise, changing pitch, adding effects and mixing sound tracks.
5. Greenshot for screenshots
Greenshot: Translated from English-Greenshot is a free and open source screenshot-program for Microsoft Windows. It was developed by Thomas Braun, Jens Klingen and Robin Krom and is published under GNU General Public License, hosted by GitHub. Greenshot is also available for macOS, but as proprietary software through the App Store. A counterpart to Greenshot is Windows 11's revamped screenshot application. or snipping tools in macOSX.
6. Handbrake - To convert digital videos.
HandBrake is a free and open-source transcoder for digital video files developed in 2003 by Eric Petit. The software is used to transcode movies and video files into an easier-to-archive format. HandBrake is available for Linux, macOS and Windows. The most common scenario for Handbrake is to convert files in a large format to a smaller format.
7. Signal - secure digital messaging service
Signal is a platform-independent encrypted messaging service that uses the Internet to send private and group messages. It also allows sending voice messages, images, videos, and other files. Similar to other messaging services such as Facebook Messenger and WhatsApp.
8. Firefox - A great stable web browser.
Mozilla Firefox is a free, free and open-source Web browser developed by the Mozilla Project and its volunteers. Firefox is based on the Gecko layout engine from the Mozilla project. Its name is an English nickname for the red or little panda. Wikipedia - Besides Microsoft Edge, Google Chrome, Safari, Opera and other browsers are among the most widely used browsers in Windows.
9. VLC - Media Player free multimedia player.
VLC media player is a free multimedia player offered by the community. You can use it to play all different media files. VLC plays almost all formats including: DVDs, video, and audio CDs. For Windows 10 or older, VLC is a breath of fresh air because these Windows versions do not include proprietary codecs.
10. 7-ZIP - Archive and compress.
7-Zip is a computer program for archiving and compressing files. The source code of the program is freely available under the terms of the LGPL, unlike those of shareware programs such as WinZip and WinRAR. Wikipedia
Install 7-Zip via Chocolatey: Choco install 7ZIP -y
11. Teamviewer - For taking over computers remotely.
TeamViewer is a program that enables collaboration between different people by supporting file sharing and remote control. The program is available for Windows, Mac, Linux, iOS and Android. The Linux version is the Windows version launched via the Wine runtime. Wikipedia
12. TreeSize - Locating files in Windows.
TreeSize: Large files cause your hard drive to fill up. It is often a difficult search to understand which documents or system files are causing this behavior with TreeSize you can easily detect and fix it.
13. ProtonVPN - A secure Swiss VPN
ProtonVPN is a fast Swiss VPN that protects your privacy. ProtonVPN is available in a free version with limited features.
14. Microsoft Teams - Collaboration in multiple forms
Microsoft Teams is a collaboration solution that can be used for video calling, instant-messaging, chatting and document sharing. There is a fat-client package that you can install for free or you can use Microsoft teams in the Web browser.
15. Jitsi - Meetings with video
Jitsi is a counterpart to Google Meet and Microsoft Teams that optimally supports remote collaboration. With Jitsi, users can video call, chat and screen share.
16. Google Meet - Meeting in the web browser.
Google Meet is the counterpart to Microsoft Teams that offers similar functionality to Calling and chat with friends or business contacts.
17. VirtualBox - Virtualization of operating systems.
VirtualBox is a free computer program for running operating systems within an (other) operating system. This is done on the basis of virtualization. VirtualBox is a counterpart to Microsoft's built-in Hyper-V.
18. CCleaner - Clean up your computer cache.
CCleaner is a freewareprogram created by Piriform to maintain computers running Windows and macOS. It program attempts to detect and delete unnecessary, unused or invalid files. Wikipedia
19. Viber - Message service
Viber is a VoIP application from Viber Media that allows one to send chat, photos, audio and video messages in addition to Calling over the Internet. The client software is available for Android, BlackBerry OS, iOS, Symbian, Bada and Windows Phone, Windows, macOS, Linux and Windows 8. Wikipedia
20. WhatsApp - Instant messaging
WhatsApp is a mobile instant messaging app developed for the smartphone. With an Internet connection, it allows chatting and transmitting digital photos, sound and video recordings, documents or GPS coordinates. call can be done via IP telephony. Wikipedia
21. Panda Antivirus - Free antivirus software.
Panda Cloud Antivirus is antivirus software made by Panda Security, a company from Spain. There is a free version and a paid one. The program works with Collective Intelligence, a system that uses the knowledge in the Panda Security user community and the cloud to analyze malware. Wikipedia
22. Adobe Acrobat Reader to read PDFs.
Acrobat Reader is a computer program from Adobe Systems that is used to read PDF files. The program was called Adobe Reader until 2015, but previously it also carried the name Acrobat Reader. Pdf files contain documents and can be viewed and printed on almost all supported operating systems. Wikipedia
23. Google Chrome - Web browser
Google Chrome is a web browser developed by Google. Google Chrome uses the WebKit-based Blink as well as other open source software, especially that of Mozilla. Google Chrome is based on Chromium, an open source project of Google. Wikipedia
THE best counterpart to Chrome is Microsoft Edge.
24. Microsoft OneDrive for businesses or consumers.
Microsoft OneDrive, formerly Windows Live Folders, Windows Live SkyDrive and Microsoft SkyDrive, is a Microsoft service for storing files on the Internet. Wikipedia
Sign up and get started OneDrive for Business - Quickstart
25. Dropbox - Sharing files in the Cloud
Dropbox is a cloud service for online storing files. It allows users to sync files across different computers and mobile devices while sharing them with third parties. Wikipedia
What software do you use in Windows? Leave a comment at the bottom of this article!
About the author
Tagged: Free, Manual, Microsoft Teams manual