Microsoft Teams versus Zoom | Comparison Features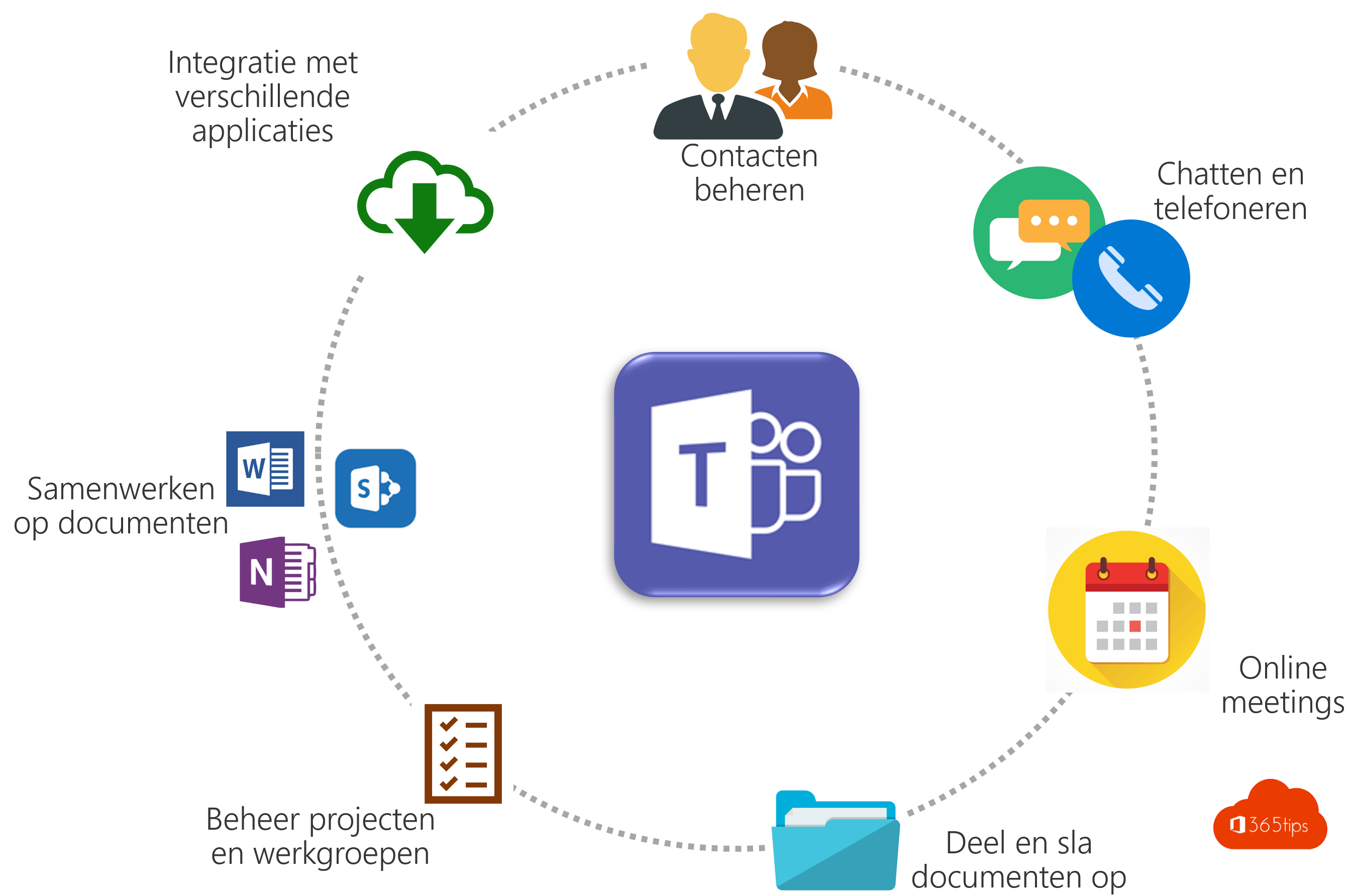 Whatsapp, Facebook, Facetime, Jitsi, Skype, Hangouts....Collaboration platforms are used massively. Everyone today uses one of the above platforms to connect with family, friends and professional contacts.

Zoom is a convenient solution to quickly set up a meeting with many people.
The biggest advantage to Zoom is that you can see everyone on the screen at the same time. The full Zoom suite is quick to implement and practically offered for free during covid-19. Microsoft Teams is a solution within Microsoft 365.
What is Zoom?
Zoom Video Communications is an American teleconferencing service software company. The platform allows organizing videoconferences, online meetings, chat sessions and mobile collaboration.
Benefits of Zoom
Meeting & chatting
Collaborate on documents (for example, with Google Docs)
Sharing documents
Meetings
There is a free version of Zoom
With 100 at a time call. Or with 500 with the (large meeting add-on)
With Enterprise Plus, you can go up to 1,000 callers
Unlimited 1:1 meetings with the free version
Video Webinars
Integrations with bots
Phone system (Calling with phone numbers, dial in, etc.)
Seeing many people at once on one screen with together mode
Good audio quality
What is Microsoft Teams?
Microsoft Teams is a communications and collaboration platform that brings together chat capabilities, video conferencing, file storage (including shared files) and application integration.
This service is integrated into Microsoft's subscription Office 365 . Office productivity suite and extensions can integrate with non-Microsoft products. Microsoft Teams is a competitor to services such as Slack and intended as a successor to Skype for Business with a larger offering and more features.
Below are roughly the same options as described in Zoom except for a few details.
Unlimited 1:1 meetings, unlimited group meetings.
Video Webinars via live event or a regular meeting.
Integrations with bots
Phone system (Calling with phone numbers, dial in, etc.)
49 people on one screen at a time - focus on one person with spotlight.
Good audio quality
Constant updates
The security Microsoft's commitment. $1 billion a year is Microsoft's investment in cybersecurity. Not insignificant in these times.
Microsoft Teams is included in 95% of all licenses from Office 365 .
Whiteboard and other nice integrations.
What's extra in Microsoft Teams that you can't find in Zoom
This illustration describes it completely. Zoom mainly chat and Calling . (top right)
Teams is part of Office 365. Deep integrations within this eco-system are possible and offer great value to an organization and ease of use.
one platform. If you have Windows 10 today, Office 365, then you have 90% Microsoft technology. Users know this technology and adoption falls better to use a product in line with Office 365.
Sharing files and giving presentations is easy. You can share a presentation. And all participants can browse the slides along with it.
You can use your Outlook integration to update your calendar in one motion.
Word, Excel, PowerPoint integrated.
OneDrive, SharePoint integrated. You can start from a team and collaborate around documents.
Telephony. This is also in Zoom. But is not totally not integrated. Calls are saved in Stream. And can be listened to again by everyone in the conversation.
Minutes can be made live and are later visible in Teams.
Chats are saved afterwards in the channel in which the meeting was started.
Email / Exchange. We all know Exchange this connects perfectly with Teams. Meetings are sent just like before. Only this is a teams meeting with more features.
End-to-end security
Bots integrations
Open platform in a sense. It is possible to build your own integrations to plug in to Microsoft Teams.
Rich reporting through the administrators panel.
Cloud App Security integration. You can automatically link actions to the use of Teams. For example, if you are in an untrusted location add an additional security layer such as Multi-Factor Authentication.
The differences explained in a video
Related blogs
Zoom | The most requested tips and tricks - Guide
Showing 9 people in Microsoft Teams
Microsoft Teams comparison with Whatsapp
10 success factors for setting up Microsoft TEAMS
Microsoft Teams search bar commands
10 fun Microsoft Teams backgrounds
About the author
Tagged: Activate, Adoption, Application, Authentication, E-Mail, Excel, Exchange Online, Free, Manual, iOS, Live-Events, Microsoft, Microsoft Excel, Microsoft Office 365, Microsoft Outlook, Microsoft SharePoint, Microsoft Teams manual, Microsoft Windows, PowerPoint, Screen Sharing, Skype for Business Online, Sync, Together mode, Meeting, Comparison, Video, Zoom